Meet Thelma Schoonmaker, The Iconic Editor Behind ALL Those Scorsese Masterpieces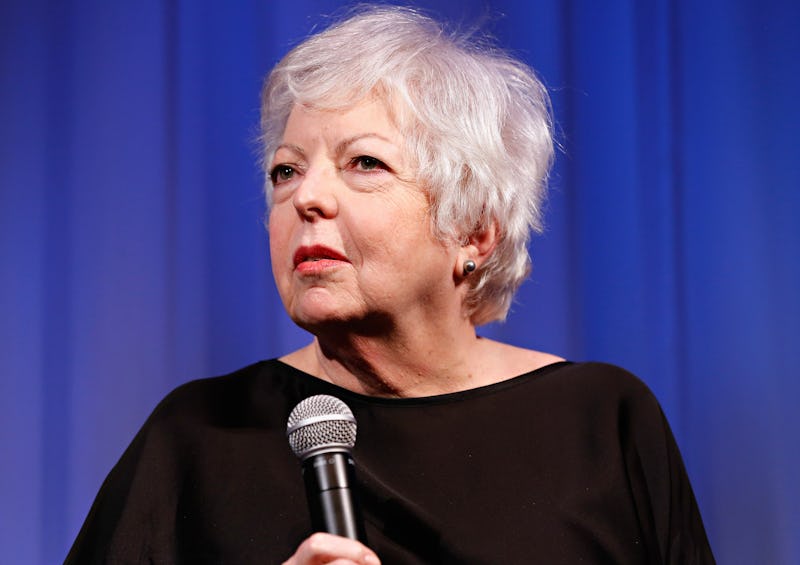 Cindy Ord/Getty Images Entertainment/Getty Images
Three Oscars, one BAFTA Fellowship, and the editing brains behind some of the world's most memorable films. Even if you don't recognise film editor Thelma Schoonmaker's name, you'll certainly know her work. Whether it's the high stakes humour of The Wolf of Wall Street or the cult classic that is Raging Bull, the now 79-year-old has shaped dozens of cinematic masterpieces.
It's Schoonmaker's (almost) lifelong working relationship with director Martin Scorsese that makes headlines most frequently. That's not surprising, considering the genuine friendship between the two. Throughout our interview, she refers to "Marty" several times, singing his praises from the rooftops.
It refreshing, then, to see Schoonmaker being feted with the same degree of enthusiasm and fanfare as that awarded to her close friend. On Sunday, she was honoured with the coveted BAFTA Fellowship; a prize that recognises the best of the best in film and television. The list of previous recipients — which includes the likes of Scorsese, Schoonmaker's late husband Michael Powell, Anthony Hopkins, and Helen Mirren — is something that Schoonmaker is thrilled to become a part of.
"It's so wonderful to be joining Scorsese and my husband and his great partner Emeric Pressburger," she tells me, "along with [Alfred] Hitchcock and [Anne V] Coates who was the other editor they've honoured [and] who was a friend of mine."
Within a few minutes of chatting to Schoonmaker, it's clear that her passion for what she does will never dwindle. "I have the best job in the world," she says, joking that she "would like to die at [her] machine." That being said, she thinks there is one slight problem with her profession. And that is that "editing is very hard to understand. I think directing and editing are two of the most mysterious crafts in the film world. You understand cinematography, you understand costume design, you understand acting, but you would have to sit in a room with me for six months while we edit a movie [to understand editing]. But it's one of the most important things in filmmaking."
She talks about "luck" a lot, though the consistency with which she's produced masterpieces suggests she's probably downplaying her talent, which is clearly prodigious. Nevertheless, it's almost poetic that her beginnings in film editing sound like a tale taken straight from a Hollywood movie. After graduating with a political science and Russian degree in 1961, Variety reports that she ended up on a six-week filmmaking course at New York University. It was there that she met a young Scorsese who was struggling to finish his first ever film.
"I saved [his] student film," she remembers, "but just physically, you know, repairing a badly cut negative. He says I stayed up for 40 hours straight. I don't remember that." This experience bonded the two so much so that they've worked together ever since. "Marty taught me everything I know. [With] Raging Bull — which was the first major Hollywood film I had ever worked on — I was on a big studio walk and I had assistants for the first time. I said to Marty, 'I don't know how to do this.' And he said, 'Don't worry, I'll help you.'"
Although Schoonmaker notes that she was one of few women editing and that she did experience sexism when she went to labs ("The men once said to me, 'Drop that can. You shouldn't be allowed to carry a film can'"), the men she surrounded herself with were "highly idealistic."
"They were not interested in power or money. They wanted to make great films and they treated me as an equal. I don't think a lot of women had that experience."
It's hard to see how they wouldn't given Schoonmaker's tenaciousness, even in the face of heavy criticism. While she and Scorsese may now be an award-winning duo now, the editor recalls when that wasn't the case. She lists Taxi Driver and Goodfellas as films that almost didn't get made due to a lack of support, and tells me that it took a full decade for Raging Bull to be recognised.
"The critical reception is very disappointing, very hurtful. But [Scorsese] fights to the death; we both do. What happens then is a film like The King of Comedy, which gets very badly reviewed [and] does horribly at the box office... Now, everybody loves that movie. The Age of Innoncence; the same thing."
Despite not being guaranteed immediate rip-roaring success, Schoonmaker says she "would never say no" to any project Scorsese brought to the table. Does that sentiment come from a friendship full of ups and downs or simply because, to Schoonmaker, Scorsese is a genuinely good guy?
Schoonmaker views him in an entirely positive light. "He really strongly believes in women filmmakers and he surrounds himself with women," she says. "His editor, his producer, his publicist, his costume designer: all women." This runs counter to a narrative put forward elsewhere. As GQ reports, the director has been criticised for centring men in his films and glorifying "bad" behaviour, while others — one would assume Schoomaker is among them — see elements of his work as a fascinating and important insight into toxic masculinity.
Her most recent project is unsurprisingly another Scorsese collaboration. Starring Robert De Niro and Al Pacino, The Irishman is a biographical crime film focusing on a labour union leader who is also an alleged mob hitman. It's set to be released by Netflix in October, reports Esquire, but, according to Schoonmaker, will hopefully be shown in some cinemas. "We do make our films for the big screen," she notes.
With that to look forward to and a whole host of awards to her name, does Schoonmaker have anything else left to achieve? Her answer is heartwarming. "Just to continue getting people to look at my husband and Emeric Pressburger's films. And to get my husband's diaries published."
Women in Hollywood are so often overlooked — especially the ones working tirelessly behind the scenes — but Schoonmaker is an individual that deserves every bit of attention. Here's to more women appearing on those awards lists.