This Pic Of Logan & Finn Reuniting Will Make 'Gilmore Girls' Fans Squeal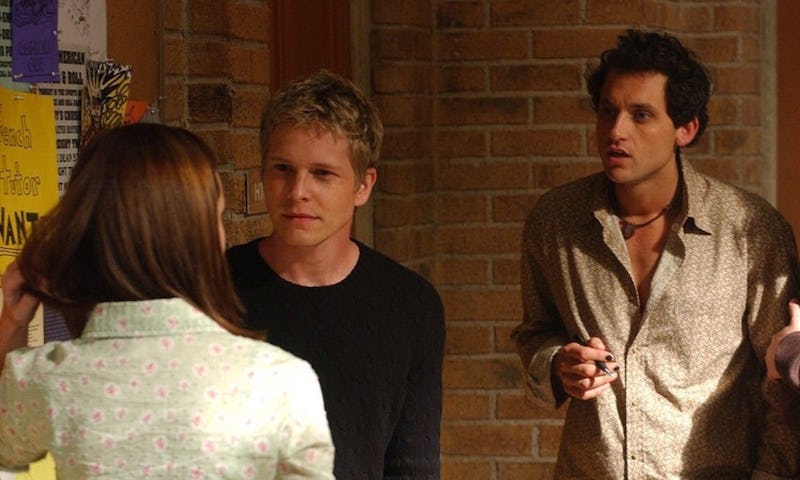 Warner Bros. Television
In omnia paratus! Two members of the Life and Death Brigade just shared an epic photo that will make fans so happy. Finn and Logan from Gilmore Girls reunited on Instagram, thanks to Tanc Sade sharing an image with Matt Czuchry on Wednesday. To be clear, this doesn't mean they are reuniting for anything pertaining to Gilmore Girls, but the good news is they will once again appear on TV together.
The photo was taken on the set of The Resident, the FOX medical drama which stars Czuchry in the lead role of Conrad. Yes, Sade is guest-starring in a Season 2 episode. According to TVLine, he will play Josh Robinson, "a professional extreme adventure guide whose story takes a highly unexpected turn when he is treated by Dr. Conrad Hawkins at Chastain Park Memorial Hospital."
As you can see in the image below, the Gilmore Girls actors have never looked better. Sade also captioned the Instagram perfectly. He wrote,
"A friendship that has spanned over a decade. Deep in conversation with my mate #MattCzuchry. The star of @theresidentonfox. Second season premieres September 24th. Like and repost if you can't wait to see us back together again!"
Just like Finn and Logan, Sade and Czuchry have formed a close bond. Even though Gilmore Girls ended in 2007, they reunited for Netflix's 2016 Gilmore Girls: A Year in the Life. Now, they will soon be on another series side by side, even if it is just for one episode. Czuchry and Sade can't seem to stay away from each other.
For those who don't recall, Finn first appeared in Season 5, Episode 3, which was also Czuchry's first episode as Logan Huntzberger. Rory met both of them at Yale, along with their buddy Colin. Finn and Colin were quirky characters, who always found themselves in unique positions. Finn definitely made his mark in the Gilmore Girls universe, so much so that Sade's reunion with Czuchry is one fans genuinely care about.
On Aug. 14, Sade first revealed he would be filming with Czuchry again. Next to an Instagram of the 38-year-old actor getting his hair done, he wrote,
"Back on set. This time with #gilmoregirls alumni #mattczuchry for #theresident. Awesome to work with Matty again. Getting some hair samples taken. Who knew natural hair came in so many different colours [sic]?"
Apparently, fans wanted to see a photo of him with Czuchry, so that's what he gave them on Aug. 17, well, kind of. He posted the following picture:
Like he said in his caption, "Well you asked for a pic with #MattCzuchry so here you go." He added, "Don't worry. Real one to come."
Then, on Aug. 27, he posted an image of the episode's clapper board and wrote, "Who's ready for season two of the @theresidentonfox? Like if you want to see a little #MattCzuchry! #lifeanddeathbrigade reunited!" Side note: based on the clapper board, Sade will star in Season 2, Episode 4.
It wasn't until Sept. 5 that Sade shared an actual picture with Czuchry. It was definitely worth the wait. Based on the number of photos the Australian actor has posted thus far on Instagram, it's probably safe to say he is just as excited about Finn and Logan's reunion as much as fans are.