Watch Chip & Joanna Gaines Announce That They're Returning To TV In A Seriously Big Way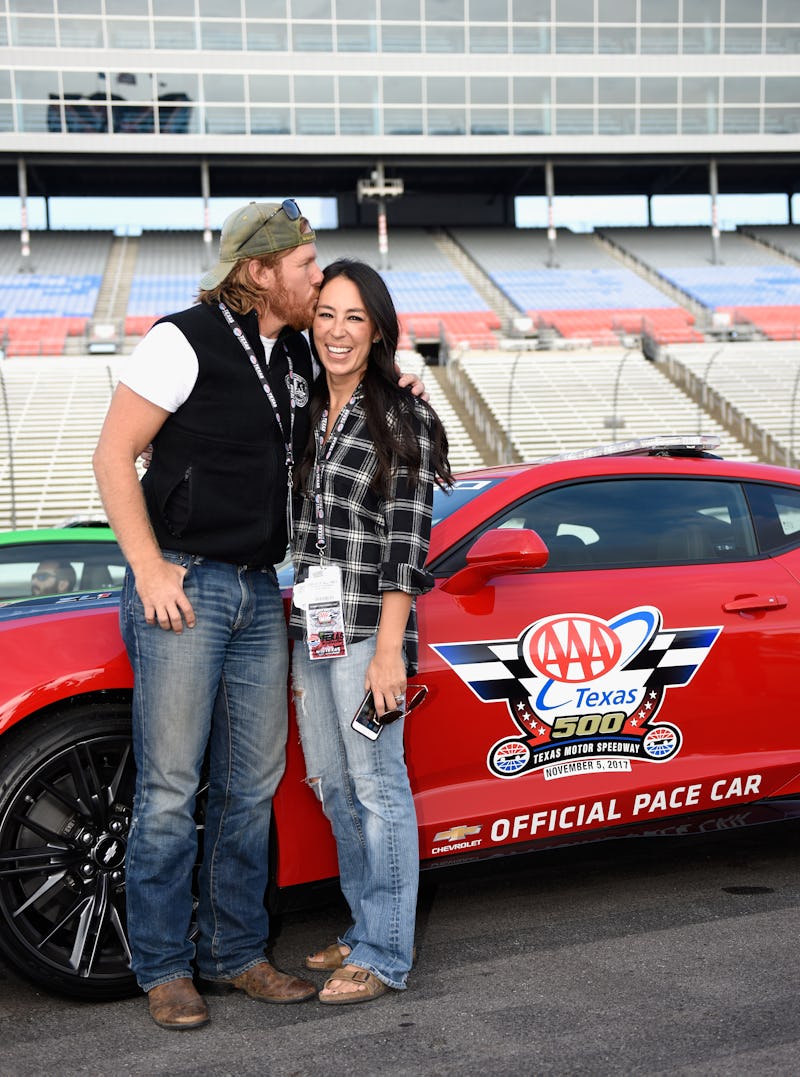 Jared C. Tilton/Getty Images Sport/Getty Images
Everyone's favorite pair of fixer-uppers is headed back to primetime — and it sounds like they'll be making their return to the small screen in a pretty huge way. Yes, HGTV aficionados, you heard right: After a little more than six months off the air, Chip and Joanna Gaines are returning to television, as reported by People. Only this time, they're doing it bigger than ever.
During a Tonight Show appearance Friday night, Nov. 9, the former Fixer Upper stars discussed what's next on their forthcoming professional agenda since taking a step back from the popular house-flipping reality series earlier this year. (At the time, Chip and Joanna said they wanted to focus on raising their family and running their real-life business, Magnolia Homes, as People's report noted.) Replying to a question from the show's host about their plans for the future, Chip revealed the exciting news:
"We signed a non-disclosure and it said quote unquote you can tell your mother but that's it. So mom, I just wanted to make a quick announcement, we are coming back to television."
OK, so the secret's out: Chip and Joanna will once again be charming the pants off reality TV enthusiasts far and wide sometime in the (hopefully) not-so-distant future. But don't expect a resurgence of the Fixer Upper format fans came to know and love over the course of the series' five-season run. Per Chip and Joanna's Tonight Show conversation, it sounds like the duo's return to television is going to look a little bit different than it did last time around. And how's that, exactly?
"We're actually going to have a network," Chip explained during their Friday night appearance, adding, "I think we're going to really carve it out in a way that makes sense to us and our family." It doesn't sound like the details of Chip and Joanna's own branded network have been totally hammered out yet. But the father of five teased earlier that the new network will focus its content primarily on the Gaines family itself, rather than just the family business:
"You are going to get to see the kids grow up, you are going to see us, well maybe a six-month delay like the rest of the world, but we are excited to be back."
As excited as the Gaines duo is to be back (or, almost back, anyway) it seems pretty safe to say their fans are even more thrilled to have them. In a reported statement from Magnolia spokesman John Marsicano confirmed that Chip and Joanna are, in fact, working on developing a branded TV network of their own, with the help of Discovery, Inc, according to several outlets.
"We're excited to share that we are currently in the early stages of talking with Discovery about a lifestyle-focused media network for Magnolia," Marsicano's statement began. (As People mentioned, Discovery, Inc., is the parent company that presides over HGTV.) At this point, Marsicano reportedly said the specifics of Chip and Joanna's newfangled television gig "remain a work in progress," but that their hope is to "build a different kind of platform for unique, inspiring and family-friendly content."
Anyone who keeps up with the exceedingly wholesome Gaines clan on social media knows Chip and Joanna certainly aren't lacking in the "family-friendly content" department. (Seriously, just take a look at Dad's Instagram account.) So, even if they haven't dotted the i's or crossed the t's yet, it definitely sounds like Chip and Joanna are gearing up for a particularly special return to our television screens. Hopefully, with all five of the sweet Gaines kiddos — baby Crew included, of course — in tow.