Joanna & Chip Gaines Have An Exciting 'Fixer Upper' Spinoff Coming SO Soon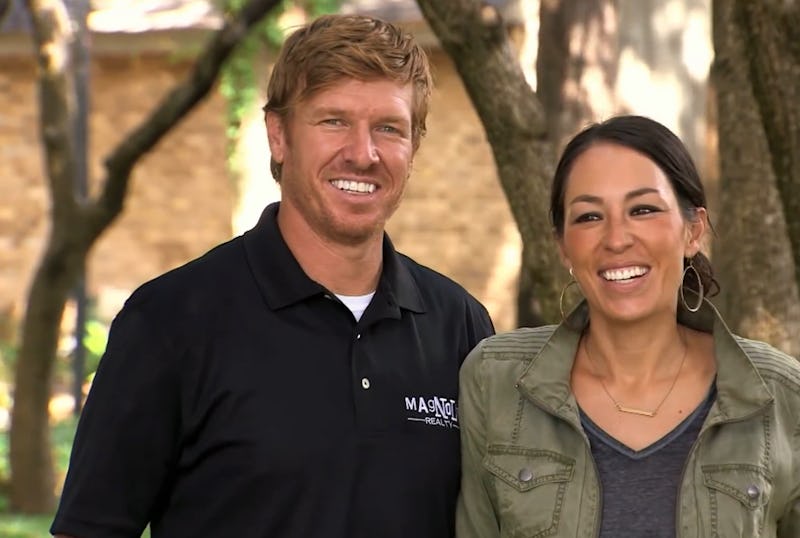 Chip and Joanna Gaines are as much a staple of HGTV as young couples who can somehow afford million-dollar homes on a preschool teacher's salary. As it wraps up its fifth season, their hit show Fixer Upper won't be returning for new episodes, but there's still plenty more where that came from for the demolition and design duo.
The couple is launching a spinoff, and according to People magazine, it'll dive even deeper into Joanna's design process. Fixer Upper: Behind The Design will debut on April 10, the outlet reports, airing each of its 15 episodes immediately following a corresponding rerun of Fixer Upper, and will focus on showcasing what goes on behind the scenes as Joanna works with the couples to figure out what design aesthetics they'd like best.
"I can't wait to show our fans how every piece of the design comes together before the final reveal," Joanna said in a press release, People reports. "I want to nail every detail so that, when we walk away, Chip and I know we've given a family the one-of-a-kind home of their dreams."
This will be an interesting departure from traditional Fixer Upper episodes, which feature some of Joanna's shopping trips and footage as she puts the final touches on a finished home, but doesn't tend to delve deep into her decision-making.
Apparently Behind The Design will get into the nitty gritty of the details of the homes Chip and Joanna renovate, right down to fabric colors and the smallest of home accessories. "You get the full-on home renovation in Fixer Upper, but in this new show, you get the behind the scenes — the pillow choices, the paint color, the softer side of design — to give diehard fans more detail on something that they love," Kathleen Finch, Scripps Networks Interactive chief programming officer, told Adweek.
It's probably helpful, too, that the footage for this new spinoff has already been shot — since these involve Joanna's work on past Fixer Upper episodes, it would seem that only old, leftover footage that didn't make it into the original cut is used. Chip and Joanna are busy as hell, so the fact that they don't actually have to shoot anything new has to be a selling point for them. They've got plenty of other stuff on their plates. As outlined in a previous Bustle report, the couple not only owns and operates Magnolia Market, a boutique in Waco, Texas, they also have several books in the works, a restaurant called Magnolia Table, two rental properties under their management, a publication called Magnolia Magazine, a wallpaper collaboration, a paint line, a Target decor collection, a children's clothing line, and, of course, Magnolia Realty. Sheesh.
The couple has also talked about wanting to spend more time with their family and with each other, which makes sense. When you've got that many obligations at one time, it could be easy for the marriage to fall onto the back burner, and Chip and Joanna definitely don't want that to happen.
"People in our inner circle, I tell them, we're as healthy as we've ever been," Chip said during an appearance on The Today Show. "I just didn't want to continue pushing this envelope to the fullest extent. And I'm, you know, we're really thankful we have the opportunity to sort of step back and take a break."
The bottom line is that even if Chip and Joanna wanted to step back in front of the camera for a weekly show, they probably wouldn't have time to do so right now. Behind The Design not only gives the Gaineses a much needed break from production while they shift their attention to other things, it also gives Fixer Upper fans something intriguing yet familiar to watch in the meantime. So, Fixer Upper may be ending on April 3, but new Fixer Upper content will go on for a long time.