Food Baby Names Are Having A Moment & They're Actually Pretty Cute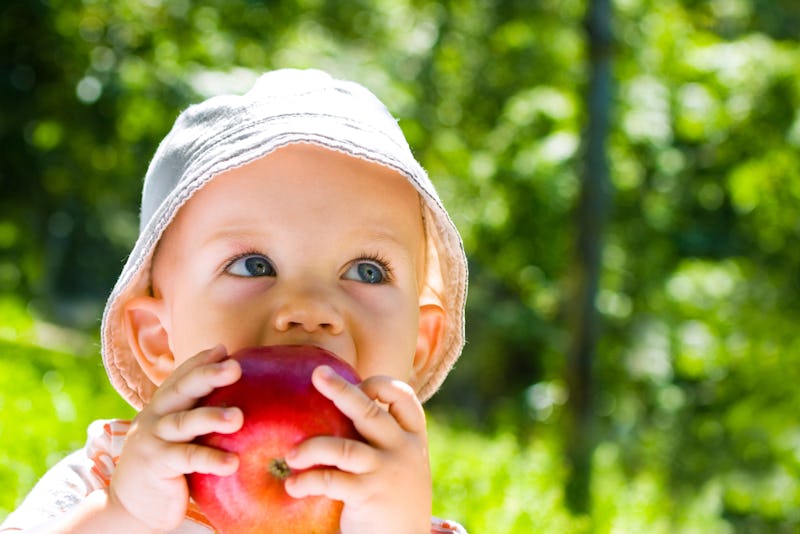 niderlander/Shutterstock
As someone who spends a stupid amount of time looking up the meanings of different names even when I'm not, y'know, actually trying to name something — babies, pets, fictional characters, whatever — I relish the end of year for one very specific reason: Baby name website popularity reports. And thanks to BabyCenter's 2018 baby name report, I just learned something delightful. It seem that in 2018, food-inspired baby names have been on the rise — which means that 2018 was the year of the literal food baby. That's hilarious to me, so come — let us explore this strange, new world together.
Towards the end of every year, BabyCenter release a report detailing both the 200 most popular names of the that year — 100 for names typically coded as girl's names and 100 for those typically coded as boy's names — and identifying some notable trends and themes. In 2018, the top 10 names included Sophia, Jackson, Olivia, Liam, Emma, Noah, Ava, Aiden, Isabella, and Caden, while trends included a lot of pop culture references. (Apparently people are naming their kids for the latest generation of Kardashian-Jenners — think Stormi and Dream — and for the overwhelmingly popular video game Fortnite). But in addition to the pop culture angle, it seems that foodie names have seen some growth this year, too, and honestly? That just tickles me so, so much.
Now, it's worth remembering that the end-of-year reports from most baby name sites are based on user data — not on data from the Social Security Administration, or SSA. (The SSA's name popularity reports for one year don't usually arrive until the spring of the next.) As such, the data may ultimately not be representative of the actual U.S. population. Still, though, they can be useful for tracking general trends — and, I mean, let's face it: Looking up the meanings and relative popularity of baby names is fun, even if you have no intention of becoming a parent anytime soon.
Here are the most notable food-inspired baby names called out by BabyCenter's report: