Why 'Insecure' Feels So Hella Good For Young Black Women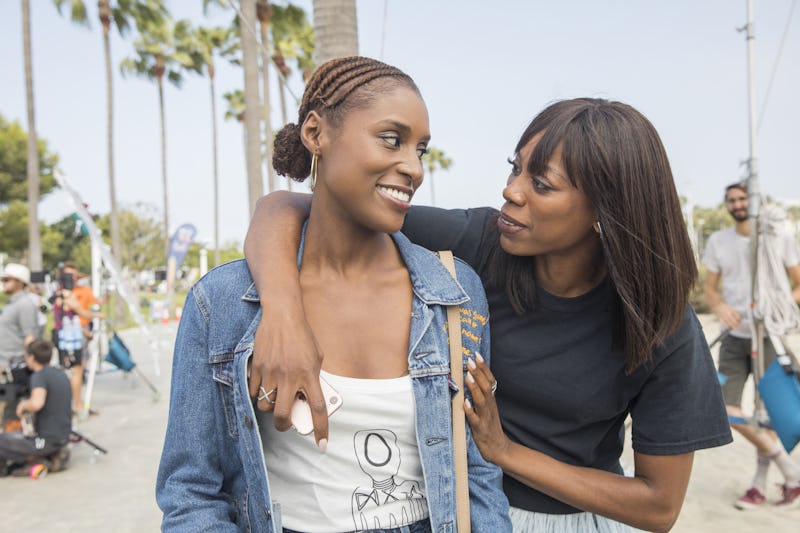 Justina Mintz/HBO
For the last month and a half, men and women alike have eagerly watched the many hilarious twists and turns of the Season 2 of HBO's popular sitcom Insecure. And with the Season two finale of Insecure airing this Sunday 9/10, we're all left wondering if we'll finally get answers to the hella questions we've had over the last few weeks. Like, will Lawrence and Issa call it truce and finally move on from one another? Is Molly really done with Dro and their "friends with benefits" situation-ship? Can Issa forgive Daniel for his uh... "accident" and still keep him in the hoe-tation? But most importantly, we'll be rooting for them, because these characters and their pain, their bad decisions, their deep drama, and yes, their insecurity, is a reflection of us.
It's been well over a decade since we've last seen a group of young black women depicted in a positive and accurate light on the small screen. Many of us were mere adolescents when shows like UPN's 2000 hit Girlfriends starring Tracee Ellis Ross and FOX's 1993 smash Living Single starring Queen Latifah undoubtedly blazed the trail for Insecure, introducing us to the powerful strength of black women friendship and what challenges both personally and professionally we could face in our adulthood. These shows were not only comedic relief, but they also gave us examples of beautiful, multi-dimensional black women. They showed us we can be lawyers, creatives, writers or even mooching professional students, and that the support and encouragement from our sister circle is truly what pushes us forward, condemns us when necessary and keeps us together through thick and thin. Insecure is a continuation of that message, and an accurate representation of those themes in 2017.
What Issa Rae and her stellar writing team have done exceptionally well in Season 2 of Insecure is unapologetically reaffirm the experience of the black millennial woman. Through the stories of Issa and Molly, as well as Tasha, Kelli and Tiffany, Insecure holds a mirror up to our dynamic friendships and multi-faceted personalities. Through Issa and Molly's different, but similarly infuriating work scenarios, they've zeroed in on how we deal with the emotional toll of being #BlackWomenAtWork — what it's like to fight to be taken seriously and get paid what we deserve. With the certainly diverse and ever-changing romantic entanglement on the show, they've dove deep into how we navigate our dating and sex lives in the age of swiping left or right. But mostly they've isolated friendship and sisterhood as the nucleus of young black womanhood — a truth none of us can deny. Insecure honestly unveils the reality of the struggles that we as black women face on a daily basis, and has given us an opportunity to openly discuss it with our friends, and collectively experience it on Twitter as it happens in real time.
"Season 2 of Insecure has been such a fun bonding experience with friends because of the depictions of relatable, everyday experiences my circle and I all go through," my friend Joymarie, 30, tells Bustle. "From break-ups to feeling undermined at work or dealing with fallouts with friends, it has facilitated awesome group text debates and helped us to rethink the way we process and sometimes project our own experiences onto others."
For many of us, Molly and Issa's friendship resembles what many relationships between black women look like. From their petty and snarky dialogue (Issa to Molly: "Can you teach me how to ho?"), to screen-shotting text messages and supporting each other on ideas no matter how crazy they might be, Molly and Issa's relationship has evolved the way real friendships do. They've come a long way since Season 1's trip to Malibu, but they still screw up from time to time, which is exactly why they need each other.
"I appreciate how realistically Molly and Issa's friendship is illustrated in the series," says Joymarie. "Healthy relationships aren't static — they ebb and flow around life events, relationships and how we cope and interact with one another around those events."
For Issa, this Season was accepting with her break-up with Lawrence and finding the courage to move on. For Molly, it was learning how to manage her emotions while simultaneously getting back into the dating scene and overcoming being overlooked at work. They chose to cope differently, but were diligent in meeting each other where the other one was, and more importantly, they encourage each other to keep going.
"I love that they can be harsh with one another and still be friends," Channing, 32, tells Bustle. "If you can't be honest with a friend about her behavior, that's not your friend and vice versa."
The sex in Season 2 was also a revelation for black millennial women, and caused my friends and the Twitterverse to have a variety of responses. As hot and heavy as it was though, none of it was unrealistic. From Issa and Lawrence's out-the-door quickie in episode one, to Molly's "open" fling with childhood friend (and married man) Dro, to Issa's balance of Neighbor Bae and Daniel, the show's depiction of female sexual liberation was incredibly realistic, down to the not so fun consequences.
Molly and others sitting front row on the struggle bus in their personal and professional lives shows the audience that while life can get hella messy, sometimes you've got to get knocked down in order to get back up.
In episode six, "Hella Blows," Issa, Molly, Tiffany and Kelli are walking around Sexplosion, a sex expo, and engage in a conversation about oral sex that many black women (myself included) have certainly participated in. Kelli and Issa say they aren't ones to perform fellatio; Molly says she'll only return the favor if she receives it first, and Tiffany suggests that "there's so much power and control" in giving blow jobs. That idea of having control turned on a light bulb for Issa, who by now, is that the height of her "hoe-tation" phase. She decides to experiment with this potential superpower later that night when she meets up with Daniel. Unfortunately, it doesn't go exactly how she envisioned. This scene in particular created a lot of conversation among black women — many believing that Issa overreacted to Daniel's surprise "release."
It's clear that Issa has been fighting herself all Season long, really in an attempt to regain self-worth after her rocky break-up with Lawrence. And this is what makes her so real and so fun to talk about. So often, women — black women in particular — are charged to put on the superwoman cape and save the day, every day, in our relationships, on our jobs and hell, even in presidential elections. However, Molly and others sitting front row on the struggle bus in their personal and professional lives shows the audience that while life can get hella messy, sometimes you've got to get knocked down in order to get back up. It's validating message for all women, but for black women right now in this moment in history, and it's especially important to hear. As Issa so poignently rapped, "F*ck feeling feelings - I just wanna be on my Halle Berry sh*t. I just wanna feel GOOD."
"In life it's easy to equate the stability of our jobs and relationships with our own mental stability, but Issa and Molly show us that the two are not mutually exclusive," Joymarie tells Bustle. "When we strip ourselves of job titles, accolades and other responsibilities, we'll find that much of the inner work still needs to be done in order to truly experience growth."
As Season two draws to a close and Issa Rae and her team begin to write Season 3, it'll be important to illustrate Issa and Molly both re-gaining their confidence individually, and reminding viewers that black women are resilient despite the many evolutions we experience. It'll also be interesting to see how their friendship evolves after practically hitting rock bottom in their love lives, and how they lean on each other as they begin to put the pieces back together. (Also, we'll definitely need to know if Issa hired someone to clean up that mess in her apartment because, Damn Sis!) The raw expression of vulnerability from all of the characters has been a mainstay this Season, but it's the honest portrayal of Issa and Molly's evolution that demonstrates the true influence, power and strength of black millennial women everywhere. And seeing that strength reflected makes us feel anything but insecure.