Why 'Insecure' Refuses To Explain Black Culture To A Mixed Audience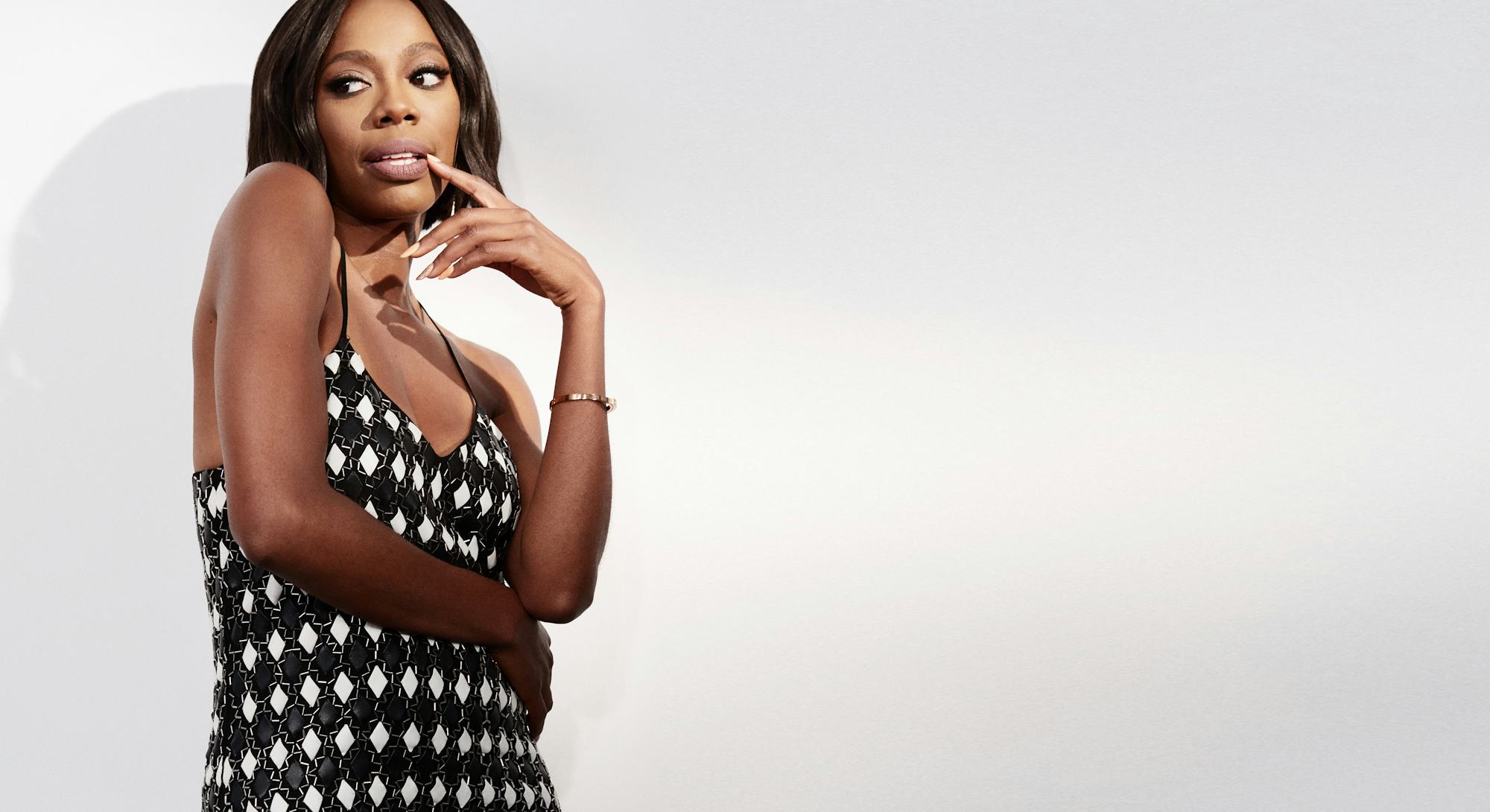 Photo: Ashley Batz/Bustle; Art Direction: Bry Crasch/Bustle
"How do you be black? You just are," Yvonne Orji says with a laugh. Sitting in a director's chair, she leans increasingly closer to me as we talk about her role on HBO's Insecure and its depiction of black women's lives. It's immediately apparent that, like her character, Molly, Orji is very confident and very engaging. And, just like Insecure itself, she doesn't feel the need to explain herself or her experiences. She just is.
"I think what our show does really well is it normalizes the black experience. We don't put any sauce on it. It's not like, 'Hey guys, Molly walks in and guess what? She's black,'" Orji says in a faux-announcer voice. "It's like, no, she's a lawyer, she's an AKA, she lives in a high-rise, she drives a nice car, she's into fashion, she switches her hair up every day, she has a dog. ... It's in the nuances. I think that's the biggie."
The show can't possibly summarize the entirety of the black American experience, and that's not its intention. In fact, that's the whole point — that these characters can exist without having to speak for every black person the way a "token" character often is meant to featured on a show with a mostly white cast. Look at Orji herself. While she does relate to certain aspects of Molly, like how much she loves her friends or the fact that she, too, used to work in corporate America, unlike the very sexual and constantly swearing Molly, Orji is a virgin and doesn't curse at all.
"I just think it's how Issa and her friends talk," Orji says of show creator Issa Rae, who also stars as Issa Dee, and the language used on the show. Orji doesn't mind having to swear while in character, but her mother, on the other hand, wasn't having it. "My mom came to the Season 1 premiere and, you know, obviously Molly curses quite often, and my mom sitting next to me was like," Orji adjusts and adopts her mother's Nigerian accent, "'That is not the daughter I raised. Who is this? Why are you using such words?'"
Orji was born in Nigeria and grew up in Maryland. She thought she was going to be a doctor, as her parents had hoped, until she entered a Miss Nigeria pageant, did standup comedy as her talent, and was surprised to get such a positive response. She went on to do standup regularly and write the pilot for a semi-autobiographical show called First Gen (it now has David Oyelowo and Oprah Winfrey attached as producers).
In her work, Orji often talks about her strict parents, so it's no surprise that her mother was shocked when she first saw her daughter as Molly. As for Rae, she was taken aback in the opposite direction when she got to learn more about her cast mate.
"Something happened and I was like, 'Ah, Shonda Rhimes!' And [Rae] was like, 'I'm sorry what?'" Orji explained to her that "Shonda Rhimes" is her "safe word for the s-word" because she doesn't curse, to which she says Rae responded, "'So let me get this straight, you don't have sex and you don't curse?'"
When it comes to not having sex, it isn't a secret and it isn't something Orji even considers being ashamed of. She gave a TEDx talk about the subject in early 2017 called "The Wait Is Sexy"and sells a line of graphic tees for other people who are waiting until marriage. It's just who she is and "having sex" on Insecure is just acting.
"I get it that in 2017 it's not a thing that a lot of people feel is common, but I know so many people in the same situation," Orji says. "It's like if you're never around a Jewish person, you don't know what Shabbat is. You're like, 'You guys do this every Friday?'"
Orji doesn't think the show should include a character who is a virgin, unless it fits into the show organically. "I don't necessarily think we force it if it doesn't fit into the narrative," she says.
It makes sense. For Insecure, it's all about being authentic. From small references — like the AKA sorority's "skee wee" sound — to more sweeping ideas — like why, as a black man, Lawrence (Jay Ellis) would be so nervous to be pulled over by a cop and then so annoyed that the officer dared comment on his Georgetown license plate — the show doesn't go out of its way to explain things in order to make sure every viewer understands. And in a landscape where black audiences are used to white being the default setting on TV and anything "black" needing to be explained, this is a big deal. When black characters are being written by non-black writers or a story is being told from a non-black perspective, Orji thinks there's usually a need to "make it known that [the characters] are black" rather than just letting them exist, which is how it should be.
Photo: Ashley Batz/Bustle; Art Direction: Bry Crasch/Bustle
Photo: Ashley Batz/Bustle; Art Direction: Bry Crasch/Bustle
The series needs that authenticity not only to relate to black viewers and to represent black people in an effortless way, but because the show tackles a lot of topics that are "taboo" in the black community, as Orji puts it. "Last season it was Jared's character being kind of sexually fluid — not even really sexually fluid but just having one experience [with a man] was like" — Orji gasps, feigning the shock her character felt about this revelation.
When it comes to bisexuality, there is already a double standard wherein women are more easily "accepted" as being sexually fluid as compared to men, but for black men, the idea is so taboo that there is a whole other term used for black men who have sex with other men, but who don't consider themselves bisexual or gay. As the New York Times magazine explained in a piece on the subculture, "Rejecting a gay culture they perceive as white and effeminate, many black men have settled on a new identity, with its own vocabulary and customs and its own name: Down Low."
Orji also points to the storyline in which her own character reluctantly starts going to therapy after Issa, the character, suggests that Molly could benefit from it. "Most people in the black community are like, no, you don't need therapy, you just go to church for that," she says.
This storyline is based on fact, too. The National Alliance on Mental Illness (NAMI) reports that while "African Americans are 20 percent more likely to experience serious mental health problems" as compared to the general population, there are a number of reasons that black Americans don't seek out mental health care, including lack of information and access, and, yes, spirituality. As NAMI notes, "research has found that many African Americans rely on faith, family and social communities for emotional support rather than turning to health care professionals, even though medical or therapeutic treatment may be necessary." The show doesn't say why exactly Molly thinks it's crazy to go to therapy — besides the fact that she thinks she doesn't need it and finds it offensive that her friend suggested it — and it doesn't need to. If you aren't a black viewer or don't have this background about how some African-Americans view therapy, the storyline still makes sense. But if you do have this background, it intensifies it in a way that can make black viewers feel seen.
And they do feel seen. Insecure finishes its second season on Sept. 10, and there's no doubt its rabid fan base will be tuning in for the finale. For many viewers, the show has become appointment television, and there is ample evidence on Black Twitter. Fans come together, both to bond and to argue (what's up, Lawrence Hive?), during each episode, which just goes to show how appreciated the series is. The announcement that Insecure was renewed for a third season came out right before our interview — "We just found out, like, as we were on our way here," Orji says excitedly — which means that the conversation won't be stopping anytime soon.
And as long as Insecure keeps being itself, fans will keep tuning in for the realness.