'Forbes' Put Ivanka On Its Most Powerful Women List But Can't Say How Impactful She Is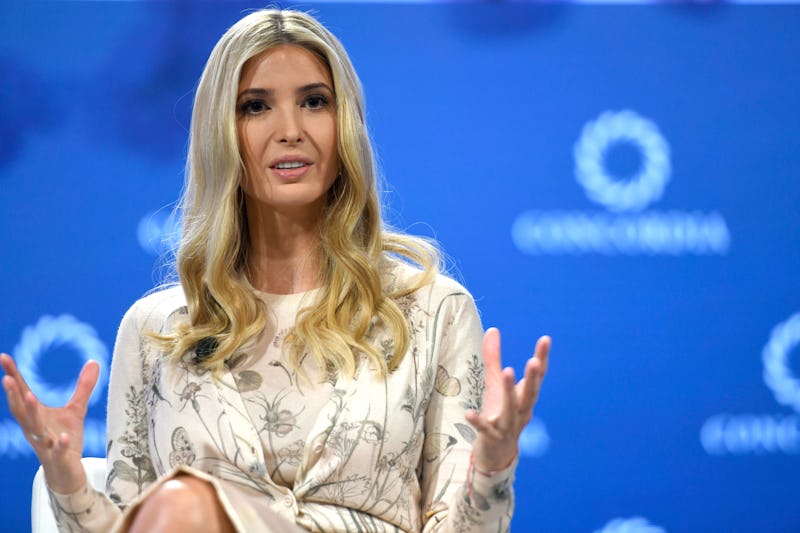 Riccardo Savi/Getty Images Entertainment/Getty Images
Being featured alongside other well-known women from around the world may not be a new thing for the first daughter. But Forbes' reason for including Ivanka Trump in its 2018 "World's Most Powerful Women" list comes with an interesting caveat.
Listed at number 24 on the list, Ivanka is introduced as Donald Trump's oldest daughter, as well as in her role a White House adviser. Forbes described Ivanka as the "de facto first lady as her step-mother Melania [Trump] prefers to avoid the limelight." (Bustle has reached out to the first lady's spokesperson, Stephanie Grisham, for comment.)
However, Forbes noted that it was "unclear" how much of an impact Ivanka has created in her position in the White House. It acknowledged her promotion of paid family leave as well as urging for more women to venture into science, and details Ivanka's focus on national politics after she shut down her fashion line in July.
In a statement to Bustle at the time, Ivanka had said, "After 17 months in Washington, I do not know when or if I will ever return to the business, but I do know that my focus for the foreseeable future will be the work I am doing here in Washington, so making this decision now is the only fair outcome for my team and partners."
Some people may still not understand what Ivanka does at the White House. According to the White House's official description of her role, Ivanka is apparently responsible for the advancement of job creation and growth particularly for "women and their families."
The official description adds that she was an entrepreneur before she took on politics in the capital. While previously working at her father's company, Trump Organization, Ivanka was responsible for handling "development and acquisitions." She "led some of the company's largest and most complex transactions," according to the page.
Since her dad took office, critics have been swift to point out what they say is an inconsistency between the first daughter's claims about what she advocates for and what her father supports. In July 2017, she tweeted, "I am proud to support my LGBTQ friends and the LGBTQ Americans who have made immense contributions to our society and economy." However, in October the following year, The New York Times reported that her father's administration was considering defining gender strictly based on biology.
In another instance, she had reportedly supported America sticking with the Paris climate accord, but her father announced in June 2017 that the country was withdrawing from the agreement.
On Forbes' list, Ivanka was featured alongside notably powerful women like Queen Elizabeth, Melinda Gates, Angela Merkel, Theresa May, Sheryl Sandberg, and others. Notably absent, however, was Melania.
In the past, though, both women were featured in Maxim's "Hot 100" list in June. The publication explained its editorial reasoning: "They're far more than just pretty faces. The women who inspire us are multi-hyphenates, entrepreneurs, and risk-takers. Now more than ever, we need to celebrate smart, powerful women who are breaking boundaries (and looking damn good doing it)."
From the looks of their status and power, Ivanka and Melania may be featured in even more such lists in the future.