'Maxim' Put Ivanka & Melania On Its Hot 100 List — Here's What It Said About Them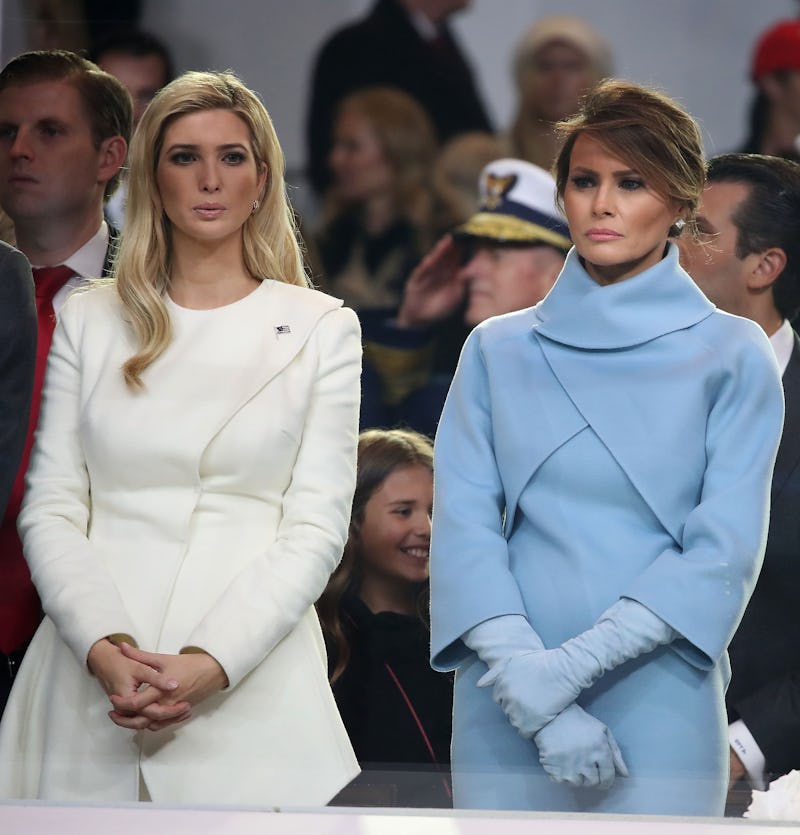 Mark Wilson/Getty Images News/Getty Images
It's a decision that may surprise some readers. In its 2018 "Hot 100" list, Maxim included Melania and Ivanka Trump for reasons based on more than just physical beauty. It was an editorial judgement justified in the following words:
They're far more than just pretty faces. The women who inspire us are multi-hyphenates, entrepreneurs, and risk-takers. Now more than ever, we need to celebrate smart, powerful women who are breaking boundaries (and looking damn good doing it).
This won't be the first time that Maxim featured a political figure in its "hot" rankings. Prior to this, in 2009, Maxim included former first lady Michelle Obama in its "Hot 100" list at the 93rd position. The magazine has been publishing this list since 2000 with winners who top the remaining 99 figures. In the past, Maxim's winners have featured actresses like Jessica Alba, Jessica Simpson, Lindsay Lohan, Miley Cyrus, Eva Longoria, Taylor Swift, Hailey Baldwin, and others. This year's winner is Kate Upton.
The president's wife and daughter were featured in the magazine's "power player" category, among the likes of Kim Kardashian West and Meghan Markle. For Ivanka, Maxim's gallery caption said, "Trump, who can list fashion designer and businesswoman on her impressive resume, is balancing her entrepreneurial endeavors with her White House responsibilities after being appointed advisor to the president last year."
For first lady Melania, Maxim's caption said that she had "taken special interest in children's issues, launching the Be Best awareness campaign this past May."
Given their placement in the "power player" category in Maxim, both Ivanka and Melania are placed next to other political and activist figures who, some might have already noticed, don't share their political views. For instance, the magazine features human rights lawyer Amal Clooney before the first lady and first daughter. The caption for Clooney says, "She tamed perennial bachelor George Clooney, specializes in human rights law, speaks three languages, and she is stunning. Dream women do exist."
In 2016, Clooney minced no words while criticizing the then-presidential candidate Donald Trump. "We're still dealing with the primary season and not the full election," she said. "If at the end of all of this he gets beaten by the person who becomes the first female president of the United States, then I think that would send a very positive message from the electorate back to him as to what they really think of those points of view."
Other "power player" women featured next to Melania and Ivanka include Kim Kardashian West who recently made news for campaigning for former federal prisoner Alice Marie Johnson. The Maxim caption for Kardashian said that she "isn't just the ultimate influencer; she is the original one."
"With 111 million Instagram followers, television shows, books, magazine covers, beauty and fragrance collections, Kimojis, and plans for a lingerie line, she's translated her reality-star fame into a global brand," it added.
Melania and Ivanka shared the limelight with other figures including Olympic gold medalist Mikaela Shiffrin. Maxim explained its reasoning for including the legendary the athlete and said that she was "arguably the best ski racer on the planet, believes hotness is synonymous with personality" and added that she gave "her parents credit for instilling good values in her from a young age."
But while Maxim gave high praise for Melania and Ivanka, some observers of the magazine's hot list refused to take it seriously. In fact, some ridiculed the publication for including the first lady and daughter, adding that it was a "hot mess" on Twitter. Some even implored the magazine to reevaluate its priorities while mentioning Trump's anti-immigration policies.