Forever 21's Unisex Capsule Collection Gives Fans A New Way To Shop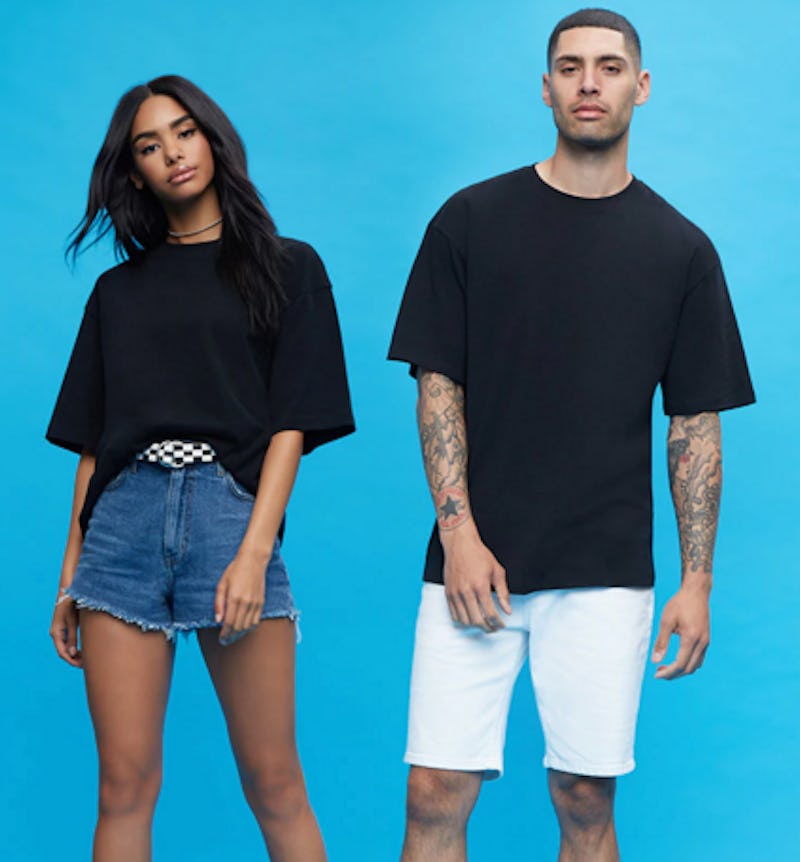 Courtesy Forever 21
It's always cool when your favorite retailers expand their shopping options and provide a more inclusive range of buying opportunities. Forever 21 already offers lingerie, swimwear, menswear, a plus size range and more, but now, they're offering an even wider array of styles to choose from. Forever 21's Unisex Capsule Collection is available to shop, and it's a cool display of forward-thinking on the brand's part.
The collection offers 15 different options that are branded as gender-neutral and has its own section on the F21 website. Again, it's awesome that a unisex option exists at Forever 21, even if the collection is starting out with a limited selection. Having a few unisex pieces are better than have none at all. There are t-shirts, sleeveless tanks and hoodies available in the collection, but I would love to see a version of this range that didn't include only typically "masculine" or athleisure styles. Why not have super modern t-shirt dresses, jeans or skirts in the gender-neutral category, too, you know? Eventually, that's what I'd like to see, but this display from Forever 21 is a strong start.
There's no point in having a separate "boys" or "girls" section, necessarily, because those gendered terms are meaningless when it comes to clothing — people of all genders can and should wear whatever they want. That's why this capsule line is a step in the right direction, and I'm hoping we can plan to see even more neutrality to come from the retailer. Bustle has reached out to Forever 21 to see if they plan on expanding their unisex line in the future.
I'd love to see just how far Forever 21 can push the genderless fashion envelope, but I'm so excited to see that they've delved into this realm.
There are plenty of others who feel this way, because fashion's for everyone, after all.
A move towards democratizing fashion is never a bad thing, and that's exactly what Forever 21 has done by offering this capsule collection.
For some Forever 21 fans, this has been a long time coming, so they're thrilled to see some neutrality from the brand.
Unisex Basic Crew Neck Tee, $9.90, Forever 21
The unisex line offers sizes S-XL. The concept of gender-neutral can go far beyond this, but hats off to this massive retailer for giving shoppers the chance to shop items that work, regardless of gender.
Uni Jacket 3, $49.99, H&M
Forever 21 isn't the first retailer to dive into the genderless fashion realm. H&M has this great jacket, which allows for a multiple styles for everyone available online now. There are more pieces where this came from, too.
Ungendered Trousers, $29.90, Zara
Zara also has some genderless options to shop from. Many of their selections focus on athleisure wear, similar to Forever 21.
Here's to hoping Forever 21 will become a major destination for unisex clothing of different styles in the future.