This Taco Bell Clothing Line Is Straight Fire — Seriously, There's A Fire Sauce Tank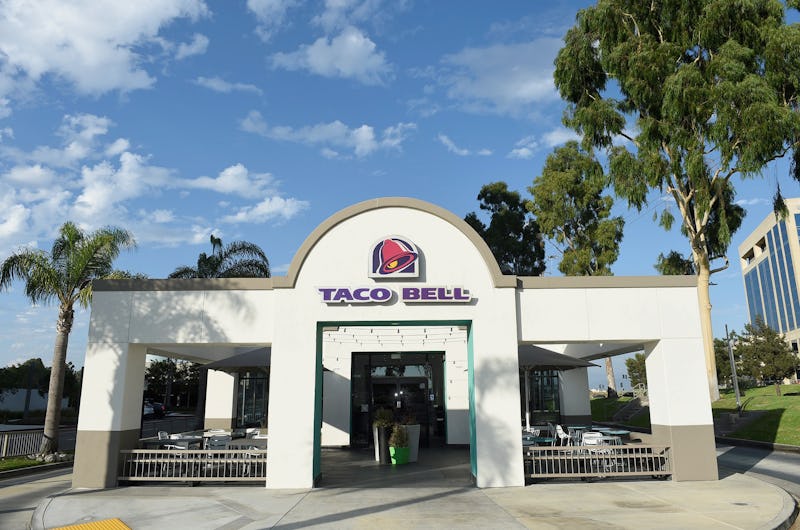 Joshua Blanchard/Getty Images Entertainment/Getty Images
In a season where Pumpkin Spice Lattes, cozy sweaters, and apple everything reigns supreme, an affordable fashion retailer and fast food chain are bringing you an unexpected collab. Forever 21 x Taco Bell is the clothing partnership you never knew you needed. While everyone else is dizzy off sugar and caffeine from their PSLs, you'll be rocking affordable taco-chic. What else could a person want in their life or their wardrobe?
While the collaboration may seem random to some, it's actually kind of a genius fit. Both the retailer and the fast food chain are known for their affordable pricing and great products. Need an affordable hoodie? Forever 21. Want an affordable taco? Taco Bell.
However, their evolving businesses are another perfect reason for the team up. Forever 21 just opened Riley Rose, their own beauty store front. Meanwhile, Taco Bell is opening more Cantina style locations complete with alcohol — praise hands for that one, people.
So, when can you snag the Taco Bell themed clothing from Forever 21? The pieces will be available in store and online beginning Oct. 11. You may want to mark your calendar for this launch, though, because with two popular brands, these clothes are about to fly off the shelf faster than you can say "chalupa."
Who did Taco Bell and Forever 21 choose to model the collab? According to Hello Giggles, it's none other than Brittany Creech and Andrew McBurnie. Back in 2015, the pair took senior portraits in Taco Bell and the pictures went viral. Now, they're going to do it again.
Of course, the internet has had a lot to say about this latest fashion collaboration, and the opinions are definitely mixed. From sheer astonishment to downright joy, the Taco Bell x Forever 21 emotions run the gamut.
Straight fire.
Because this is not a drill.
Some fans are truly flummoxed by the new line.
Whether Forever 21 and Taco Bell fans love it or hate it, the collaboration is on its way. But it's certainly not the first of its kind. Ban.do x Starbucks was an incredibly successful pairing, despite not being sold in the United States. Then there's, of course, 2015's McDonald's x Moschino pieces. Whether you like it or not, food and fashion often come together.
Until you can get your hands on the Forever 21 x Taco Bell goods, there's still plenty of fashion available to you for shopping. From phone cases to hoodies, if you want to rock an avocado on your tee shirt, you can. Here's a small sampling of some faves:
Googly Avo iPhone Case
Googly Avo iPhone Case, $25, Skinnydip London
Not only is this case adorable, but it's probably sold out right now because it's Kylie Jenner approved. Fingers crossed for a restock.
Fries Patch Graphic Sweatshirt
Fries Patch Graphic Sweater, $12, Forever 21
Clearly, Forever 21 is no stranger to food fashions with this adorable french fry sweatshirt.
Burger Print Sweatshirt
Burger Print Sweatshirt, $9, Forever 21
Taco Bell or burgers? At Forever 21, you've got options.
Purrito
Purrito, $28, Etsy
Who doesn't want cats and food in one shirt? This Purrito shirt needs to be on your to-buy list asap.
Coffee Cupcakes Wine
Coffee Cupcakes Wine Sweatshirt, $25, Etsy
The three core food groups all on one sweatshirt? How quickly can this be shipped?
While there's clearly no shortage of food themed fashion, the Forever 21 x Taco Bell collaboration is one of the few accessible brand and food partnerships. While Moschino was great, its price point was out-of-reach for most, and the adorable Starbucks x Ban.do line was only available in Asia.
But here in the states, we now have affordable Taco Bell themed clothes. So who's the real winner here?