The First State Lawmaker Taken Down By #MeToo Is Running For Office Again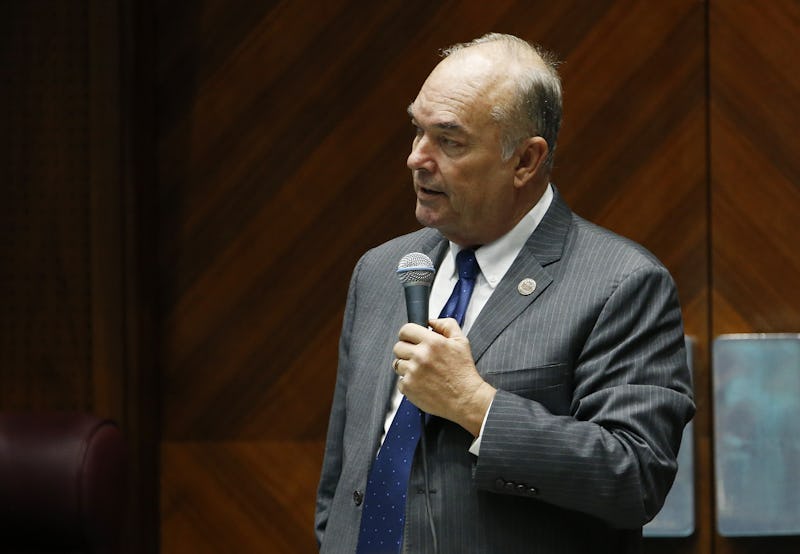 Ross D. Franklin/AP/REX/Shutterstock
It's official: The first state lawmaker taken down by #MeToo wants to make a comeback. Nearly four months to the day after the Arizona House of Representatives voted to expel him, Don Shooter announced he's running for office again. Shooter declared his intention to start campaigning to represent the 13th district again, this time in the state senate.
Shooter was expelled by the state legislature on Feb. 1 after nine women came forward to accuse him of sexual harassment in November (one month after the Harvey Weinstein scandal broke and started taking down powerful men across multiple industries). Three of these alleged victims are current legislators, three are lobbyists, and one is a former newspaper publisher.
The women — one of whom is Michelle Ugenti-Rita, a current member of the House — accused Shooter of making unwanted advances and sexual comments to them. Ugenti-Rita claimed that Shooter made lewd remarks about her breasts and tried to enter into a romantic relationship with her. Marilyn Rodriguez, a lobbyist, alleged that Shooter came on to her during a private meeting about the state budget (they were both on Arizona's Senate Appropriations Committee).
Shooter has rejected Ugenti-Rita's allegations and declined to comment on some of the other accusations leveled against him, since his conduct is under investigation by Arizona's state legislature.
"I requested an investigation by the House which is now underway," he said in a statement on Nov. 8. "Therefore I am unable to comment further except to provide my full support and cooperation."
Shooter later suggested that he bears responsibility for at least some of the complaints filed against him. In a statement to the House in January, he claimed that he had misjudged the tone of some of the comments he'd made to women — intending some to be jokes, for example. He said:
At first, my response was largely defensive, borne of frustration at a few complaints that were not true or were made for a personal or political vendetta. But it would be a mistake to treat each and every complaint the same, if I failed to learn from legitimate complaints, and if I failed to recognize and apologize for those actions that caused damage or hurt.
Shooter's decision to run again despite the #MeToo accusations "seemed like the politically unthinkable a few short months ago," AZCentral.com reported. He must now believe that the cultural climate is more sympathetic toward him — which raises the question of whether the #MeToo movement and its message of "believing women" could be facing a plateau.
As Shooter himself tells it, he's running for office again because he's learned his lesson. In his mind, he's gone through the requisite period of self-reflection required to be a public servant again.
"I've learned some lessons and I'm ready to serve," Shooter said this week, according to AZCentral.com. "Simple as that." He also said: "I've learned and I've apologized for the legitimate stuff."
That's not how the women who accused him see it. Rodriguez, one of the lobbyists who claimed he harassed her, tweeted about her disgust for the news on Wednesday. "Don Shooter is a predator and serial harasser who disgraced the honor of elected office," she wrote. "Our state elected leaders must condemn this man and his candidacy."
Newspaper publisher Mi-Ai Parrish, who accused Shooter of making a sexual comment to her, also denounced Shooter's candidacy in a statement on Wednesday. "I think it would be a destructive and negative thing for Mr. Shooter to return to the Arizona Legislature," she said.
Shooter's expulsion from the Arizona House was the first time that such a vote had happened since 1991.