This Comment From A Former Hillary Clinton Aide Set Off Rumors That She May Run Again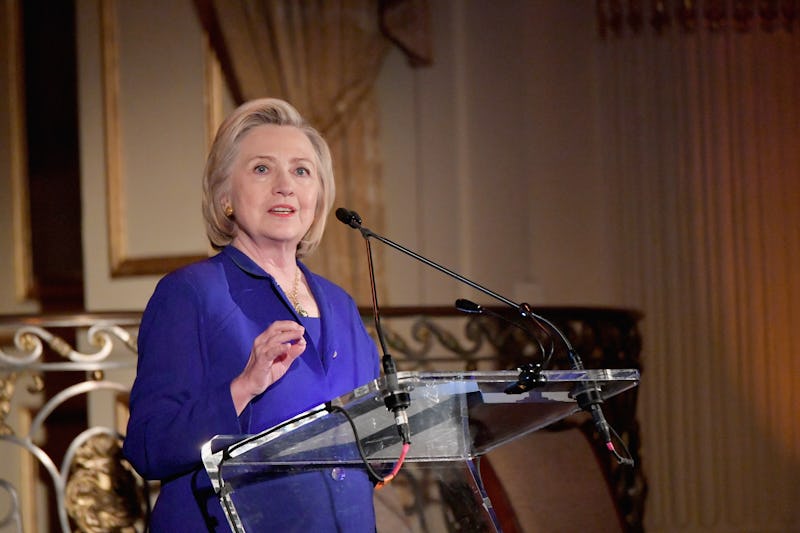 Mike Coppola/Getty Images Entertainment/Getty Images
If you find yourself nostalgic for the 2016 election and would like to relive it, you just may be in luck: On Friday, Former Hillary Clinton Aide Philippe Reines made comments that sparked rumors of a third presidential run. Reines, who worked with Clinton in the Senate, in the State Department and during her 2016 presidential campaign, told Politico that a third Clinton run is unlikely — but not entirely off the table.
"It's curious why Hillary Clinton's name isn't in the mix — either conversationally or in formal polling — as a 2020 candidate," Reines said. "She's younger than Donald Trump by a year. She's younger than Joe Biden by four years. Is it that she's run before? This would be Bernie Sanders' second time, and Biden's third time. Is it lack of support? She had 65 million people vote for her."
When asked about the likelihood of Clinton running for president in 2020, Reines said that "it's somewhere between highly unlikely and zero... but it's not zero."
It's worth stressing that Clinton herself has said absolutely nothing to imply that she's thinking about another presidential run. Needless to say, Reines' comments will surely set off another furious round of speculation about her political future.
Of course, this kind of speculation is nothing new. Conservatives in particular have been fantasizing about a possible Clinton 2020 run since weeks after the 2016 election. They continued doing so after Donald Trump was inaugurated, often fixating on rather mundane actions by Clinton, and still do so today: In Friday's Politico interview, former Trump adviser Steve Bannon called Clinton "a lion in winter" and proclaimed that "not only is she running, she should run."
All of this is despite the fact that Clinton herself has done little, if anything, to suggest that she's considering another presidential run. In fact, she's stated very explicitly that a 2020 bid isn't in the cards.
"No, I'm not going to run again," Clinton said in a BBC interview in October 2017. "I think I'm in a position where my voice will actually be magnified because I am not running, and there's a very good basis, as we watch Trump's support shrink, that people will say, 'Well, what she said was right and now where do we go from here?'"
Reines' comments carry a little bit more weight than idle speculation from Clinton's opponents, though, given that he's long been a close Clinton confidante. In the Politico interview, he made the case for another Clinton candidacy, arguing that "there's no one [else] in the Democratic Party who has anywhere near a base of 32 million people" like Clinton does, and that "chalking the [2016] loss up to her being a failed candidate is an oversimplification."
"She is smarter than most, tougher than most, she could raise money easier than most, and it was an absolute fight to the death," Reines said.
Although giving odds to potential presidential candidates more than two years before the election is mostly a fool's errand, preliminary polling suggests that Clinton would have a shot in 2020: In a June survey, 18 percent of Democrats named her as their top choice to run against Trump for reelection, with only former Vice President Joe Biden receiving more potential support.