An ICE Spokesperson Didn't Want To Lie About Immigrants — So He Quit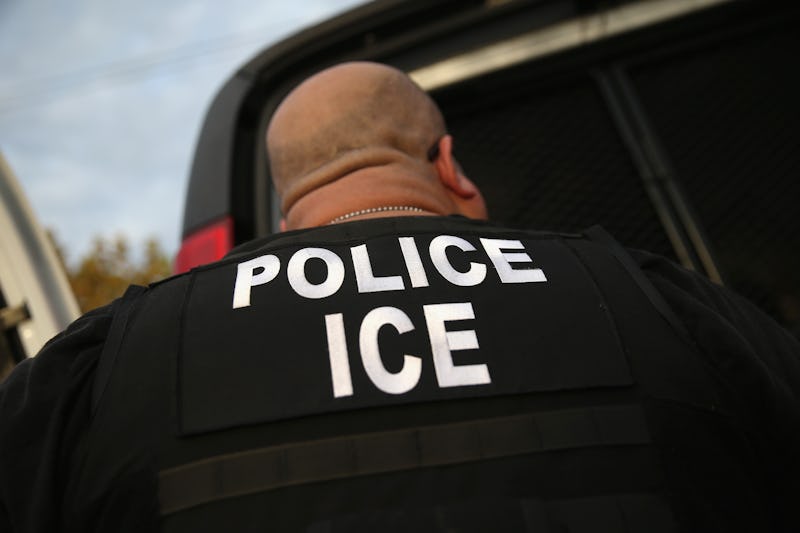 John Moore/Getty Images News/Getty Images
A spokesperson for Immigration and Customs Enforcement (ICE) quit Monday after claiming that Trump administration officials spread misleading facts. San Francisco ICE spokesperson James Schwab resigned, saying he made repeated attempts to clarify numbers from the agency on an immigration raid throughout central and northern California, to no avail.
In late Februry, the mayor of Oakland, California, Libby Schaaf, tipped off residents in her community that an ICE raid was coming, which infuriated the Trump administration. Officials, including Attorney General Jeff Sessions, accused her of allowing more than 800 people without immigration papers to escape.
ICE Acting Director Thomas Homan claimed in a press release after Schaaf's warning:
864 criminal aliens and public safety threats remain at large in the community, and I have to believe that some of them were able to elude us thanks to the mayor's irresponsible decision.
But Schwab argued the number is much lower than that. "I quit because I didn't want to perpetuate misleading facts," Schwab told the San Francisco Chronicle. "I asked them to change the information. I told them that the information was wrong, they asked me to deflect, and I didn't agree with that. Then I took some time, and I quit."
ICE spokesperson Liz Johnson told Bustle in a statement:
Even one criminal alien on the street can put public safety at risk and as Director Homan stated, while we can't put a number on how many targets avoided arrest due to the mayor's warning, it clearly had an impact. While we disagree with Mr. Schwab on this issue, we appreciate his service and wish him well.
The issue, according to Schwab, is that though 864 immigrants in California remain on ICE's list to pick up, not all of them eluded arrest due to the warning from Schaaf. There would have always been some who evaded the immigration raid either way, he told CNN.
The ICE acting director's qualifier that "some of them were able to elude us" was not always repeated by other officials. Sessions, for example, said that "ICE failed to make 800 arrests that they would have made if the mayor had not acted as she did. Those are 800 wanted aliens that are now at large in that community."
Homan himself once switched up his wording, attacking the Oakland mayor without saying that it was just "some" of the undocumented immigrants.
"She gave them warning, and there's 800 that we were unable to locate because of that warning, so that community's a lot less safe than it would have been," Homan told Fox News. In other appearances, he did say he wasn't sure how many evaded arrest thanks to the mayor's warning, but that didn't suffice for Schwab.
"I didn't feel like fabricating the truth to defend ourselves against [Schaaf's] actions was the way to go about it," Schwab told the Chronicle. "We were never going to pick up that many people. To say that 100 percent are dangerous criminals on the street, or that those people weren't picked up because of the misguided actions of the mayor, is just wrong."
Speaking with CNN, Schwab made clear that he's not siding with the mayor. "Personally I think her actions were misguided and not responsible," he said. "I think she could have had other options. But to blame her for 800 dangerous people out there is just false."
Not being able to release a correction regarding the statistic that 864 "criminal aliens and public safety threats" remained at large, Schwab said, led to his decision to quit. He told CNN that ICE leadership told him to "deflect to previous statements, even though those previous statements did not clarify the wrong information."
Schwab said he couldn't "bear the burden" of this and put in his resignation: "I've never been in this situation in 16 — almost 17 — years in government where someone asked me to deflect when we absolutely knew something was awry — when the data was not correct."
Editor's note: This post was updated on March 13 to include ICE spokesperson Liz Johnson's statement.