Former Judge Michael Kors Is Super Excited For This New Addition To 'Project Runway'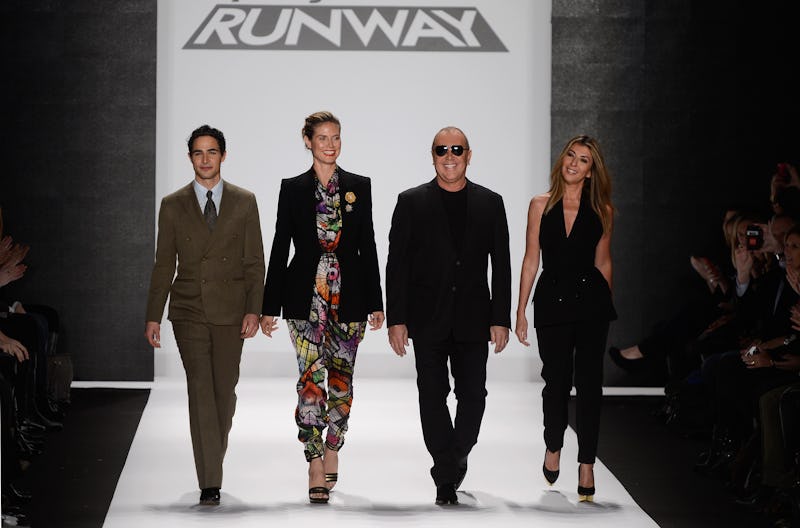 Frazer Harrison/Getty Images Entertainment/Getty Images
Designer Michael Kors became known for his unfiltered opinions during his tenure as a judge on Project Runway, and when it comes to sharing his thoughts on the reality competition's newest incarnation at Amazon Prime, he's still not holding anything back. Luckily, however, Michael Kors' comments on the new Project Runway cast prove he has nothing but good will towards the show that he used to call home.
Speaking with People on Thursday, Kors had nothing but praise for the new Project Runway host Karlie Kloss, returning judge and Editor-in-Chief of Elle Nina Garcia, and new judges Elaine Welteroth and designer Brandon Maxwell. "I know all of the people who are going to be involved with the show, and they love fashion," he said. "These are all people who really are very, very involved in the industry and I think it's going to be exciting."
Of all of the show's newest cast members, though, Kors was most excited about seeing designer Christian Siriano take over from Tim Gunn as the competitors' mentor in the workroom. Siriano himself won Season 4 of Project Runway back in 2008, and in the decade since has transformed from a "fierce" aspiring designer to one of the biggest names in the fashion industry, thanks to his size-inclusive philosophy and his relationships with major red carpet stars. And, according to Kors, it's those elements of the designer's story that make him the perfect person to mentor the up-and-coming designers competing on the show.
"I think it's fabulous to see him step into the mentorship role," Kors told People. "Christian's been in business for 10 years. I always tell everyone that 10 years in fashion is like 30 years in life, so he's probably seen in 10 years what normal people might see in 30 years. That's the reality of fashion."
In addition to all of that experience working in the fashion industry (and the fact that he's become a household name in the process), Siriano's time competing on Project Runway means that he has insight into what the designers on the show are going through, and thus, will be able to help guide them in a way that will help them to succeed in the competition. After all, who better to give advice about what it takes to win Project Runway than, well, someone who actually won Project Runway?
Siriano himself seems to be equally enthused about his new gig. In a post announcing his return on Instagram, the designer wrote, "10 years later I'm excited and honored to help guide the new generation of talent," on the show. In an official statement, via Deadline, the designer elaborated: "Project Runway has offered such wonderful opportunities for so many and I'm excited to take on this role as a mentor. I hope to guide and inspire the new talent on the rise."
No doubt fans of both Siriano and Project Runway will be desperate to see how he adjusts to this new role. For now, he and the entire crop of new judges have Kors' seal of approval as the newest faces of the fashion industry. Let's just hope that one of them can describe looks with the same cutting hilarity that Kors himself always provided during his decade on the show.