'Project Runway' Is Coming Back To Bravo With A New Host You ALL Will Know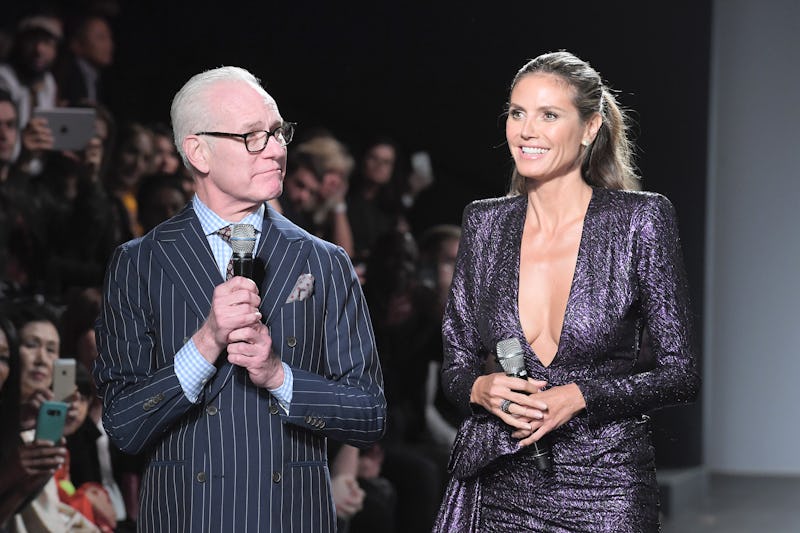 Dimitrios Kambouris/Getty Images Entertainment/Getty Images
Great news for fans of cutthroat reality television, design competitions, and catchphrases, as Project Runway is returning with Karlie Kloss and Christian Siriano. On October 10, Deadline broke the news that a revamped Project Runway would move back to its original home, Bravo, with Kloss serving as host and Siriano as "mentor" to the competitors. Siriano first rose to fame as the winner of Project Runway Season 4. Joining Siriano and Kloss are Project Runway veteran Nina Garcia, who is the Editor-in-Chief of Elle, Elaine Welteroth, the former Editor-in-Chief of Teen Vogue, and designer Brandon Maxwell. All three will serve as the series' official judges.
Per Deadline, Kloss is thrilled for the opportunity. The supermodel and entrepreneur released the following statement on the news:
"As someone who grew up watching Project Runway, I could not be more excited to host and produce a series that provides a platform to aspiring American designers as they pursue their creative and entrepreneurial dreams."
That's not an exaggeration — she really did grow up watching it. When the series premiered in 2004, Kloss would have been just 12 years old!
Siriano added the following:
"Project Runway has offered such wonderful opportunities for so many and I'm excited to take on this role as a mentor. I hope to guide and inspire the new talent on the rise."
Kloss elaborated that she was especially excited to join this new version of the series for its stunning 17th (!) season. Again, per Deadline:
"I am equally as thrilled to work alongside an incredibly talented group of fashion innovators — Brandon Maxwell, Elaine Welteroth, Nina Garcia and Christian Siriano — to inspire, support and help guide these designers as they realize their visions and build everlasting brands and businesses."
The network is equally happy to have Kloss and Co. on board. Not to mention, after 11 seasons on Lifetime, Bravo is more than happy to welcome Project Runway back home. Shari Levine, who is the Executive Vice President of Current Productions at Bravo — talk about a dream job — put out an equally effusive statement on the news.
"These are the perfect faces for the new Project Runway, as we recalibrate for a new generation of fashion enthusiasts. They are entrepreneurs and trailblazers with tremendous reach inside and outside the fashion industry, and give Bravo and our producing partners... the right fuel to reenergize the franchise."
All together now: Fierce.
With this mix of new and old Project Runway faces, including a mentor that not only competed on the show but won (and became a pop culture icon in the process), the series should feel both cozy and refreshed. Not many other artistic competition shows have lasted for 17 seasons and counting, which makes something as creative and beloved as Project Runway so unique.
It also makes sense for Kloss and Siriano in particular to join this series. Kloss, like Klum before her, is a renowned, entrepreneurial, and charismatic supermodel. They've also both walked the Victoria's Secret Fashion Show numerous times. Siriano, meanwhile, may have gotten his start on the show, but he's gone on to create his own line and dress some of the entertainment industry's most beloved stars. He's also one of the rare designers that goes out of his way to clothe curvier actors and models, which is definitely worth noting.
All in all, this new-meets-old take on Project Runway sounds majorly enjoyable. They won't have to go too far out of their way to make it work.