Why 'Four Weddings' Star Rebecca Rittenhouse Says Mindy Kaling Really Is A "Dream Boss"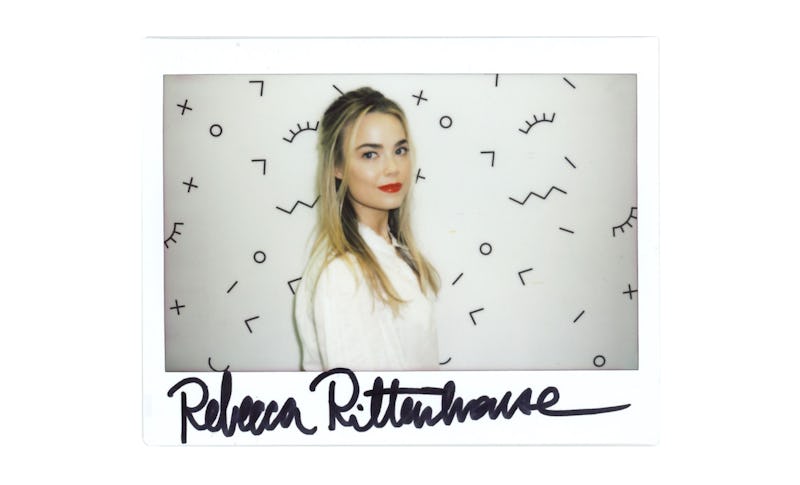 When celebrities hang out with Bustle editors, we want to give them the chance to leave their mark. Literally. So we hand them a pen, a piece of paper, a few questions, and ask them to get creative. This time, Hulu's 'Four Weddings and a Funeral' star Rebecca Rittenhouse is leaving her mark in the Bustle Booth.
"Well first of all, you should see the movie," Rebecca Rittenhouse says moments after sitting down to discuss her new Hulu miniseries Four Weddings and a Funeral. She puts a period on the end of the sentence with, "Just because." Rittenhouse, who is dressed impeccably in head-to-toe white (her character Ainsley would approve) doesn't remember when she first saw the 1994 rom-com starring Hugh Grant, Andie MacDowell, and James Fleet, but she knows it was a "long, long time ago." "But then Mindy approached me about it, [and] I watched it again," she adds.
The "Mindy" Rittenhouse is referring to is Mindy Kaling: The star and creator of shows like The Mindy Project and Champions, writer for movies like Late Night, and of course there's her long-running role on The Office as Kelly Kapoor. Now, Kaling — who is a known fan of rom-coms — has adapted the '90s classic with Matt Warburton and put a modern spin on the film in the 10-episode miniseries on Hulu. (The first four episodes of the show premiere on July 31.)
This isn't the first time Rittenhouse has had Mindy Kaling as a "dream boss," as she calls her. Rittenhouse played Anna on The Mindy Project, which aired on Fox up until 2015, when it was canceled and quickly scooped up by Hulu, where it ran for an additional three seasons. Rittenhouse joined the show during its fifth season.
"[Kaling] has this amazing mix of just being a very cool, smart, ambitious woman, so that's something I want to be around," Rittenhouse says. It made Rittenhouse's decision to sign on to Four Weddings an easy one. "[I wanted] to keep working with Mindy," she says. "I basically made myself available."
A slight departure from Kaling's usually comedic projects, Four Weddings lends itself to comedy while also including a true tragedy for its characters (no spoilers, but the title pretty much says it all). The show follows four friends from college — Maya, Craig, Ainsley, and Duffy — living in London and dealing with new relationships, political scandal, love affairs, and yes, four weddings and a funeral.
Each character's story arc compels individual storylines. Maya (Game of Thrones' Nathalie Emmanuel) has recently moved to London to start anew after an affair gone wrong; Craig (Brandon Mychal Smith) is juggling life-altering news with an already complicated relationship with his girlfriend Zara; Duffy (John Paul Reynolds) finds himself battling the decision of whether or not he should tell one of his best friends that he is in love with her; and Ainsley (Rittenhouse) is balancing two consuming friendships and struggling to figure out what she wants in life after being left at the altar by her fiancé.
So does Ainsley want the cookie-cutter, curated life she was taught to crave by her overbearing mother (played by Four Weddings original cast member Andie MacDowell), or something more fulfilling and deep? Rittenhouse says the beauty of the show is in how it examines relationships both platonic and romantic.
"Is it a love story between Maya and Kash, or is it a love story between two female best friends?" Rittenhouse muses. You'll have to start streaming Four Weddings on Hulu to decide for yourself.
Find out more about Rittenhouse in her Bustle Booth below.