Frances McDormand's 2018 Met Gala Outfit Literally Covered Her Entire Face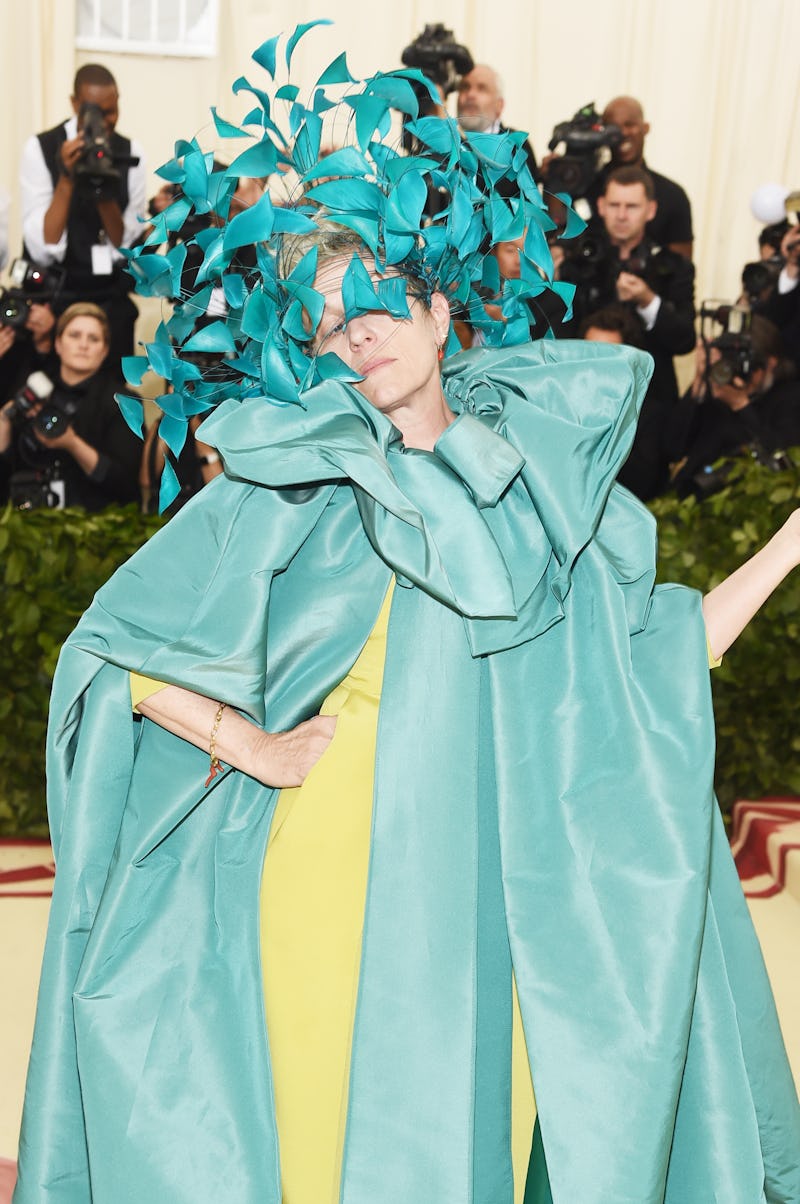 Jamie McCarthy/Getty Images Entertainment/Getty Images
It's been a very good year for actor Frances McDormand. She picked up the Best Actress Oscar back in March for her gutsy portrayal of a grieving mother who won't back down no matter what local pressure is thrown at her in Three Billboards Outside Ebbing, Missouri. She is following up that unforgettable performance with an equally unforgettable Met Gala gown. Frances McDormand's 2018 Met Gala look was completely unexpected. It was fashion forward AF and should be one of the most-discussed looks of the evening. At first, it felt a bit out of character for the stupendous actor. Then, it became apparent that she was just doing her thang.
McDormand was draped in a teal, custom Valentino Couture dress with a robe, a massive collar, and an enormous floral headpiece that covered her face.
It was a lot of look, especially from the neck up. But the actor pulled it off and the end result will render you speechless.
She was mostly concealed from head to toe. That said, we could see her eyes and some of her arms and legs. But for the most part, her limbs and her face were hidden. That sort of mystique was utterly enchanting.
Overall, it was a glam statement on McDormand's part.
It's even more interesting since she usually opts for no-nonsense, utilitarian looks when it comes to the red carpet. She clearly decided that she was going to have the most fun at the Met Gala. While so many ensembles were serious and staid, McDormand remained on-theme while enjoying herself. And that's what fashion is supposed to be about.
But this is the Met Gala and it's a fashion event. So it was thrilling to see McDormand indulge the Catholic-inspired, "Heavenly Bodies" theme of this year's Met Ball.
If we didn't tell you this was McDormand, you might never have known as her identity was largely hidden. You can see a bit of her yellow under-frock peeking out. But it's her pose, which has a fairy godmother posture, that had us shaking our heads and proclaiming, "We're not worthy."
The color is breathtaking, as well. Her roomy robe was not-too-literal of a take on this year's theme. But it certainly felt like the inspo came from another century and from a faith base. It's not easy to be less than literal but still hit the point hard. McDormand is incredibly effective at getting the theme right.
McDormand's Valentino creation certainly boasts loads of volume. But amazingly enough, it does not swallow her up. Even with the ruffled bow around her neck, from which the blue flowers sprout, it never feels like too much.
Twitter was feeling McDormand's dress, which has some fairytale elements to it, as well. It also has a bit of a Statue of Liberty vibe. Perhaps that is due to the color, which shifts a bit in the light and under the glare of the paparazzi flashbulbs.
This user expressed the majority opinion. So many Met Gala fashion watchers were pleased with McDormand's turquoise choice.
This user makes a good point. The dress is glorious and it also has a spring-look, blooming nature. Like a literal flower.
As we have stated several times, McDormand is injecting the Met Ball with a dose of fun.
Truth! McDormand lovers appreciate her work and her energy. But it is refreshing to see her make fashion her you-know-what.
Here's to hoping this is just one of many future McDormand x Met Gala appearances. Her ensemble just might make your night.