Alert: A 'Snow White And The Seven Dwarfs' Marathon Is Coming To Freeform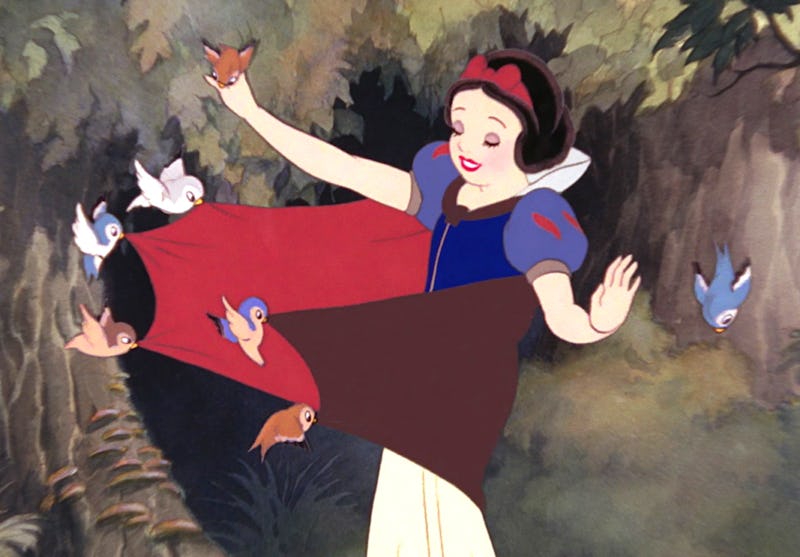 Walt Disney Productions
Disney has come a long way in their history, and they're honoring their beginnings with a Snow White and the Seven Dwarfs marathon on Freeform. The film had its limited release on Dec. 21, 1937, but you won't have to wait all the way until wintertime to celebrate this trailblazing classic. On Sunday, Feb. 4 — yes, Super Bowl Sunday — Freeform will celebrate the 80th anniversary of Snow White's nationwide release, starting at 11:30 a.m. and lasting all day long.
That means that, even if you're too Sleepy to catch the first showing or too Bashful to admit that you're too Dopey to know how to work your remote, or too Grumpy to tune into TV at that hour without your coffee, you aren't out of luck. You'll be Happy to hear that you'll still be left with five more chances and the whole rest of the day to catch the very first Disney animated feature film ever made. So, don't call the Doc, unless of course you're feeling Sneezy.
Sixty-six Disney features later, a lot has changed in the world of animation. More recent offerings like 2016's Moana and 2014's Frozen, for example, look almost recognizable from the studio's early releases. But when Snow White and the Seven Dwarfs was first released, it was just as groundbreaking as some of the more recent Disney classics, if not more so. Snow White was the first full-length, animated feature with both color and sound, three things that audiences take for granted in today's world. But, in 1937, Technicolor was still a relatively recent innovation; the first Technicolor film had come out only 20 years before, in 1917.
Snow White was the first feature to release a soundtrack for the songs heard in the film, and it was the first — and only — film to receive a specialized Academy Award that consisted of one large Oscar and seven smaller ones.
In short — no pun intended — there's no shortage of achievements to celebrate about Snow White and the Seven Dwarfs. Even without all the ways in which it changed the industry, the simple fact that the movie is still a family favorite eight decades after its original release is a marvel. A toddler today and his great-grandmother could both have seen the same film across generations and enjoy it together in 2018, which is truly incredible. (Not to mention marathon-worthy.)
Its longevity was likely beyond the studio's wildest dreams when they began production on the feature in 1934. The studio had released a string of successful shorts, but no one had ever attempted anything close to an 80-minute feature, and the rest of the industry was skeptical. In fact, during production, which took around three years, the project took on the nickname "Disney's Folly."
And you can't really blame Disney's fellow studio heads for their skepticism: the film required hundreds of artists and 2 million sketches that were pared down to around 250,000 images for the final product. A page for the Walt Disney Family Museum breaks down the team as follows: "32 animators, 1032 assistants, 107 inbetweeners, 10 layout artists, 25 background artists, 65 special effects animators and 158 inkers and painters and countless production staff." That's 1429 people working on one project, all of whom were putting their necks on the line for a feature that everyone else thought would crash and burn.
We know how that turned out now, of course. It's 80 years later, Snow White and the Seven Dwarfs has been memorialized in the Library of Congress, it cleaned up at the Oscars, and it was named the Best Animated Film of all time by the American Film Institute in 2008. Plus, Disney maintains its reputation today of being a studio that's willing to take risks and explore new technologies in order to tell the most successful story possible.
And you can celebrate all of that on Sunday with a marathon-viewing of the studio's earliest and riskiest venture, the film that started it all: Snow White and the Seven Dwarfs.