'Fresh Off The Boat' Season 5 Will Add A Brand New Asian Family To The Neighborhood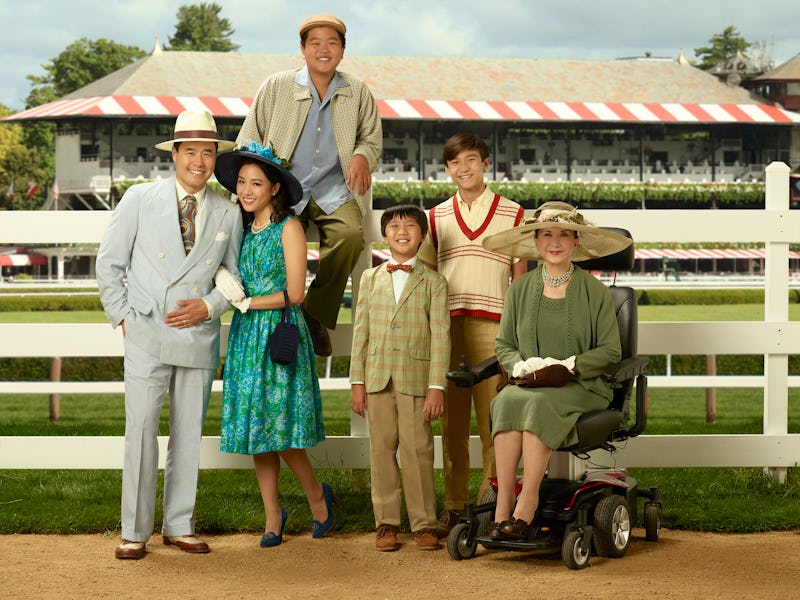 ABC/Bob D'Amico
The Huangs are gearing up for some major changes when Fresh Off The Boat returns for Season 5. In addition to balancing their cultural traditions while dealing with the outside pressure to conform, the family has a lot of great new things in store – including an episode where Fresh off The Boat will welcome a new Asian family into the neighborhood, according to Entertainment Weekly.
The outlet reported on Sept. 19 that Ming-Na Wen, Reggie Lee, and Jimmy O. Yang will guest star as the only other Chinese family in the Orlando suburb in an upcoming episode, titled "Mo' Chinese, Mo' Problems." Wen and Lee will play husband and wife, Elaine and Julius, while Yang will play their son, Horace, a teen who was accepted into Harvard at the age of 16. Elaine is described as having a great sense of humor with the ability to offer great advice, which ultimately earns her the nickname "Chinese Oprah," according to EW. Similar to FOTB's patriarch Louis Huang, Julius has deeply embraced American culture, showcasing a love for things like apple pie, steak, and the Dallas Cowboys – which should certainly make for an interesting meshing of the two families.
Fresh Off The Boat, which is based on Eddie Huang's memoir of the same name, follows the life of Huang (Hudson Yang), and his family as they relocate from Chinatown in Washington D.C. to Orlando, Florida to open a cowboy-themed steakhouse in 1995. The sitcom features a largely Asian cast, being rounded out by; Randall Park, who plays the family patriarch, Louis and Crazy Rich Asians star Constance Wu, who portrays Huang's mother, Jessica. Forrest Wheeler and Ian Cheng take on the roles of Huang's younger brothers Emery and Evan while, Lucille Soong plays, Grandma Jenny.
The show's presence on network television has helped to introduce some much-needed inclusion amongst the primetime landscape. When it made its premiere in February of 2015, Fresh Off The Boat became the first Asian-American family comedy to air on TV in two decades, according to Deadline. FOTB star, Randall Park, spoke about the lack of diversity during the Television Critics Association's 2018 summer tour, telling Decider:
"For the past five seasons there have been other Asian families on TV, but right now we might be the only one, at least on network TV, which is unfortunate. But hopefully things will change."
While things most certainly have a long way to go in terms of inclusivity for all on television, the addition of another Asian family on Fresh Off The Boat will do a great job of bringing an amazing new dynamic to the the predominately white neighborhood which the Huang's currently navigate on-screen.
Amongst other news for the upcoming season, Variety reveals that Family Matter's alum Jaleel White will also guest star in an upcoming episode, which is sure to bring out some major '90s nostalgia for fans of the show. Artwork for the fifth season of FOTB, which Entertainment Tonight shared last month, lends additional throwback feel to the show's forthcoming season. The poster for the show's return features the Huangs in a colorful, pop-art layout, offering major nostalgia to past decades. ET notes that the series' past posters have been inspired by artwork classics such as American Gothic, Whistler's Mother and Norman Rockwell's Going and Coming.
The series, which is moving to Friday nights upon its return on Oct. 5, has become part of ABC's plan to revamp its TGIF programming block which was once popular in the '90s.
As the push for inclusion in entertainment continues, bringing another Asian family to primetime television is – at least – a baby step in the right direction. Although the fight for diversity is far from over, the laughter that the Huangs bring week after week has proven to be the comedic relief that many viewers may have needed.