'Friends' Fans Are Supporting Matthew Perry After His Recent Health Update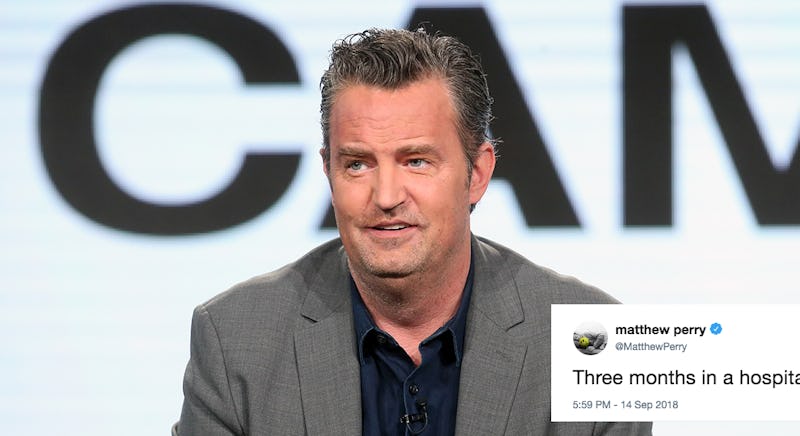 Frederick M. Brown/Getty Images Entertainment/Getty Images; MatthewPerry/Twitter; Bustle/Screenshot
Matthew Perry is known for a lot of things: a sharp sense of humor, Chandler Bing-esque quips IRL, and surprisingly touching social media presence are just a few of them. Unfortunately, Matthew Perry's health update has fans a little concerned for the Friends star. On Sept. 14, the actor tweeted a short announcement, writing:
Three months in a hospital bed. Check.
That was the extent of the message. It's a little troubling, but admittedly, the timeline for this is unclear, and perhaps intentionally so. For instance, following reports that Perry was in the hospital for an operation on Aug. 7, a representative for the actor shared the following statement with Bustle:
Matthew Perry recently underwent surgery in a Los Angeles hospital to repair a gastrointestinal perforation. He is grateful for the concern and asks for continued privacy as he heals.
Since Perry underwent surgery at an unspecified time, and again, that could be to offer the actor personal privacy, it's not immediately obvious whether Perry has recently been released after a long-term hospital stay or whether it's just been recommended that he check-in, for one. People reported that the actor has actually left the hospital after a quiet three-month stay, but as the information comes from an unnamed source, it's best to taken it with a grain of salt. Bustle has reached out to Perry's representative for clarification.
Regardless, fans rushed to support the actor on Twitter, with messages full of kind words and more than a few references to Friends.
As was previously reported, the actor announced he'd had surgery after developing a hole in his gastrointestinal tract. The potential side effects of said hole are best left unlisted, particularly for readers scrolling by this article after brunch. Just know that it's a deeply unpleasant experience for anyone — particularly a jovial actor in the public eye — and it's devastating to hear that the Friends actor did not have the speedy recovery he'd likely hoped for. That said, per the unnamed People source:
"He's good. He's going home, finally."
All told, at the very least Perry seems well enough to tweet and make light of his situation, which would not be easy for most to do. Spending three months in a hospital bed is less than ideal, regardless of when a doctor gives the order. Further, the People article quoted a medical source that suggested that length of time would be a normal recovery period for someone who underwent surgery in that condition.
If the People source is correct, than Perry has in fact checked out and returned home, which means he can hopefully put this ordeal behind him. So that should come as at least some relief to the actor's fans. They'll be there for him... sorry, the joke was too easy.
Bustle has not received confirmation from Perry's representatives on the status of his health. Hopefully, though, the actor isn't just on the mend, but fully mended. Insert montage of Joey and Chandler hugging here.