Burger King Launched 2 New Frozen Fanta Orange Drinks — And One Has Vanilla Soft Serve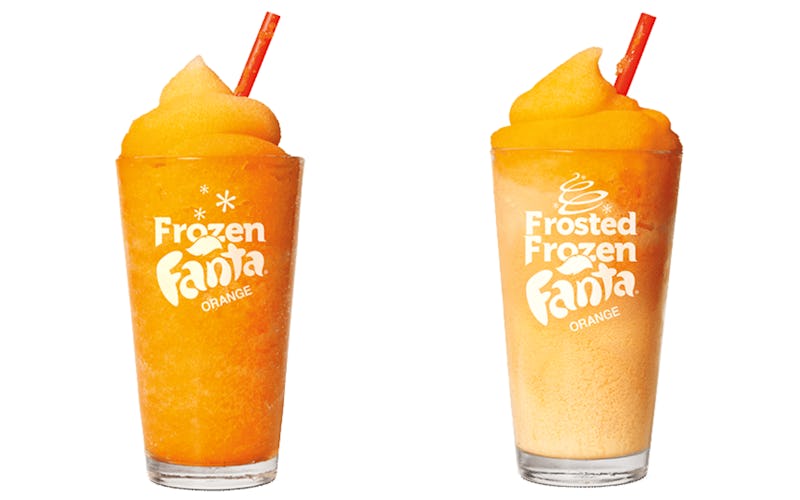 Burger King
It's the theme song that drove us all nuts as kids (and... adults), and now it's back in time for summer. If you're in the mood for something sweet and citrusy, Burger King has orange frozen Fanta, according to their website, and it might be just what you need to chill out in these steamy summer temps. To be clear, there are actually two flavors: frozen Fanta orange and frosted frozen Fanta orange, which I can barely pronounce. In a nutshell, the frozen Fanta drink is basically a slushie. But the frosted version? Brace yourself. This one is a blend of the frozen drink and vanilla soft serve. The two new drinks join Burger King's other Icees — frozen Fanta lemonade, frozen Coke, frosted frozen Coke, and the frozen Fanta cherry — and we're all going to have nonstop brain freeze this summer. It doesn't look like they've confirmed how long the new refreshments will be around, so get it while it's hot. Or cold. Whatever.
TBH, these drinks ('specially that vanilla soft serve one) sound so good, I think we all might be willing to look past the theme song and give them a try. Plus, the King does have some of the best nuggets in town...
You know you want it.
His Majesty the King of Burgers has really been wowing us as of late, and not just because of his seasonal beverages. Let's look back on some of the fast food chain's finer moments over the years.
March, 2015
Oh, look — our favorite day ever! Back in March of 2015, chicken fries made their return, for real this time. Like for real, for real. People around the world rejoiced and celebrated the menu item that's not quite fries but not quite chicken nuggets, either.
It wasn't just the chicken fries. To honor the special day, Burger King released a chicken fries emoji keyboard. People gasped in joy and delight, but honestly, I wasn't all that surprised. I mean, why wouldn't you make a chicken fries emoji keyboard?
September, 2015
Let us not forget that time Burger King Spain revealed Whopper Wine, a type of vino "flame-broiled" and aged in barrels, made specifically to pair with the Whopper. In fact, Spain has been offering wine with their food since they opened in the '70s, and I'd like to point out there are definitely doing fast food the right way.
March, 2016
It was around this time Burger King was like, "Hey, how 'bout some heartburn with those fries?" And then we had the Angriest Whopper, not to be confused with the Angry Whopper, which was apparently a little less disgruntled. The Angriest Whopper was made with a hot sauce-infused bun, jalapeños, "spicy angry sauce," and flaming onion petals, and now my nose is running.
May, 2016
Helsinki, Finland? You win. You win at life. A couple years back, they unveiled the Burger King Spa, so you could enjoy your chicken fries the way the universe intended: in the steam room.
February, 2017
I'm not even sure how to say this, so I'm just going to spit it out real fast.
BURGER KING IN ISRAEL CAME UP WITH AN ADULTS-ONLY MEAL FOR VALENTINE'S DAY THAT CAME COMPLETE WITH TWO BEERS AND A SEX TOY.
That's all I'm going to say. Moving on!
June, 2018
Most recently, the King made headlines for his pretzel chicken fries, which sound like I died and went to crispy fast food heaven. While I'm partial to the original chicken fries, one has to give credit where it's due, and I applaud BK for the creative spin.
BK has been surprising us for years, and the frozen Fanta drinks are the latest and greatest. Will you try them this summer?