FX's 'What We Do In The Shadows' Trailer Reveals That Vampires Make "Sucky" Roommates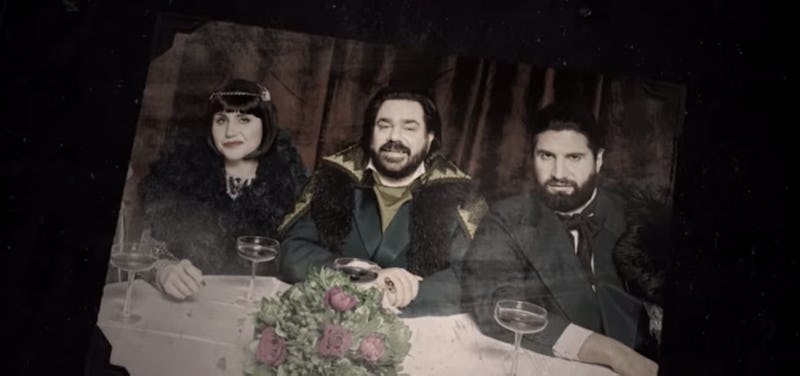 FX
Just when you think vampire shows are falling by the wayside, a new trailer for FX's What We Do In The Shadows series comes out and breathes new life into the genre. Based on Jemaine Clement and Taika Waititi's feature film of the same name, the show delivers a documentary-style look at what it would be like if four vampires lived together under one roof. (Of course, that's using the term "lived" rather loosely, given that they're, uh, already dead. But you get the idea.) But despite the fact that they have a lot in common (hatred of sunlight, thirst for human blood, etc.) it seems that vampires make for pretty terrible roommates, even when it's with each other.
Nandor The Relentless, played by Kayvan Novak, appears to be the leader of the group (though he may be the only one to call himself that), and he is none too happy with the way his fellow vamps have been conducting themselves in the house. For instance, he stumbled upon a group of humans in their shared, communal cell that appeared to be half-drunk — not in regards to alcohol consumption, but rather that they were only drained of half of their blood. That is the type of inappropriate hygiene Nandor refuses to let stand.
The clip also introduces Laszlo (Matt Berry), who has a very mischievous nature and loves nothing more than seeing Nandor fail time and time again. Meanwhile, there's Nadja (Natasia Demetriou), who is described by Entertainment Weekly as "the seductress, the temptress" of the group, as well as "the vampiric Bonnie to Laszlo's Clyde." Sounds like the type of dynamic duo fans will be dying to see on the small screen when the series premieres on March 27.
And last but certainly not least is Guillermo (Harvey Guillén), who serves as Nandor's familiar/servant, who constantly caters to his every whim. (Think of him as basically the equivalent to Dracula's R. M. Renfield.) Guillermo wants nothing more than to become a real vampire himself just like Nandor, though who knows when/if that day will ever come.
Other vampires that make an appearance in the trailer are Colin Robinson (Mark Proksch), who calls himself an energy vampire, given that he feeds on humans but not in the traditional way most vampires do. He doesn't drink their blood, but rather drains people through boredom or rage. (So the next time you find yourself getting bored or annoyed by a fellow coworker, you might wanna rethink your next move carefully.)
Needless to say, What We Do In The Shadows will show viewers a side of vampires they've never seen before and prove that these creatures of the night can be just as relatable as any mere mortals. (Isn't paying rent just the worst?) If you're looking for another vampire love triangle, then this isn't the show for you. But if you're looking for a supernatural dark comedy unlike anything you've ever seen before, then this freshman series is sure to quench your thirst and leave you hungry for more.