Gabrielle Union & Dwyane Wade's New Pic With Their Daughter Includes A Cameo From Oprah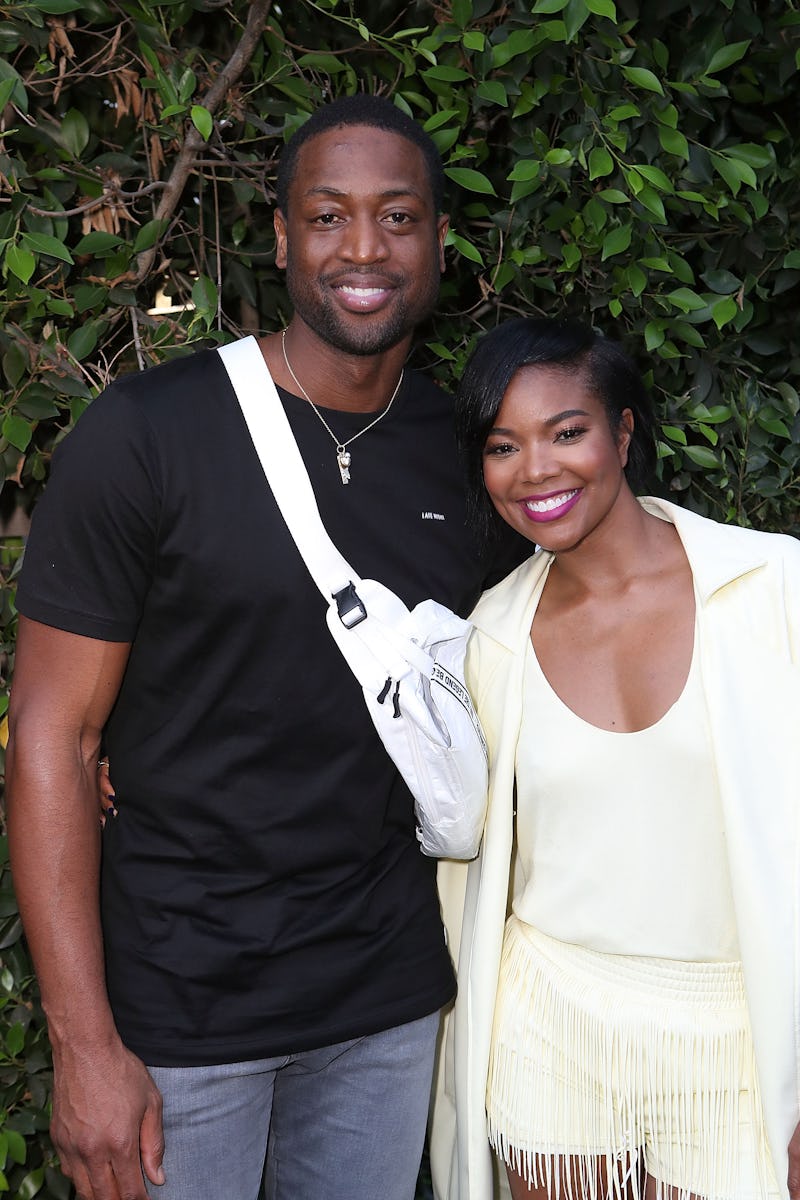 Ari Perilstein/Getty Images Entertainment/Getty Images
If you follow them on social media, you already know that Gabrielle Union and Dwyane Wade are clearly over the moon with the new addition to their family. On Nov. 20, Gabrielle Union posted the first official photo of her daughter. And that official photo got a a lot of star power from the one and only Oprah Winfrey, who also appeared in the snap, as Oprah Magazine detailed.
While Union and Wade have shared some photos of their baby girl on Instagram, this is the first one where you can really see her face. And what better way to mark the occasion than by including an actual icon like Winfrey? On the social media site, the Being Mary Jane actor wrote, alongside a photo of the new parents, their daughter, and the talk show host:
"From the Bottle to the Bassinet... No New Friends. Crew. Tight. 🤗👶🏾 So excited to share what we have been working on with @oprah & @kaaviajames💛Oprah at Home with Gabrielle Union, Dwyane Wade & Their New Baby💛 Airdate is Saturday, December 8 at 8p ET/PT on OWN."
It definitely sounds as though some kind of special could be on the way featuring the Union/Wade family. While the athlete has three sons from previous relationships, per E! News, Kaavia James Union Wade is the first child for Union after experiencing some fertility struggles. Considering the journey they've been on to welcome a child together, it will definitely be wonderful to hear all about this special time in the new parents' lives.
On Nov. 8, Union and Wade, who have been married since 2014, announced that they had welcomed their first child via surrogate together. In identical Instagram posts, they wrote that their daughter was born on Nov. 7 and said:
"A LOVELY DAY 👶🏾👶🏾👶🏾 We are sleepless and delirious but so excited to share that our miracle baby arrived last night via surrogate and 11/7 will forever be etched in our hearts as the most loveliest of all the lovely days. Welcome to the party sweet girl! #onelastdance #skintoskin"
They also included some of the lyrics to Bill Withers' song "Lovely Day" in the caption:
"When I wake up in the mornin' love / And the sunlight hurts my eyes / And there's something without warning, love / Bears heavy on my mind / Then I look at you / And the world's alright with me / Just one look at you / And I know its gonna be / A lovely day / A lovely day"
Later, Wade revealed the name of the newest addition to their family in true style on Nov. 15. He detailed the new tattoos that he got in honor of his daughter, which read "Kaavia James." His wife followed that up with a post clarifying exactly how to pronounce the name and what her many adorable nicknames are. She said on Instagram:
"@kaaviajames pronounced Kah-Vee-Uh James. She has 102 nicknames including but not limited to Kaav, Kaavi, Kaavi Baby, Kaavi J, Jamie, KJ, Nugget, Nug, Pooters."
It's so cute to see all of the updates that Union and Wade have shared regarding little Kaavia James. And it appears that fans will have to stay tuned to see an update on exactly what kind of exciting collab the new parents have with one of the most amazing icons of today, Oprah Winfrey.