Gal Gadot & 'The Florida Project' Star Brooklynn Prince Just Had The Most Adorable Meeting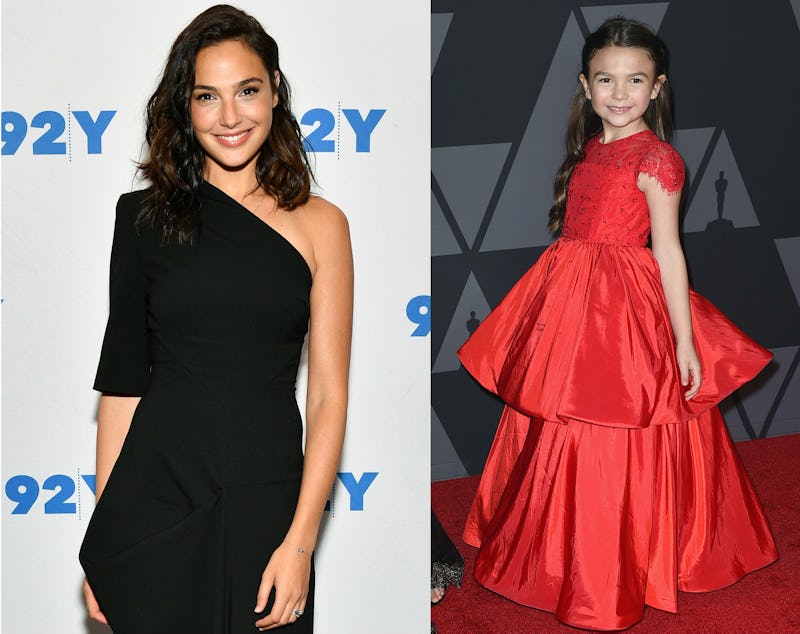 Dia Dipasupil/Getty Images Entertainment/Getty Images; Kevin Winter/Getty Images Entertainment/Getty Images
For many young people, Wonder Woman star Gal Gadot is a real-life superhero. The break-out role is a source of inspiration for many girls, including young actors in Hollywood. On Saturday, Nov. 11, Entertainment Weekly reported that Florida Project star Brooklynn Prince met Gal Gadot at an event, and it was a huge moment for her. Prince, who is just 7-years old, stars alongside Willem Dafoe and Bria Vinai in Florida Project, which is a portrait of a childhood on the highway just outside of Disney's utopian Magic Kingdom. The film is receiving a lot of Oscar buzz and, in October, Prince told EW that while she's unimpressed by the award show hype there were a few celebrity idols she was hoping to meet. She's a huge fan of Star Wars and Wonder Woman, and hoped to run into either Daisy Ridley or Gal Gadot.
The young star's dream came true at the Academy of Motion Picture Arts and Sciences' Governors Awards on Saturday, where she met Gadot at last. A picture of the celeb encounter was posted to Twitter, and Prince looked so happy to be meeting Gadot. The moment is so adorable, but it also shows why representation matters. Star Wars: The Force Awakens was arguably the first film in the franchise to put women on equal footing. Wonder Woman broke records at the box office, but was the first female-led superhero film in over a decade. These movies both debuted in the past couple of years, and for a long time there was little representation for women in these male-dominated genres. The fact that young girls, and especially young actors, are seeing women in complex roles onscreen will only lead to a brighter future in the industry.
This isn't the first time young fans have let Gadot know how important Wonder Woman and the representation of women in superhero films truly is. A video from San Diego Comic Con in July showed Gadot meeting a young fan who was cosplaying as Wonder Woman. The fan, who met the star while she signed autographs with the Justice League cast, was completely overwhelmed when she got to meet her hero. When the young cosplayer approached the table where Gadot was signing, she was crying tears of joy and star offered some words of friendship and encouragement in response.
"Now we are friends, so there's no reason to cry anymore," the Wonder Woman star says in the short clip, according to Entertainment Tonight Online. "Now we are together!" Gadot spent a few more moments with the young fan, and Ezra Miller, who will also appear in the Justice League films, also offered offered some positive words: "You're a warrior. I think the ability to let yourself cry is what makes you such a warrior. Come join the Justice League whenever you get ready."
The importance of Gadot's presence in the Wonder Woman and Justice League films, as well as Ridley's dynamic role in Star Wars, can't be understated. It's the first time in decades that young girls and women will be able to look at major franchise films and see complex female characters whose experiences mirror their own. It will empower and inspire girls to pursue their own dreams, and this includes those of a young star like Prince, who is just beginning her time in Hollywood. "Star Wars and Wonder Woman just rock," the Florida Project actor told EW in October.
In her debut film, Prince stars as one of the misfit children inhabiting a Florida hotel, and her performance has already garnered critical attention. She's ambitious, and has big plans for her career. She told EW that she loves superhero films and hopes to appear in those in the future, much like her idol Gadot. "I want to be doing Disney roles and I also want to be doing like talking-on-microphone roles and roles with celebrities," she said. She also has one particular role in mind, and that's a film version of Figment, an roller coaster featuring a purple dragon at Epcot. "I wanna be in, if they ever make a movie of it, Figment," she said. "I would love to play Figment."
Gadot and Prince's meeting is just another reminder of how important on-screen representation is for young girls. Prince has big dreams for her own career, and by following the path that stars like Gadot and Ridley paved in the film industry, she should be able to achieve her goals.
Editor's Note: A previous version of this article mistakenly referred to Prince's film as The Brooklyn Project, rather than The Florida Project, in the headline. We regret this error.