Gal Gadot's 'Wonder Woman 1984' Photo Could Be A Major Hint About A Popular Fan Theory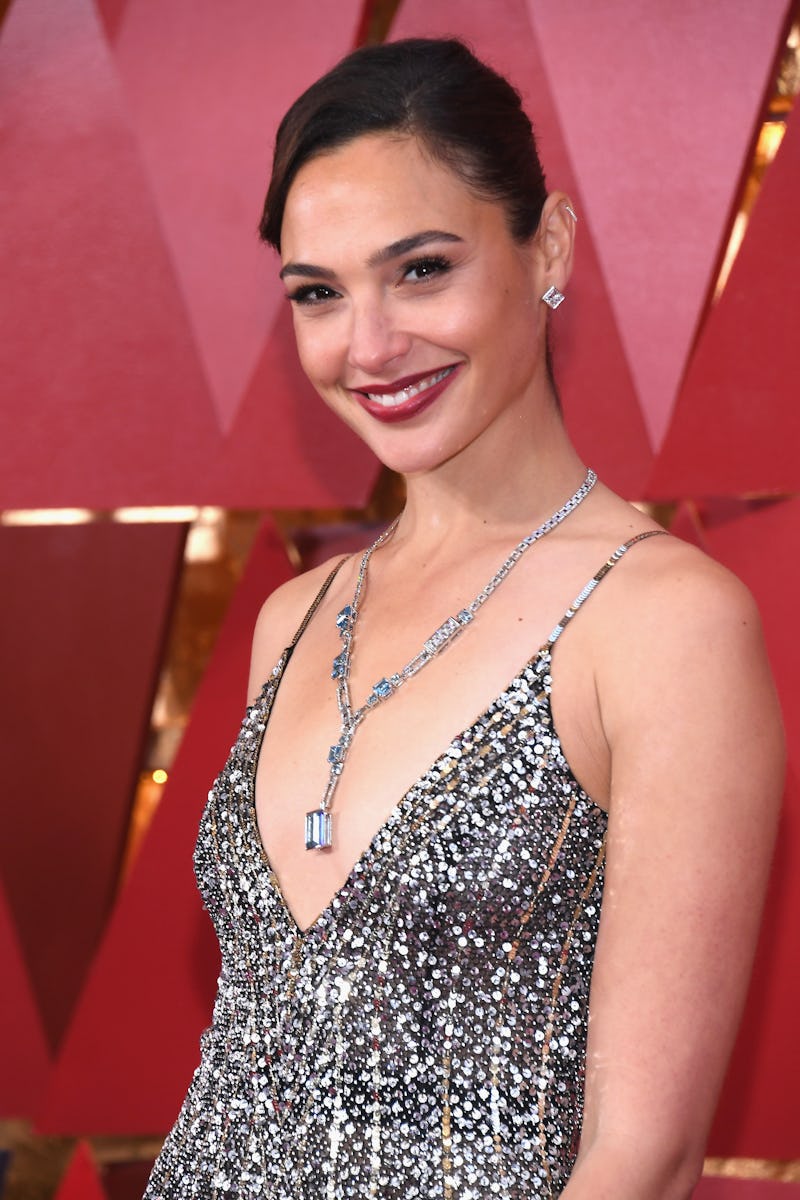 Kevork Djansezian/Getty Images Entertainment/Getty Images
Wonder Woman herself has come to save the day for fans wanting more teases from the film's highly anticipated sequel. Gal Gadot's Wonder Woman 1984 photo, which she posted on Saturday, June 16, gives the very first look at the superhero in the '80s edition uniform for the followup to the the 2017 box office smash. With few noticeable changes from her iconic costume in the 1917-set original, the Instagram shot will definitely feed fan theories that everyone's favorite heroine may just be be time-traveling in the new movie which will take place in, well, 1984.
"She's back..." Gadot wrote in the tweet, along with an emoji mimicking her character's signature crossed-arm pose (sans gold star cuffs and headpiece, of course) and a "#WW84" hashtag.
Entertainment Weekly noted that the colors of Wonder Woman's 1984 uniform look brighter, but perhaps that could be the lighting than a full-on revision. Since there aren't visible changes, does this mean that 1917 Diana Prince could have time-traveled to 1984? Or could this uniform be a flashback and the actual 1984 costume will be revealed at a later date? There are so many possibilities.
Gadot previously shared another sneak peek from the film to hold over fans who will have to wait seemingly forever until its November 1, 2019 release. In the first Easter egg-packed image, a shadowed Wonder Woman AKA Diana Prince stands facing video monitors displaying various '80s pop culture references, including clips of Larry Hagman's J.R. from the TV series Dallas, as well as one of Christie Brinkley from the 1983 film National Lampoon's Vacation.
But the prior teaser photo that really had fans most in a frenzy came courtesy of director Patty Jenkins on June 13. "Welcome to WONDER WOMAN 1984, Steve Trevor! #WW84," Jenkins tweeted along with a pic of a tracksuit-clad Chris Pine in a a mall with extras decked out in '80s garb. Wait, what? How is Steve Trevor alive In Wonder Woman 1984? And how does he look the same when the character seemingly died several decades earlier?
Naturally, Twitter users had several theories to explain why Steve Trevor is still alive, including time travel. As earlier mentioned, one of the most popular guesses was that the DC Comics sequel will jump around in time. Did Wonder Woman rewind to before his presumed death and transport him back to the era of big hair and leg warmers? After all, what can't she do?
Hours after Jenkins broke the news, an amazing candid photo of Pine on set with Gadot surfaced, giving fans even more of a treat. But, get this: he was wearing a tracksuit and fanny pack. What could be more '80s than that?
Pine had previously played coy about whether or not he'd be involved in the film. "I'll be by my phone or somewhere so they can find me whenever they want to give me the call," he told Entertainment Tonight last year. "I don't know [if Steve Trevor survived the blast]. I guess you'll have to wait and find out." And now we have!
What is known known is that fans can expect a unique cinema experience this time around. "We're actually making a totally different film with a lot of the same, similar like things that we love, but it's its own movie completely, so it's not 'two' to us," Jenkins — whose reported $7 million to $9 million payday will set a record salary for a female filmmaker — told Entertainment Tonight in January. "It's an entirely new adventure together that we couldn't be luckier [to do]."
Another thing for viewers to get pumped about: Saturday Night Live alum Kristen Wiig is playing Wonder Woman's nemesis Cheetah. Jenkins confirmed the huge casting news in a March 9 tweet: "So incredibly lucky to welcome the sensationally talented Kristen Wiig to our Wonder Woman family. Can't wait to finally work with one of my favorites. And SO excited by what we have planned."
HBO's Game of Thrones alum Pedro Pascal will also appear in a "key role," as confirmed by Variety in March. Much like the film's plot, however, who exactly he'll play onscreen is being kept under wraps.
Fans may have to wait until late next year to see the full movie, but judging by Gadot and Jenkins social media posts, it seems they'll be blessed with plenty of teasers along the way.