'Game Of Thrones' Is Back In The Emmy Race — Against Some Stiff Competition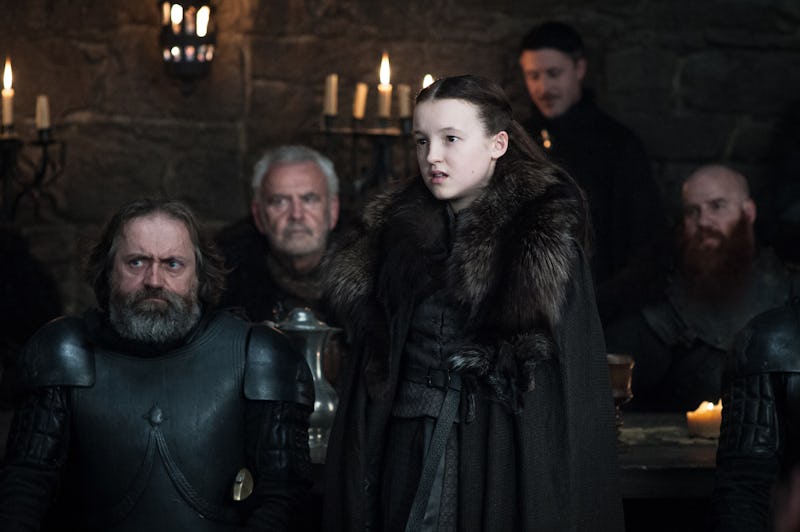 Helen Sloan/HBO
HBO's long-running (and wildly successful) fantasy drama series Game of Thrones has a history of dominating the Emmy Awards, with one notable gap year. The show was absent from the 2017 nomination list, but fans will be delighted to know that Game of Thrones is eligible for the 2018 Emmy nominations.
According to USA Today, Game of Thrones was not eligible for last year's nominations because its most recent season missed the qualification deadline. 2017 nominees had to have premiered between June 1, 2016 and May 31, 2017, but Season 7 of Game of Thrones did not debut until July 16 of that year. The deadlines fall within the same parameters each year, so this means Game of Thrones has a shot to reclaim its spot as an Emmy favorite.
This year's Emmy nominations will be announced on July 12, and Game of Thrones will likely face some stiff competition, especially from The Handmaid's Tale. Hulu's dystopian series debuted in 2017 and was the darling of last year's Emmys, winning 13 awards including the coveted Outstanding Drama Series title, which Game of Thrones won in the previous two years. So, the 2018 Emmy Awards looks like it will be a battle royale between the two series as well as other fan favorites like This Is Us, Stranger Things, and Westworld.
The Handmaid's Tale is just starting its TV journey, so it may have several more opportunities to score awards and nominations. But Game of Thrones is running out of time. Season 8 will drop in 2019 and conclude the impressive series. The premiere date hasn't been confirmed just yet, but HBO will probably want to drop the final season early in the year for a couple of reasons.
First, it's been a long time since Season 7 wrapped up in August 2017. Of course, the show's loyal fanbase will wait patiently for their favorite series to return, but it is still a lengthy hiatus in a world where new dramas are popping up every week. And, Game of Thrones might want to make the 2019 Emmy nomination cutoff so they can go out with a major bang, especially if they make a successful comeback this year. Maisie Williams, who plays the indomitable Arya Stark, also seemed to confirm via Instagram that the cast has wrapped filming for the show. All of these signs point to Season 8 coming in early 2019 to wrap up the final storylines.
The end of an era is always difficult, but spin-offs and prequels can lessen the blow. An untitled Game of Thrones prequel pilot will reportedly be filmed this October in Northern Ireland, per Fox News. This is the first of five prequels that HBO has in development and, as reported by The New York Times, will take place thousands of years prior to the Game of Thrones timeline. George R.R. Martin, who wrote the Game of Thrones books, and writer Jane Goldman (Kingsman: The Secret Service) will team up to pen this new story.
Game of Thrones has been a major hit for HBO, so it won't be surprising if this new pilot (as well as the other prequels) get picked up by the network to extend this universe. The aforementioned New York Times report also included HBO's descriptive statement about the series, saying it will reveal the origin of the White Walkers among other mysteries:
"The series chronicles the world's descent from the golden Age of Heroes into its darkest hour. And only one thing is for sure: From the horrifying secrets of Westeros' history to the true origin of the White Walkers, the mysteries of the East to the Starks of legend...it's not the story we think we know."
The Game of Thrones universe will expand, but fans can't wait to see how the original series run will end, as well as how many awards it will rack up. How many 2018 Emmy nominations will it score for its penultimate season? Can Game of Thrones reclaim its throne as the best drama series? All will be revealed before the final battle takes place next year.