Literally Everything To Know About 'Game Of Thrones' Season 8 So Far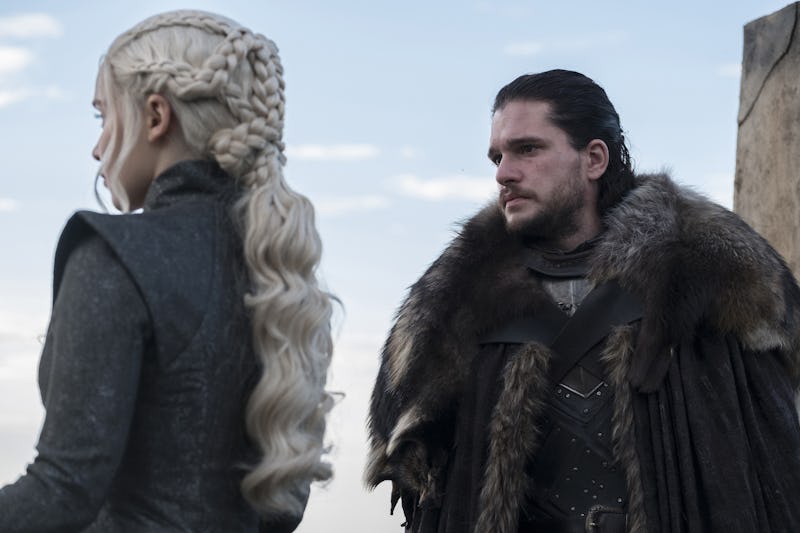 Helen Sloan/HBO
What are you supposed to do when you have over a year to kill between seasons of your favorite show? Obsessively keep an eye out for any tiny morsel of news, of course! But, if you haven't, been doing that, here's a handy list of everything that's known about Game Of Thrones Season 8 — because when news is dripping out at such a slow pace, it can be easy to miss something or to forget a detail you already heard. And while the actual plot of the show's final season is obviously being kept very tightly under wraps, that doesn't mean us fans know nothing about the upcoming episode. (We're not Jon Snow.)
What is known so far are mostly technical details like how many episodes the season will be, who's writing and directing each episode, and how long filming will take. But if I know Game Of Thrones fans (and I do, because I'm basically the biggest one), there is no detail too small to escape interest. Every tiny tidbit adds a piece to the giant puzzle that is Thrones, and it's exciting to watch as those pieces click into place.
Here's literally everything we know so far about the final season of Game Of Thrones:
1. It Won't Premiere Until 2019
Yes, it's true. After months of swirling rumors that the final season would be delayed until late 2018 or possibly even the year after, HBO finally and officially confirmed in January that the last batch of episodes wouldn't premiere until 2019. (That Maisie Williams quote about the show debuting in April 2019 turned out to be fake news.) Will the delay give George R.R. Martin time to get the next book in his A Song Of Ice And Fire series out before the adaptation reaches its end?
2. It Will Be Short & (Bitter)Sweet
HBO's announcement of the 2019 premiere date also came with official confirmation of the rumor that the final season would consist of a mere six episodes — one fewer than Season 7 and four fewer than the typical Thrones season. But as Tyrion Lannister has proven, just because something is small in size doesn't mean it lacks substance.
3. The Episodes Might All Be Feature-Length
The Season 7 finale, "The Dragon And The Wolf," broke records as the longest episode of Thrones yet, clocking in at an impressive 81 minutes. At Con Of Thrones last July, sound designer Paula Fairfield teased that all six of Season 8's episodes might fall closer to that extended length than the typical 50ish-minute running time. If that's true, Season 8 would clock in at around 480 minutes of screen time — not that much less than the 550 minutes of a typical 10 episode season.
4. The Budget Is Massive
While Thrones started out averaging around $6 million per episode back in Season 1, that budget has grown every year, with Season 6's episodes upping the average to $10 million each. Meanwhile, reports claim that Season 8 will cost HBO an average of $15 million per episode. That's pretty much unprecedented in the world of television, and means that the final season will rival many blockbuster movies in terms of scale and visuals.
5. Fan-Favorite Directors Are Returning
Speaking of the show's massive scale, fans will be thrilled to learn that director Miguel Sapochnik will return to Thrones after sitting out Season 7, according to Variety. Sapochnik helmed four episodes in Seasons 5 and 6, including two of the series' most eye-popping action episodes: "Hardhome" and "Battle Of The Bastards," winning an Emmy for the latter. He will direct Episode 3 (marking the halfway point of the season) and Episode 5 (the all-important penultimate chapter), so you can count on those being the biggest episodes of the season. Variety reported that Director David Nutter will also return for the first time since Season 5, having previously helmed six episodes including iconic hours "The Rains Of Castamere" and "The Dance Of Dragons." In Season 8, he will direct Episodes 1, 2, and 4. That leaves only the sixth and final episode… which will possibly be co-directed by none other than showrunners David Benioff and D.B. Weiss, per Variety.
6. The Scripts Are All Written…
The official lineup of writers has also been announced: Dave Hill, who joined the team in Season 5, wrote the Season 8 premiere, while longtime producer Bryan Cogman (who has written at least one episode every season, including Season 4's excellent trial of Tyrion) wrote the second. The last four episodes of the series were personally penned by Benioff & Weiss themselves. (Yes, that means that, disappointingly, all of the writers and directors of Season 8 are male; previous female collaborators like director Michelle MacLaren and writer Vanessa Taylor — a recent Oscar nominee for co-writing The Shape Of Water — aren't returning.)
7. …But Even The Cast Doesn't Get Them
After the proliferation of accidental leaks and malicious hacks over the past few years, HBO is taking extreme measures to prevent the final season from being spoiled. This includes not even giving the actors hard copies of the scripts for certain secretive scenes. According to Nikolaj Coster-Waldau (Jaime Lannister), they occasionally had to wear earpieces in order to have lines fed to them during filming because they weren't allowed to receive and memorize the scripts ahead of time.
8. There Will Be New Characters
It seems ridiculous to introduce even more new characters into such a huge cast with only six episodes to go, and yet… reports claim that Thrones is searching for at least seven new cast members for Season 8. While some of those include small roles like "Guard #1" and "Guard #2," at least one seems like he'll be a fairly major presence: Into The Badlands actor Marc Rissmann, who joins the show as Harry Strickland, the leader of the Golden Company, the troop of sellswords Cersei sent Euron to hire at the end of Season 7.
9. Filming Will Take Longer Than Ever
Filming for Season 8 began in October, and actor Liam Cunningham (Davos Seaworth) confirmed that it would continue "right up until summer." Assuming that "summer" roughly means June, that would mean filming for the final season will take about eight months — and given that the typical Thrones filming period is only six months, that means Season 8 is so epic it's actually taking them longer to film its six episodes than it normally takes to film 10.
10. No One Knows The Real Ending (Except For Benioff & Weiss)
In another attempt at averting spoilers, HBO programming president Casey Bloys confirmed that multiple versions of the ending will be filmed, in an attempt to throw nosy fans off the scent. But Emilia Clarke (Daenerys Targaryen) claims that the team is actually taking it a step further than that: According to her, not even the cast members themselves will know which of the multiple endings are the real one, and which are fake.
11. It Won't Lead Directly Into A Spinoff
In case you were hoping HBO would have one of those spinoffs ready to go in order to premiere it immediately after the final episode… well, don't. Bloys has confirmed that he wants to give the Thrones finale time to breathe, and that any spinoff won't be ready for at least another year , eyeing a 2020 debut. So fans will have another long wait ahead of them once Season 6 comes and goes in the blink of an eye next year.
SPOILERS AHEAD! Stop Reading To Stay In The Dark
9. Tormund's Fate Is Revealed
In addition to the question of new characters, there's also the question of which established characters will be returning. While pretty much all of the show's living characters are expected to return, there are a couple of fan-favorites whose fates were left up in the air at the end of Season 7: Tormund Giantsbane and Beric Dondarrion, who were standing atop the Wall when the Night King and undead Viserion sent it crashing down. But behind-the-scenes photos of actor Kristofer Hivju on set reveal that Tormund at least survived the destruction.
12. A Set Spoiler Is Revealed
Still, it's going to be impossible to prevent any spoilers from leaking, especially when you have to film giant sequences outdoors, like, say, burning an entire set to the ground. That's exactly what happened recently when footage was shot of the massive Winterfell set going up in flames. Like, we're talking real, irreversible, "game over" flames. Get ready to say bye-bye to the ancestral seat of House Stark. (*brb crying*)... unless this was one of the fake endings, of course.
More exciting news about Game Of Thrones Season 8 will probably come out in the next 12 months… but these juicy details should be enough to tide any fan over in the meantime.