George R. R. Martin Teased Some Insight About Those Mysterious 'Game Of Thrones' Spinoffs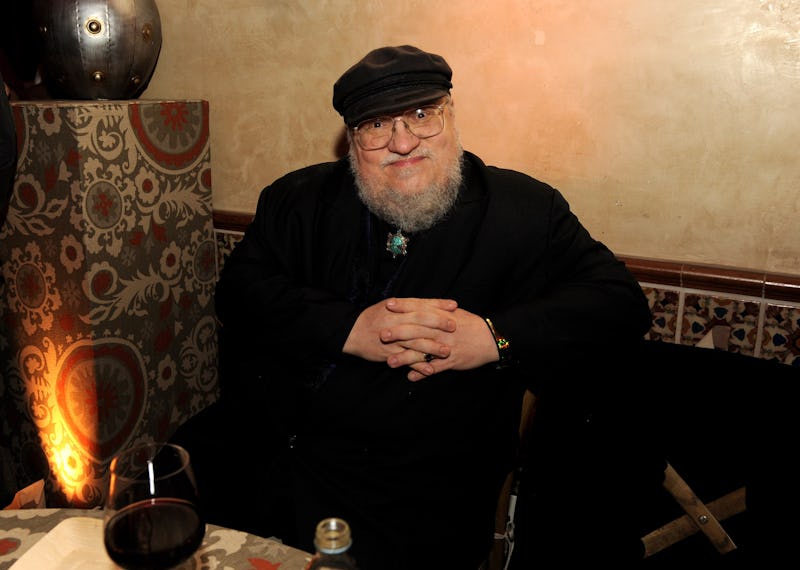 Kevin Winter/Getty Images Entertainment/Getty Images
While fans may have to say goodbye to some of their favorite Game Of Thrones characters in this final season, the show will go on. Already, HBO announced that the first Game of Thrones spinoff is a prequel from writer Jane Goldman that will take place way, way before Jon Snow ever stepped foot in the north. Now, George R.R. Martin is teasing the other GoT spinoffs that are in the works. But it turns out, there may be less Game of Thrones-themed shows than fans originally expected.
On Monday, Martin took to his blog to announce that HBO ordered a pilot for one Game of Thrones prequel, but also revealed the fate of the other prequel series that are in the works. Unfortunately, one is no more, but don't worry, there are three others. Martin wrote:
"If you have been following along, you know that we started with four, and eventually went to five. One of those has been shelved, I am given to understand, and of course Jane's pilot is now moving to film. But that does not mean the others are dead."
Nope, the author says the three other prequels "set in different periods and featuring different characters and storylines, remain in active development."
According to Martin, "Everything I am told indicates that we could film at least one more pilot, and maybe more than one, in the years to come. We do have an entire world and tens of thousands of years of history to play with, after all."
So yes, there are other possible Game of Thrones prequels in the works, but Martin isn't ready to talk about those quite yet. Mostly, because Hollywood can be fickle. "This is television," Martin wrote, "so nothing is certain." What he did say was that the other writer working on the spinoffs include Max Borenstein, Brian Helgeland, Carly Wray, and Bryan Cogman.
Let's talk about this green-lit prequel, though, shall we? The series, which Martin co-created with Goldman, is set thousands of years before the book series A Song of Ice and Fire. "None of the characters or actors from GAME OF THRONES will appear in the new show," Martin wrote on his blog. In fact, fans of the books might be surprised by what this series reveals.
According to Variety, the series "chronicles the world's descent from the golden Age of Heroes into its darkest hour. And only one thing is for sure: from the horrifying secrets of Westeros's history to the true origin of the white walkers, the mysteries of the East to the Starks of legend ... it's not the story we think we know."
Unfortunately, it's very early in the process so Martin didn't share much info about the series. "We're very early in the process, of course with the pilot order just in," Martin wrote, stressing that it wasn't a series order, but he was hoping for that. "So we don't have a director yet, or a cast, or a location, or even a title."
What Martin also wanted fans to know is that he's not as involved as some have reported. "I have definitely been involved," he wrote, "but really, the accolades here should go to Jane. She has been an absolute thrill to work with… and my god, what a talent." From the looks of Goldman's résumé, which includes writing credits like Kick-Ass, X-Men: Days of Future Past, and the upcoming live-action Little Mermaid movie, Martin's praise is no surprise.
Martin might not want the accolades for this new series, but he is happy to share his suggestion for the title for the GoT prequel. "My vote would be THE LONG NIGHT, which says it all, but I'd be surprised if that's where we end up," Martin wrote on his blog. "More likely HBO will want to work the phrase 'game of thrones' in there somewhere. We'll know sooner or later."
While most fans probably hope its actually sooner rather than later that they get more information about this prequel, it certainly keeps fans from having to say goodbye to Game of Thrones when it ends next year. In fact, if those other prequels get picked up, fans can spend many long nights visiting the expanded GoT universe.