'Game Of Thrones' Seriously Lacks Women Behind The Scenes & It'll Leave You So Frustrated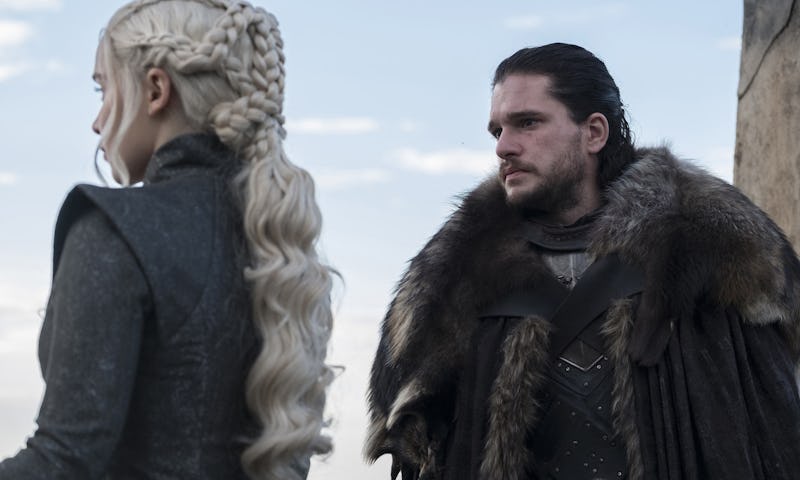 Helen Sloan/courtesy of HBO
The final season of Game of Thrones (production designer: Deborah Riley) may be be more than a year away, but it's already off to a sour start. As noted on Twitter by Variety's TV critic Maureen Ryan, Game of Thrones Season 8 has only male writers, worsening its already lackluster history of gender parity. There are plenty of women represented on-screen — Emilia Clarke, Sophie Turner, and Maisie Williams are among the show's long-running stars — but next to none behind the camera.
According to Ryan's calculations, by the time the series ends, it will have aired 73 episodes across eight years. Of those, only 5.5% will have been written by women — Vanessa Taylor (The Shape of Water) penned three from 2012 to 2013, while Jane Espenson (Buffy the Vampire Slayer) wrote one in 2011 — and only 5.5 percent will have been directed by women. One woman, to be exact: Out of 19 directors, Michelle MacLaren (Breaking Bad) is the only woman to have helmed a single episode of Game of Thrones. She directed four episodes from 2013 to 2014, which is also the last time a woman is credited as a director for the show. Yep, that's right: A woman has not written or directed for GoT in more than three years.
That's particularly troubling for a show like Game of Thrones, whose depictions of sexual and physical violence could deeply benefit from a female point of view. Over the years, viewers have leveled frequent criticism against the series for featuring scenes like Sansa's rape and the burning of Shireen, both of which marked distinct departures from GoT's source material, both of which were written and directed by men, and both of which were gratuitous. GoT''s storylines frequently hinge upon brutality — that's the kind of world the show exists in — but while that extends to male and female characters alike, things like sexual assault against women are too often reduced to plot devices, and GoT is one of the most guilty parties.
That this news comes on the heels of 2017 is especially disappointing. This was the year that women in Hollywood were finally, emphatically heard; the year male privilege at last gave way to consequence; and the one that rolled out projects like Big Little Lies, The Handmaid's Tale, and Keepers — all stories diametrically opposed to much of GoT's storytelling. When they feature violence, it feels purposeful and pointed; when GoT does it, it feels exploitative. Yes, the series features a number of women in power, but even its most feminist moments are undercut by scenes in which it tears them down, usually for little more than shock value.
As we head into 2018, now comes the time that we should be highlighting more women behind screen, not less. So far, the upcoming awards season has predictably shut women out — many of which are behind the camera — and as one of the biggest shows of the last decade, Game of Thrones should be setting an example. Instead, it appears to be actively regressive. This criticism is not new, and GoT has had ample opportunities to do better. It may, to many people, be remembered as one TV's greatest shows, but there will always remain one glaring stain on its legacy.
This story was created in support of Bustle's 2018 Awards Season pledge. Read more here.