One 'GoT' Season 8 Battle Took 55 Days To Film — Here's What It Could Mean For Your Faves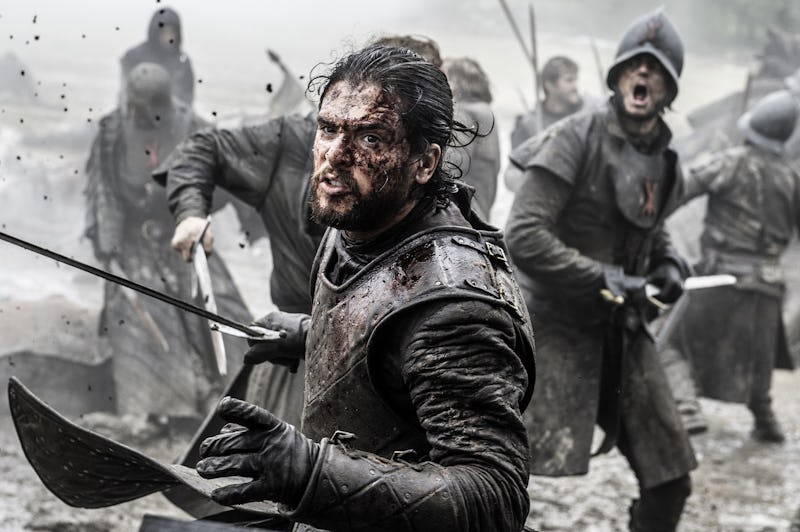 Helen Sloan/HBO
For all those Game Of Thrones fans out there, this week has already been quite revealing. The show's longtime production member Jonathan Quinlan revealed on Instagram that the Game of Thrones Season 8 premiere may be just a year away. But he also shared news that Game of Thrones' final season includes a battle that took 55 days to shoot, making it the longest shot scene in the show's history. The previous longest battle, the Battle of the Bastards, took 25 days to shoot. Of course, that little tidbit has fans coming up with theories about GoT's final season battle and just how epic it may be. Not to mention, how deadly, since HBO has hinted that many of our favorite characters probably aren't making it out of this alive. (Bustle reached out to HBO about Quinlan's post, but the network could not comment on production details or storylines.)
In his April 7 post, which has now gone private but still exists in screenshot form, Quinlan shared a note signed "Producer Types," thanking those that worked on this battle scene. It also managed to reveal a few secrets about what this scene may look like and its importance to the series. The note reads:
This is for the Night Dragons. For enduring 55 straight nights. For enduring the cold, the snow, the rain, the mud, the sheep sh*t of Toome and the winds of Magheramorne. When tens of millions of people around the world watch this episode a year from now, they won't know how hard you worked. They won't care how tired you were or how tough it was to do your job in sub-freezing temperatures. They'll just understand that they're watching something that's never been done before. And that's because of you.
From the sounds of it, this battle is going to be messy, but let's be honest, it also sounds like it's the final battle of the series. Why else would they be going so big? An epic battle is what the show's been building up to since the beginning and it's a good reason for the show to spend so much time and energy on one scene.
These details shouldn't be all that surprising to any fans who have been seeking out spoilers. Last month, photos surfaced that showed Winterfell engulfed in flames and hinted that dragons are going to play a big role in this final season. The clue that this 55-day battle scene was shot at night, could also reveal a connection to these nighttime photos from Winterfell.
As Nerdist pointed out, Winterfell, home of the Starks, has always carried a lot of weight in the series being that its the location of the Battle of the Dawn. It was the important battle in the history of Westeros because it's the one in which Azor Ahai beat the White Walkers. Yes, there is a good chance this 55-day battle could also have a connection to that mythical hero, so start retooling your Azor Ahai theories ASAP.
Mashable did note that despite the epic nature of this shoot, it might be one of many multi-day battle sequences. "Wanna know the worst/best part?" Mashable's Jess Joho wrote. "We're not even sure this will be the biggest shoot. Next up, the cast and crew are set to film for King's Landing," hinting that Lannister headquarters could also be destroyed.
Fans are already getting pretty impatient to find out what happens.
Of course, no one from Game of Thrones is going to confirm or deny whether this shoot is the final battle. Still, that won't stop fans from theorizing about what the final battle of the series will look like or from trying to get an Instagram follow from Quinlan and other members of the GoT production team.