#GarethSouthgateWould Is Legit The Only Hashtag You Need This World Cup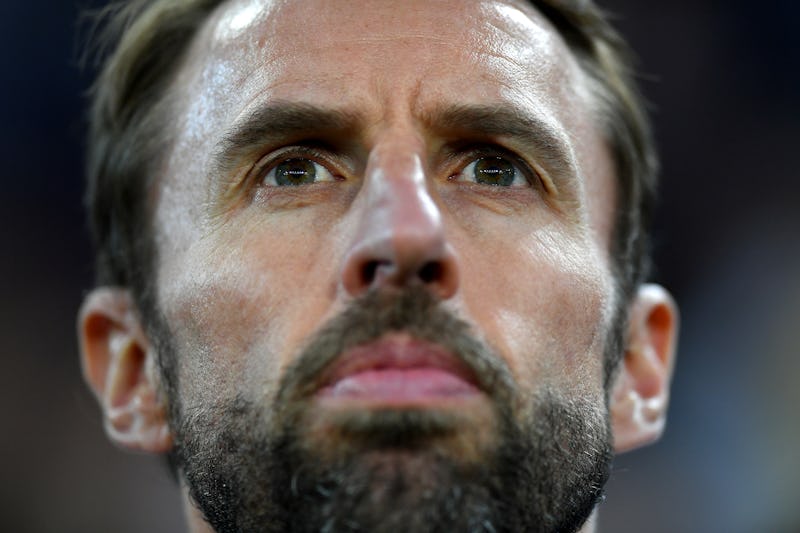 Dan Mullan/Getty Images Sport/Getty Images
World Cup fever coupled with this intense heatwave means that temperatures across the nation are soaring. Where were you during that penalty kick off? It is one of those moments that people just won't forget. Current England manager and former football star Gareth Southgate is fast cementing himself in the football legend hall of fame with not only a successful career in his own right, but by leading the English team to potentially go on and bloody bring football home. Gareth is so much of a legend that on Twitter #GarethSouthgateWould is now an actual thing.
Is the ultimate football accolade too far from our reach? Maybe. Is Southgate an absolute legend and potentially already at national treasure status despite being only like 47? Definitely. This whole hashtag is basically emphasising what a legend we are dealing with here. The kind of guy who people have deemed worthy of a waistcoat with "it's coming home" secretly embroidered down its pinstripes. The kind of guy who would pull a baby out of a burning building and ask you not to call him a hero, because it's just his job. OK, maybe that second bit is a bit OTT but you get me.
Needless to say, Twitter has been in an absolute shark-esque frenzy, feasting on anything World Cup and Southgate is definitely not exempt from this beautiful chaos.
This Aston Villa fan shared a letter he received back from Southgate as a young fan, even with an autograph attached. Fan for life or what?
Increasing numbers of fans have been using Twitter and this hashtag to show what a legend he is, highlighting his support of women in football. Swoon.
Opportunities for flagging what a good AF person this guy is, coupled up with lashings of "it's coming home" references, means that back crackingly funny tweets are inevitable. Can you get that song out of your head yet? I flipping can't anyway. Word on the street is it's back in the charts. Anyway, I digress...
Big corporations are getting into the mix, with this particular one low key creepy, but like in a crazy delicious way.
His insane humility when pictured sympathising with the Colombian team was far from unnoticed, with his sensitive side leading to some hilariously redonk but also kind of believable scenarios.
Being such a legend and all round cool guy, it is easy to put him into any number of big Hollywood block buster situations.
The expression that "charity starts at home" resounds in my ears when I read this tweet. Also, special note to all flatmates, friends, family, guests, and lovers. Do not effing contaminate the butter dish, or you are actual trash.
Theresa May references are of course inevitable. It really is cool to be able to show how great a person is when compared to a super villain.
The other summer mind melter, Love Island is obvi a good thing to compare him to, what with all the d—bag behaviour going on in there.
And last but absolutely not least, he would provide a remedy for the disease of our time: meme addiction.
As Saturday fast approaches, who knows what the outcome of the game will be. Will Southgate's boys sail through the quarters? Will this game be as gut wrenchingly anxiety causing as England v Colombia? What is definite though is that this quarter final is perhaps one of the most talked about football matches that hasn't even happened yet, ever. See you down the pub, Saturday is going to be pretty lit.