Garrett Addressed His Instagram Likes On 'The Bachelorette' Finale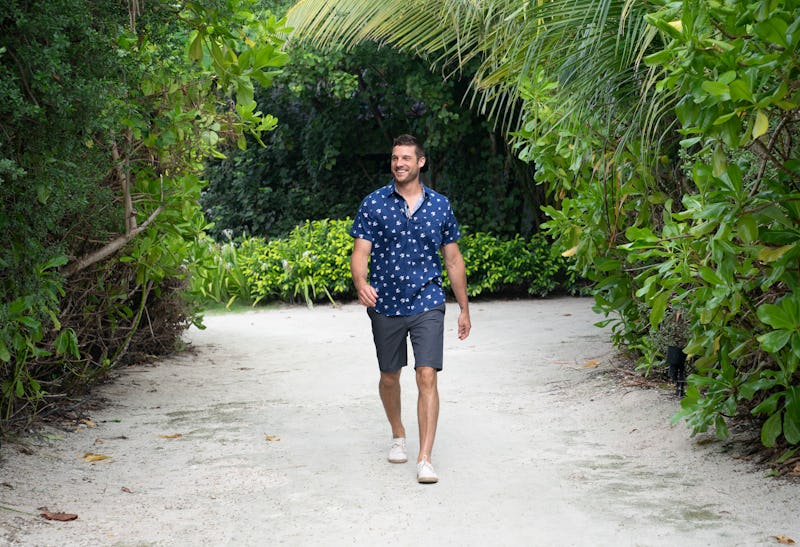 Paul Hebert/ABC
All season long, fans have been wondering if Garrett Yrigoyen was going to address his controversial Instagram likes on the show, and now, the time has come. On Monday night's edition of After The Final Rose, Garrett opened up about his Instagram controversy. It's not the first time he's spoken out about what happened, but it is the first time that he and Becca got to engage in a dialogue about what it meant for them as a newly engaged couple.
Earlier this year, Garrett was called out for his likes, which he later apologized for and confirmed came from his Instagram account. Per People, the offensive posts that he liked included transphobic, racist, and sexist messages, which was obviously distressing for fans — and being that Becca has been open about her liberal beliefs, it was very surprising that one of her contestants would hold those views. Now, Garrett's opening up about the situation once again, emphasizing how sorry he is.
In his original apology, which Garrett posted on his new Instagram account in June, he talked about how he never meant for those likes to represent his true beliefs, noting that this level of fame and interest in his social media accounts was "new to me."
And then, on The Bachelorette finale, he had more of the same to say, sharing how this has impacted his relationship with Becca. Garrett said:
I didn't mean to offend anybody, I apologized for that. Still, I'm very sorry. I didn't mean to hurt anybody's feelings or do anything like that. So I stand by everything I posted in my apology and I'm just trying to grow as a person and be a better person on a daily basis and [Becca's] helping me through everything. We've been honest and open and transparent with each other since the beginning and when that all came out we attacked it, because I feel like when I was liking things it was going against things that she stands for and that made it really hard as a couple.
And speaking of how hard it was on them as a couple, Becca had a few feelings on the subject to share herself. She said:
That was a major thing that we had to talk about early on, at the very beginning of our relationship. Luckily, I got to know him for who he is. On the show, we don't have phones, we don't have social media. And so I got to see who he is, his heart, his soul. And the Instagram situation — I don't condone that and I know that he stands by his apology and he feels so bad for everyone he did offend and he didn't mean it. But I just want to move forward and to learn and to grow and to continue to educate ourselves. That's all you can ask for of another person, is somebody who recognizes if they make a mistake and they do something wrong and want to learn and grow from it.
She also said she really appreciated the fact that Garrett put himself out there, saying that he was sorry and wanted to learn better — and hopefully, she's right about that.
It's obviously hard to know what it's like to find out that your new fiancé is presenting himself online in a way that goes against the things you believe in, but it sounds like it's something that Becca and Garrett tackled head on and that ultimately made them stronger as a couple.