Gary Barlow Spilled Major Tea About His Time On 'X Factor' & You'll Be Shocked AF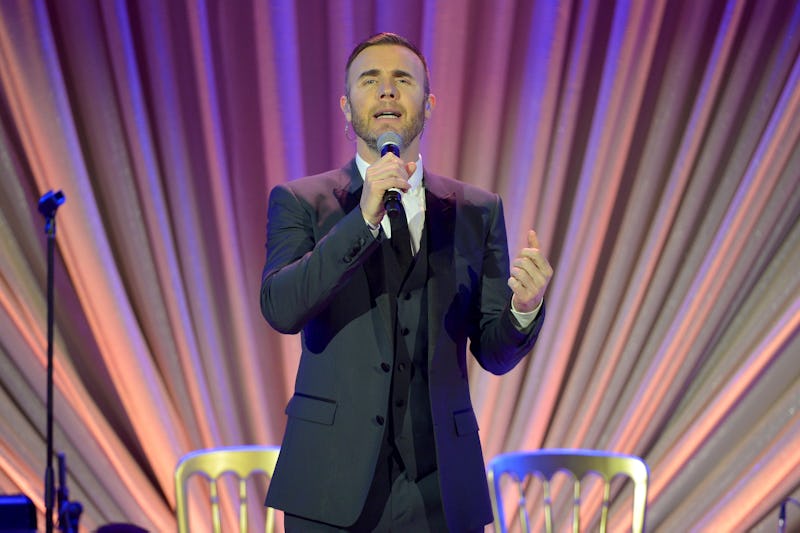 Charley Gallay/Getty Images Entertainment/Getty Images
When it comes to reality TV shows, there's always a little part of me that questions how much they are staged, and Gary Barlow certainly hasn't been helping matters. The former X Factor judge and Take That member has just dropped a new biography in which he explained what the ITV show was like behind the scenes during his time, and let's just say Gary Barlow's experience on The X Factor from 2011 to 2013 will raise some eyebrows. Barlow has alleged producers at the time meddled with the judging and even went as fair as to claim the team were listening in on the cast in some way.
The autobiography, called A Better Me, was published earlier this month and it was full of shock X Factor revelations from his time on the show, Digital Spy reports. There were a few nuggets of interest, but one of the biggest standouts was that the former producers would allegedly try to feed the judges lines and influence their comments in some way.
Barlow wrote per Digital Spy, "About half an hour before the show goes live, the producers would come in and they'd go, 'Oh my God. That Misha. She's a bully. Can't believe it. She is such a bully. In fact, you know what? You should say it. You should say it on air. She's bullied everyone all week'."
It's important to distinguish between Barlow's experience and the current show. A spokesperson for the show didn't comment on the specific allegations in Barlow's book, but did tell Bustle "the majority of the day to day producers from Gary's time on the show no longer work on it now," and Barlow makes no claims about how The X Factor operates in 2018. However, Barlow's experience clearly stayed with him, and he also claimed the show was a difficult one to be on when he was there, as at the time the network apparently was obsessed with garnering coverage for the talent show.
"I've got a very healthy address book of TV professionals and I set about ringing every single one of them [about] The X Factor," he explained of his time on the show. "To the last, they all said the same thing: 'The only thing anyone cares about in that building is The X Factor. They won't mind throwing you under the bus, using you to get a headline, feeding you a line that will end your career, as long as The X Factor gets a mention'."
Yikes. He also questioned whether his dressing room was "bugged," as whatever was "being talked about behind closed doors, and eaten...always found its way to the press." He said it ended up giving him "a bad case of showbiz paranoia" and yikes, that's pretty awful if it was true.
Gary Barlow was a judge on The X Factor between 2011-2013, but later left the show to focus on creating new music, as the Mirror reports. He released a solo album called Since I Saw You Last and also announced a forthcoming UK tour off the back of his exit. At the time, an X Factor spokesperson told the newspaper, " We'd like to thank [Barlow] for an amazing contribution over the last three years. Next year he will be focusing on his own music but until then he will be mentoring the groups and hoping to take one of them all the way to the final and leave on a high."
In 2017, Barlow also created his own talent show on BBC called Let It Shine. It had a slightly different premise from X Factor as it focused solely on finding "five stars to play a boyband in a musical featuring songs by Take That." The show has yet to be renewed and a source told Express that they "didn't want to rush into another series," so he could be back to judging in a year or two when they've ironed out all the kinks.
In the meantime, you'll be able to see another member of Take That on the current edition of X Factor as Robbie Williams and his wife Ayda Field are lending their voices to the hallowed judging panel. One Direction's Louis Tomlinson and his former mentor Simon Cowell are also judges this year and the show is airing at the moment.
The fifteenth series of X Factor is currently underway and the next episode will air this Saturday on ITV at 8:35 p.m. If you haven't been keeping up with the talent this year or skipped an episode or two, you can also catch up on the ITV Hub.