Here's What The Clooney Kids Will (Not) Look Like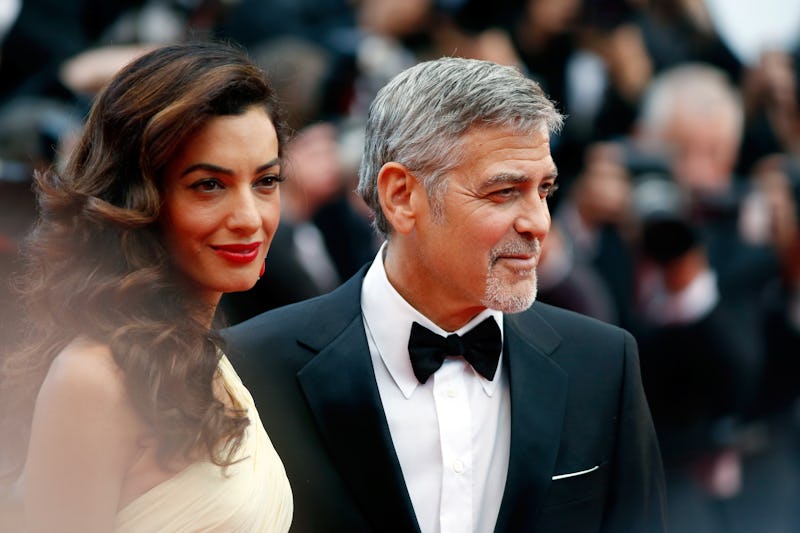 Tristan Fewings/Getty Images Entertainment/Getty Images
Another week, another news item about a famous couple having multiples. On Thursday's episode of The Talk, host Julie Chen announced that George and Amal Clooney are reportedly expecting twins. According to Chen, Amal is due in June, and according to MakeMeBabies.com, George and Amal's babies will look adorable in hats. (Oh, don't you worry. There will be more on the latter in just a second.) Bustle has reached out to George's rep for comment, and Amal's rep could not be reached.
Again, this report remains unconfirmed, so uh, hold off on screaming "CONGRATS, AMAL AND GEORGE" from the rooftops for now. But do you know what is a great way to pass the time while we wait for Amal and George's official statement? Fire up the consistently hilarious, wonderfully entertaining, occasionally unsettling, and super scientific invention that is the online baby photo generator. Hey, why not?
Want to know what Amal and George's babies will look like? Er, wait. Please allow me to rephrase that: Want to know what the MakeMeBabies.com versions of Amal and George's babies look like? Of course, you do. Silly of me to even ask.
Enough chatter, let us get to work. Here is the first photo I used:
And here's the result:
That baby looks all-knowing. That, or the baby just has to fart.
And here is photo #2:
And here is result #2:
Uh, if Amal and George really are having twins, I hope both babies get to wear hats like the one pictured here.
For my next magic trick, I went with this photo:
And here's what the generator gave me:
Another outstanding hat? Another outstanding hat.
And here's the final picture I threw into the generator:
And this is what the generator gave me:
Awwww. Look at that little tyke in what appears to be a Little Tikes hard hat.
Congrats to the reportedly expectant couple, and hats off to MakeMeBabies.com.