Why George Clooney Should Be A Stay-At-Home Dad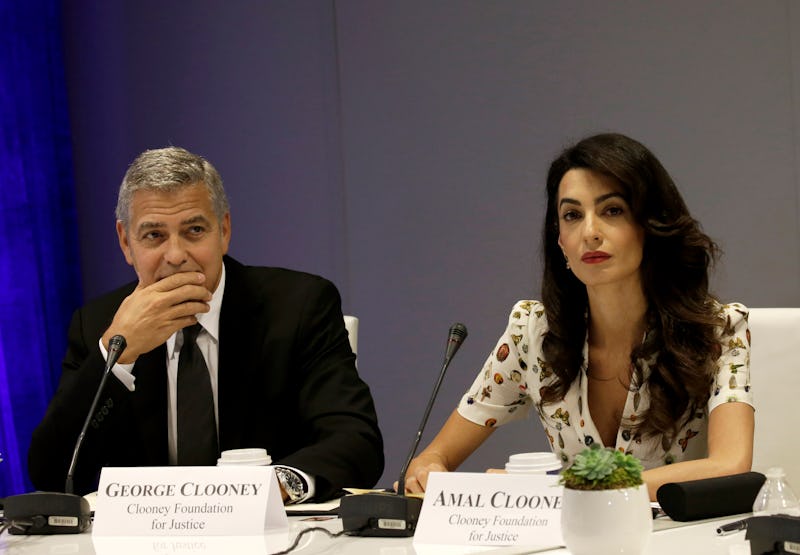 Pool/Getty Images News/Getty Images
I know I'm not the only person whose day was made significantly brighter by the report that George and Amal Clooney are expecting twins. We've all been invested in the couple's happiness for a number of years, now, and the news that they're about to reportedly become parents of two is so exciting. If the report is true, these two kids are going to be pretty darn lucky, because not only do they have an Oscar-winning actor has a father, but an accomplished human rights lawyer as a mother — and hopefully, when the babies are born, George will choose to be a stay-at-home dad, so Amal can continue being the badass attorney she is.
Of course, whatever decision George and Amal make about raising their kids is up to them. They could choose to both stay at home for awhile, and that'd be perfectly fine, or they could decide to both continue to work as normal while hiring nannies to help, and that'd be totally OK, too. It's nobody's business but theirs how they go about parenting, and I'm sure that whatever choice they make will be the right one for them.
Still, wouldn't it be cool to see George take on the traditionally-female role of a stay-at-home parent in order for Amal to continue her work saving lives as a lawyer? Acting is a good job and all, but being an attorney who fights for civil rights in the world's highest courts is on another level of awesome — especially when you consider the recent work Amal has done working to bring down ISIS. In September, Amal began representing Nobel Peace Prize winner Nadia Murad, who survived human trafficking by the terrorist group. It's just one of many high-stakes cases Amal has taken on, and the phenomenal work she has done on behalf of victims of abuse and violence cannot be understated.
If she chooses to put her career aside for a few months (or longer) to care for the babies, that's obviously her choice and 100 percent fine. But hey, if George decides to take on the stay-at-home parent role instead so that Amal can continue saving the world, then that'd be truly great to see.