George Lucas Reacts To Carrie Fisher's Death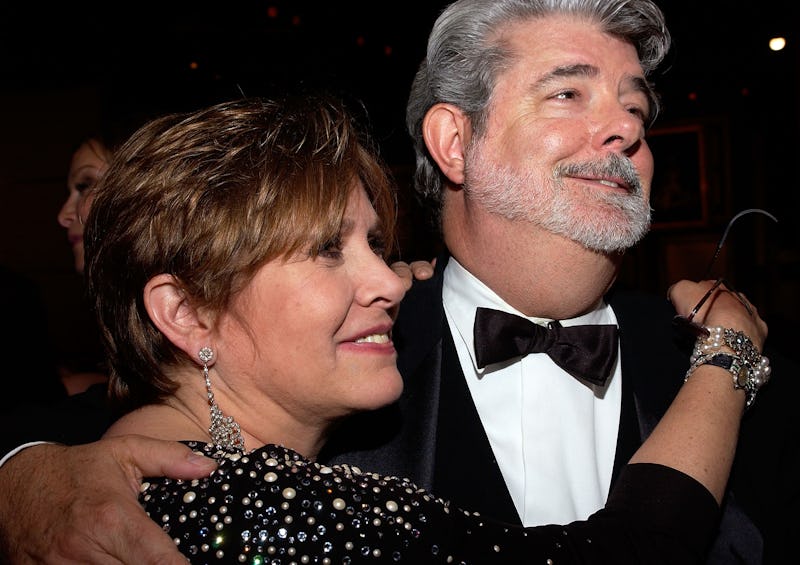 Amanda Edwards/Getty Images Entertainment/Getty Images
Many members of the original Star Wars cast have expressed their grief at the sad and unexpected news of Carrie Fisher's passing. In a statement to Bustle, Star Wars creator George Lucas reacted to Carrie Fisher's death with powerful and profoundly sad words:
Carrie and I have been friends most of our adult lives. She was extremely smart; a talented actress, writer and comedienne with a very colorful personality that everyone loved. In Star Wars she was our great and powerful princess — feisty, wise and full of hope in a role that was more difficult than most people might think. My heart and prayers are with Billie, Debbie and all Carrie's family, friends and fans. She will be missed by all.
Fisher passed away on Dec. 27, 2016 after suffering a heart attack on a plane on Dec. 23. A spokesperson for the family confirmed the news of her death to People on Tuesday, writing on behalf of Fisher's daughter Billie Lourd that "she was loved by the world and she will be missed profoundly. Our entire family thanks you for your thoughts and prayers." Her abrupt decline came as a surprise after a busy and vigorous year for Fisher; she spent 2016 promoting her memoir, posting hilariously on social media, and filming Star Wars Episode VIII.
Many celebrities from Tina Fey to Reese Witherspoon have expressed their sadness at the news of Fisher's passing on social media, mourning her iconic acting performances, her wit and writing, and her mental health advocacy. Her Star Wars family have released especially moving statements, with Mark Hamill tweeting that he has "no words" and Harrison Ford remembering her as "funny and emotionally fearless."
It makes sense that Lucas would have such a thoughtful and nuanced statement on Fisher. The director and actress reportedly had a love/hate relationship, as evidenced by her 2005 AFI roast of Lucas. While Fisher playfully wrote in her book Wishful Drinking that George Lucas ruined her life, she also relayed a story that many have remembered in the hours after her death. Apparently, Lucas informed her on the Star Wars set that she couldn't wear a bra under her dress, as one can't wear underwear in space. "Here's why you cannot wear your brassiere, per George" Fisher wrote. "So, what happens is you go to space and you become weightless. So far so good, right? But then your body expands??? But your bra doesn't—so you get strangled by your own bra. Now I think that this would make a fantastic obit—so I tell my younger friends that no matter how I go, I want it reported that I drowned in moonlight, strangled by my own bra."