GRRM Thinks 'Winds Of Winter' Will Be Out In 2017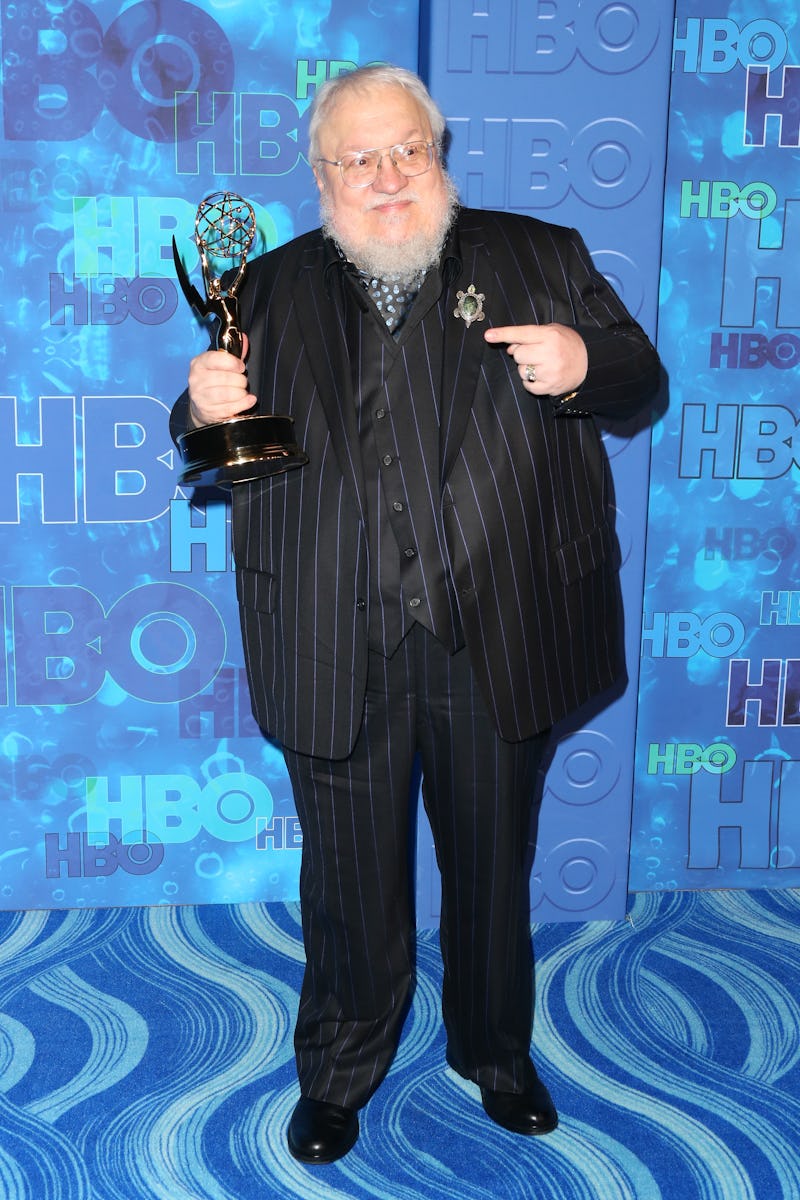 Frederick M. Brown/Getty Images Entertainment/Getty Images
Another year passed without the next book in George R.R. Martin's A Song of Ice and Fire series hitting bookstores, but the Game of Thrones author hasn't given up writing it yet. In a comment on his Monday blog post, George R.R. Martin says he thinks Winds of Winter will come out in 2017, telling a fan that he has made some writing progress over the last 12 months. ASOIAF readers may be hesitant to let themselves get excited over this news, but go ahead and pour yourself a glass of wine, eh?
The Winds of Winter is the sixth of seven planned installments in Martin's A Song of Ice and Fire series, which began with A Game of Thrones in 1996. Although Martin churned out the first three books in his fantasy series fairly quickly — with Book No. 3, A Storm of Swords, released in 2000 — his writing speed has decreased over the last decade or so. It was five years before fans got their hands on A Feast for Crows (2005), and another six-year wait for A Dance with Dragons (2011). And so, as I wrote nearly a year ago, The Winds of Winter might be entirely on schedule, with or without the delays that have plagued its release.
On Tuesday, a fan responded to Martin's latest blog post, writing:
As i stated in my last attempt, i respect you immensely and do not want you to rush or release anything untill you are completely satisfied with it.
That being said, it has been a whole year since we have received an updated. You have placated our hunger with another superb sample ch. (the Forsaken), and for that, we are grateful. But unless you want to be bombarded with im's like this, i would suggest another updated.
Even if its as simple as, 'not done yet, but ive made progress( or not) ', or ' it'll be out this year (or not)'. Anything(or not). Either way, have a great new year, and thank you for, imo, the best fantasy series out there. [sic]
Now, I don't stalk George R.R. Martin's blog, by any means, but I'm pretty sure he gets at least 100 letters like this every day. I don't know why Martin picked this guy to respond to, but, hey, he's a cool dude. Here's what he had to say:
You really think statements like that would make a difference? Ah, you sweet summer child. I have years of experience with this that tells me otherwise.
But okay, I will try it your way.
Not done yet, but I've made progress. But not as much as I hoped a year ago, when I thought to be done by now.
I think it will be out this year. (But hey, I thought the same thing last year).
Here's to The Winds of Winter, whenever we should get it.