Here's What's Going On With Stacey Abrams & The Georgia Governor's Race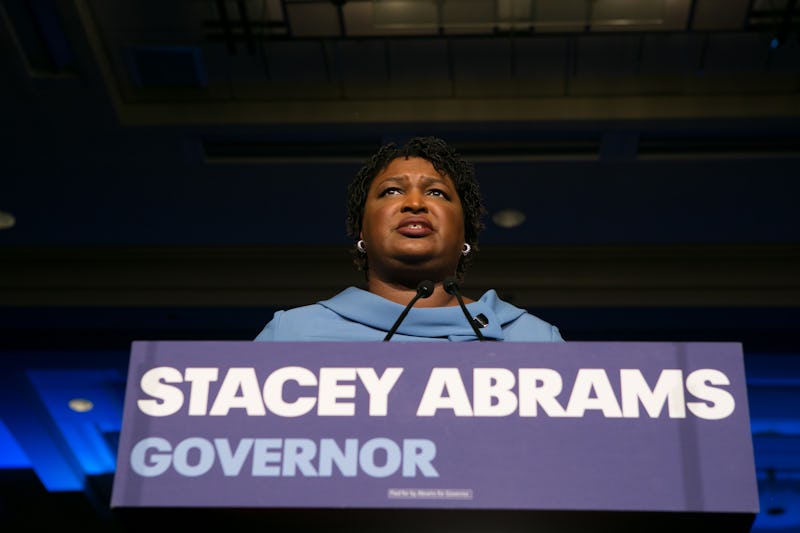 Jessica McGowan/Getty Images News/Getty Images
A lot of optimism surrounded the campaign of Stacey Abrams, the Democratic candidate for governor of Georgia, who had the potential to become the first ever black female governor in the United States. Now it's two days after the election, and Abrams seems to be keeping a spark of that optimism alive — but just barely. At this point, everyone could probably use an update to the Georgia governor's race, because it's a complicated situation — and neither side has given up hope, despite the fact that only one of them seems poised for victory.
If you just look at the numbers, it doesn't appear to be quite so complex. According to The New York Times, Republican candidate Brian Kemp received 50.3 percent of the vote, and Abrams got 48.7 percent, with about 63,000 fewer votes. Kemp even declared his victory on Wednesday, according to The Washington Post. Abrams, however, hasn't conceded, as Time reports.
"We believe our chance for a stronger Georgia is just within reach, but we cannot seize it until all voices are heard, and I promise you tonight we're going to make sure that every vote is counted," Abrams said.
In a normal race, her promise to continue might seem like wishful thinking. The 2018 Georgia governor's race, however, was not a normal race.
For one thing, Kemp held the position of Georgia secretary of state during the race, and the secretary of state is the person who runs elections. And for another, he's been repeatedly accused of running a massive voter suppression campaign aimed directly at minority voters, as The Washington Post wrote. Georgia voters faced long lines and nonfunctional voting machines on Election Day, and many of them had to fill out provisional ballots because of all of the problems. When Abrams referred to every vote being counted, she was referring to all of those provisional ballots.
Kemp denied all of the accusations of voter suppression, but he also refused to step down as secretary of state while he was running for governor. That's changed now, however, as Kemp has now said on Thursday he would resign as Georgia secretary of state while the vote counting goes on, CNBC reported.
Because of this whole situation — and the fact that it did end up being such a tight race — Abrams seemed to mention the possibility of a run-off election at a speech she gave to her supporters on Wednesday.
"I want to say this: if I wasn't your first choice or if you made no choice at all, you're gonna have a chance to do a do-over," Abrams said, according to The Hill.
The problem with Abrams' statement, though, is that there are strict rules for what triggers a run-off election in Georgia, as Fortune explained. For a run-off to happen, Kemp needs to have received less than 50 percent of the vote plus one vote, and at the moment he's hovering about 50 percent, even as the provisional ballots are being counted. As Fortune wrote, the math doesn't look like it could go Abrams' way — unless more votes turn up. Abrams could also call for a recount, but that would only happen if less than one percentage point separated them — and that isn't the case right now.
The final option for Abrams would be to sue over one or many of the voting irregularities that took place, Fortune explained. This is a highly unlikely outcome, however. The Georgia governor's race isn't entirely over, but that spark of optimism for an Abrams victory is getting dimmer and dimmer.