Geri Halliwell Has Apologized For Her Spice Girls Exit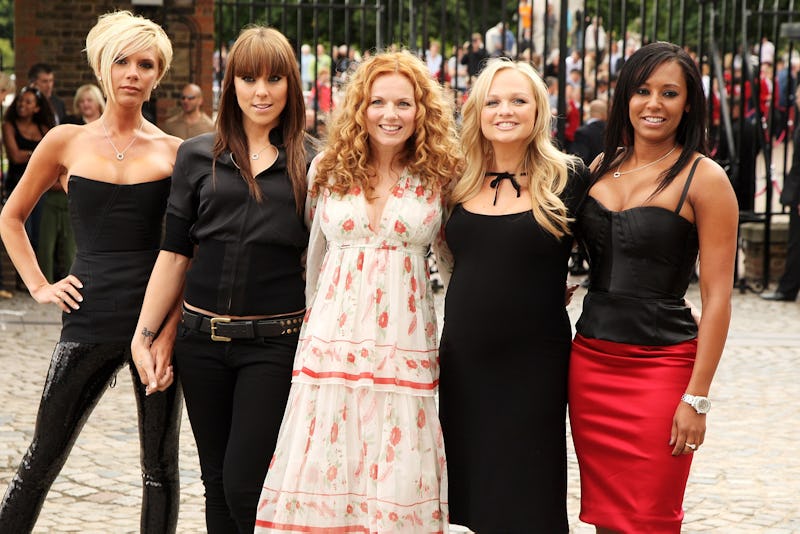 Getty Images/Getty Images Entertainment/Getty Images
Can you believe it's been 19 long years since Ginger Spice unexpectedly declared her exit from the Spice Girls? It was an extremely tragic day for fans, especially those who loved Ginger immensely. Well, fans, you're in for a real treat, because Geri Halliwell has apologized for her Spice Girls exit. That's right, she took to Twitter Thursday and said the two words groupies have been waiting for since 1998: "I'm sorry."
Someone tweeted Halliwell alongside a short clip surrounding her departure, "19 years ago today, it was announced that @GeriHalliwell had left the Spice Girls in the middle of their world tour." To that, she responded, "I'm sorry about that ... [heartbreak emoji], everything works out in the end [rainbow emoji], that's what my mum says! X"
I have a feeling fans are shouting "Girl Power!" from the rooftop and feel so much better now that Halliwell has issued an apology. Admittedly, I don't remember when Halliwell left the best girl group that has ever existed. I know, I know, I'm a horrible fan. Though, it's either because I just have a really bad memory or due to the fact that I blocked it out because it was so heartbreaking I couldn't handle it. I'm going to go with the latter.
Also, don't think my inability to recall Halliwell's devastating decision means I don't adore her, because of course I did and still do. She totally rocks. So, maybe I should apologize to her for not remembering when she left? Geri, I am so sorry — and you are such a badass who has empowered young women in amazing ways. There. Am I forgiven and can we all move on from this awkwardness now? OK, good.
In August 2016, Halliwell opened up about her abrupt exit in the middle of the European leg of their Spiceworld Tour to Oprah Winfrey on Oprah: Where Are They Now? "I felt like it grown into this huge monster, bigger than the individuals, bigger than the band itself," she said. "Obviously there was bit of ruction in the band and I was like, 'I just don't want to do this anymore.' It was like, 'You're getting on my nerves and I don't know how to talk this through, so I'm out of here.' It was quite immature, looking back."
I'm sure she never meant to intentionally crush fans' hearts, but at least she has apologized. It's something that means a lot to many and fans can finally forgive Halliwell and move on from such a difficult time in their lives.
Geri, you are absolutely forgiven and thank you for your assistance in promoting Girl Power. You and the rest of the Spice Girls really are the best.