This GIF Of These Black Lawmakers' Reaction To Trump's SOTU Is Making Twitter Freak Out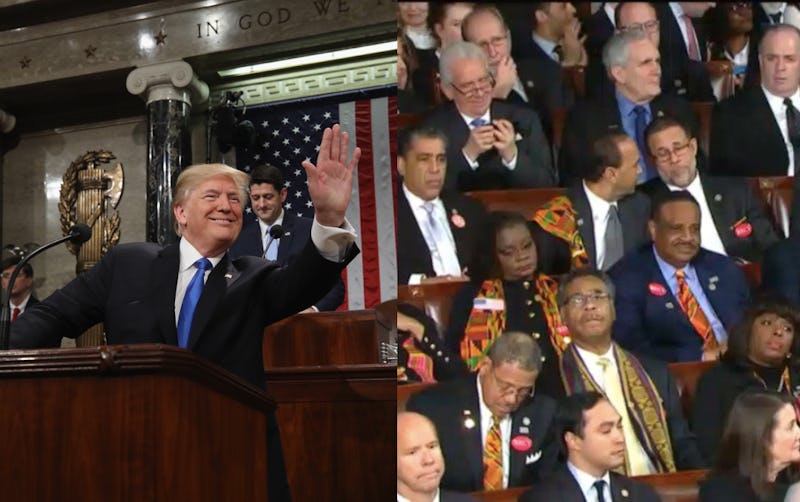 Win McNamee/Getty Images
On Tuesday night, President Donald Trump included a line in his State of the Union address clearly intended to elicit a positive reaction from some of the black members of Congress in attendance. To put it bluntly, it did not work. Rather, as the cameras showed, the Congressional Black Caucus didn't like Trump's black unemployment line one bit, and the GIF of them staring unamused at the president was all over Twitter.
Suffice to say they didn't look too thrilled when the camera panned over, with only one member of the caucus seemingly moving his hands as though he were clapping, and in about as unenthusiastic a fashion as possible. To the contrary, while Republican roared at Trump's remark, the CBC's reaction basically looked like stone-faced silence.
While Trump is correct about the current low rate of black unemployment, he's taking exaggerated credit for the ultimate conclusion of a multi-year trend that entirely predates his administration. The black unemployment rate spiked amid the 2008 global financial crisis, and over the subsequent eight years of former president Barack Obama's presidency, it shrunk back down. Currently, it is indeed at its lowest-ever recorded level, although at 6.8 percent, it's still markedly higher than the white unemployment rate.
Trump has recently been hammering home the black unemployment rate, which is currently at its lowest recorded level. On Sunday, after rapper Jay-Z criticized his policies and his rhetoric on race in an interview with CNN's Van Jones, Trump responded with a tweet referencing the low rate of black unemployment, a response that many observers found offensive.
Trump's performance among black voters in the 2016 election was worse than with any other major demographic, with a staggering 89 percent of black voters breaking for Clinton ― 82 percent of black men, and 94 percent of black women. At present, according to CNN, a mere six percent of black Americans approve of Trump's job performance, down from 15 percent in the aftermath of his inauguration last year. Despite that steep slide from bad to worse, Trump falsely claimed earlier this month that his support had doubled.
The moment came and went pretty quickly, and if not for the quick work of the camera operators, the reaction of the CBC might not even have been captured. But it was, which is why gifs and reactions are now flying around on social media.
Prior to the start of the State of the Union address, CBC chairman Rep. Cedric Richmond made it clear that he and members of the caucus were not happy with the president heading into his speech. In fact, while Richmond noted that some members of the caucus were boycotting the speech, he added that those who attended would be "staring racism in the face." He also hit Trump for "diving the country along racial lines."
"The President has taken every opportunity to divide this country along racial lines," Richmond said in a press conference on Tuesday morning, as CNN detailed. "Words matter. President Trump's racist rhetoric makes the county less safe for people of color by encouraging and emboldening and pandering to those who wish to do harm to others based on the color of their skin."
"If he wants to project tonight unity in this country then he would apologize for calling African countries and Haiti sh*thole countries," Richmond continued. "He would apologize for calling African-American football players who take a knee to fight police misconduct and injustice in the criminal justice system sons of bitches."
In short, it's fair to say that the CBC has no time for Trump. And when he tried to provoke some applause by claiming credit for the black unemployment rate, that antipathy was on full display for the world to see.