You Have To See Gigi Hadid With A Pixie Cut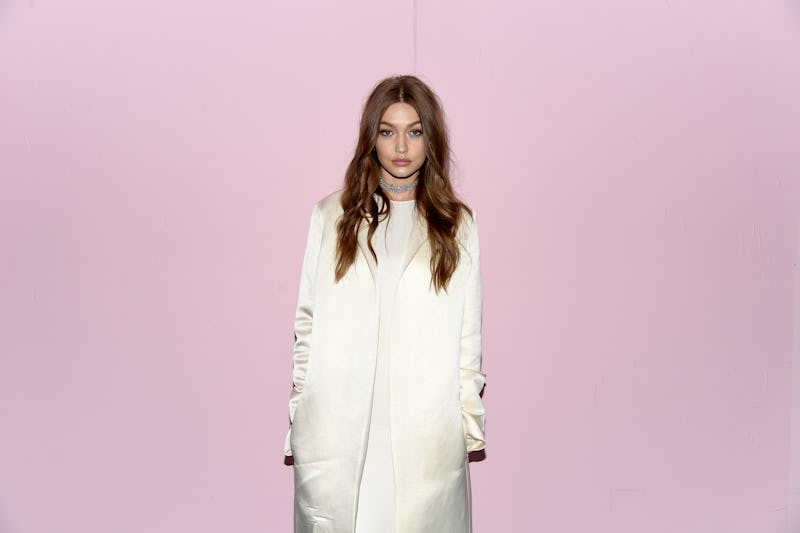 Nicholas Hunt/Getty Images Entertainment/Getty Images
When you've been on as many runways and posed in front of as many cameras as this model has, you've rocked a whole lot of different looks. So, you'd think by now fans wouldn't be surprised to see new hairstyles, considering she's done it all. But, Gigi Hadid's pixie cut is unlike anything she's showcased before, and honestly — this 'do is worth getting excited about.
Hadid was spotted with her shortest hairstyle yet in the most recent Stuart Weitzman campaign, but before you go and get too excited, it's important to note that this is most likely a wig. But, if Hadid ever does decide to go and chop her locks, these photos are proof that she'd totally be able to pull it off — not that you doubted her for a second!
Hadid isn't the only "it" girl to sport a super short hairdo in a campaign recently. Kylie Jenner also debuted a pixie in her photos for the Kylie X Quay Australia collaboration. She looked very much like her mother, Kris Jenner, in the snaps, and I gotta say, Hadid's definitely got some Yolanda Foster vibes going with this short style, too. What can they say? Like mother, like daughter, you know?
The cut and the strawberry blonde coloring is new for Hadid, but it works so well.
Work it with that pixie, girl!
New hair? Who dis? Some folks can't believe the transformation.
She's on fire.
But, then again, she always looks amazing.
This certainly is a departure from her flowing tresses, but I have a feeling this isn't a permanent change.
She is known for fooling us into thinking she's actually cut her hair, after all. Remember her faux lob from the 2015 American Music Awards?
Hadid certainly is in good company with this type of 'do because Jenner rocked a pixie, too.
And don't you forget, when it comes to pulling off short hair — she got it from her mama.