Gigi Hadid's Instagram Post About The Paparazzi Is Sparking Support From Fellow Celebs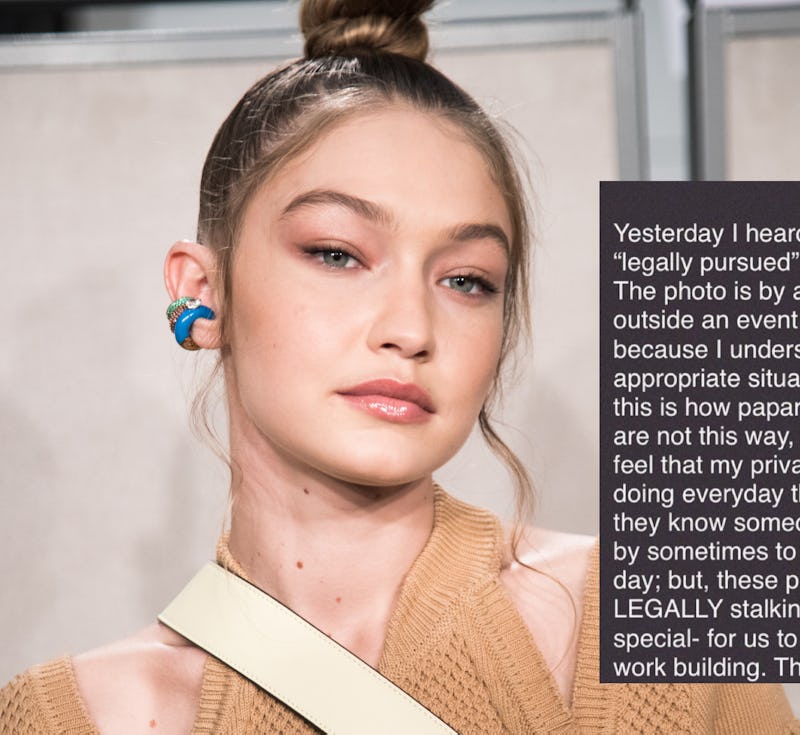 Vittorio Zunino Celotto/Getty Images Entertainment/Getty Images; Gigi Hadid/Instagram
If you've ever wished you were famous, this might make you think twice about those celebrity dreams. Gigi Hadid's Instagram post about paparazzi and privacy shows just what it means to be a "public figure," and it's not all glamour all the time. In a lengthy Instagram message Hadid posted on Thursday, the model explained that she could be in legal trouble for posting a paparazzi photo of herself on Instagram. She went on to explain the privacy and safety issues she feels because of the paparazzi on a near-daily basis.
"I posed/smiled for the photo because I understand that this is part of my job, this was an appropriate situation for 'the press' to attend, and also that this is how paparazzi make a living," Hadid wrote in her post. She went on to explain that while she didn't mind this specific photo, there are many other instances where having her picture taken can be uncomfortable. "Anytime I feel that my privacy is being unreasonably intruded upon, doing everyday things feel[s] harder to face," Hadid explained.
The model went on to refer to paparazzi members taking photos of her everyday life as "legally stalking" her and other celebrities. "They put the general public in danger in pursuit of a photo," Hadid wrote.
It sounds like Hadid recognizes that taking photos is the paparazzi's job, but that doesn't make the lack of privacy any easier, especially when it can cross a line. She also wrote in her post that she found the photo of herself on Twitter, and that if the photographer had commented on her post, she would have credited them. Instead, the model might be "legally pursued" for her post.
Hadid's post struck a nerve with other celebrities, too. Kylie Jenner commented that as "public figures," celebrities are often subject to invasions of privacy. "It's pretty disappointing," Kylie wrote. "We gotta change this."
A number of other stars, including Khloé Kardashian and Ruby Rose, also responded in agreement with Hadid's message. Kardashian wrote that she found herself in a similar boat last year. As The Hollywood Reporter reported in April 2017, a photo agency sued Kardashian for posting a photo of herself on Instagram, with the complaint saying that the agency "never licensed the photograph" to her.
In her comment on Hadid's post, Kardashian wrote that she was "sued for hundreds of thousands" of dollars. "I don't understand how it's all right they they literally stalk us and taunt us and they are allowed to sue us for posting our own photo," she commented.
Bella Hadid also stuck up for her sis, writing, "Well said sister" in the comments. And Ruby Rose wrote that "It's a double standard I've never understood."
Kendall Jenner also shared a strong message about privacy this week. On Thursday afternoon, the model posted several tweets about a TMZ article that described a scary run-in she had with a stalker at her home.
"How do you guys think these terrifying people know where my house is?" Kendall wrote. "You release not only photos but my location. it is so beyond unsafe."
At the end of the day, celebrities are people just like anyone. And having your everyday life documented can be taxing no matter who you are. Last month, for example, Hilary Duff shared an Instagram video where she begged the paparazzi to stop following her.
It's understandable that fans want to know what their favorite stars are up to, but there's a line that shouldn't be crossed. Celebrities have a right to go about their lives without feeling unsafe, and Hadid's message is a powerful reminder that everyone deserves privacy, regardless of their star status.