Gigi Hadid's Makeup Artist Says It's A Waste Of Money To Splurge On This One Item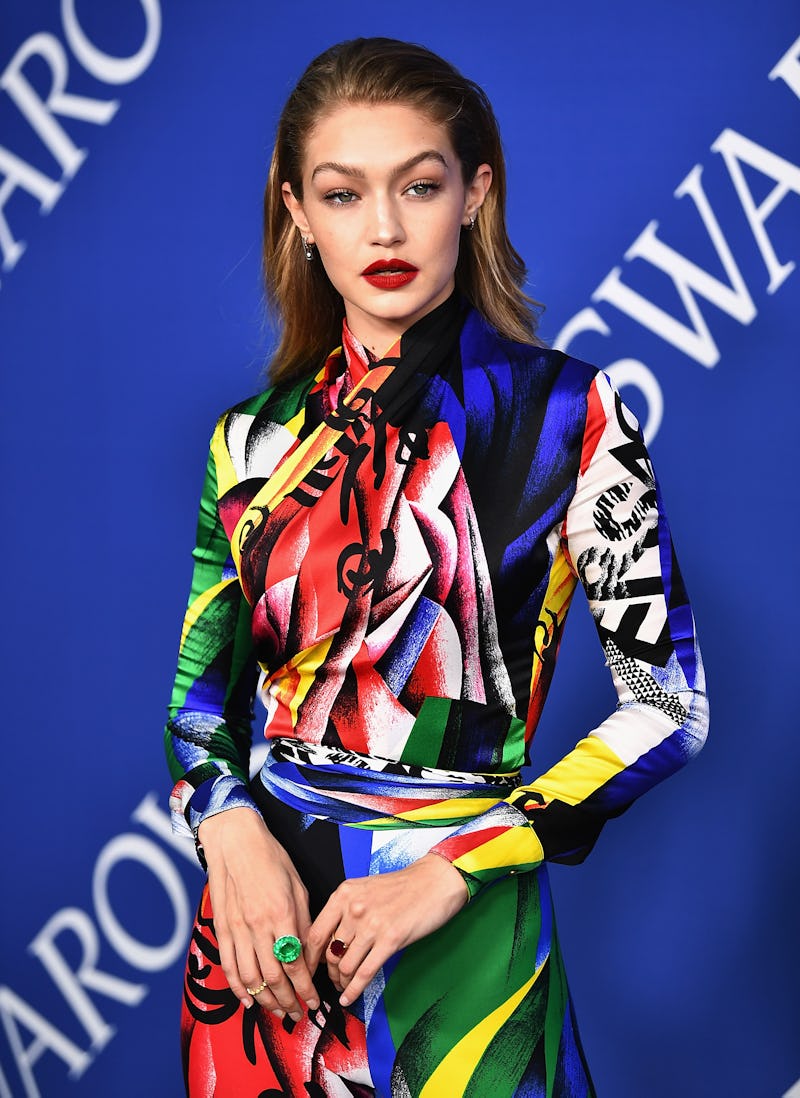 Dimitrios Kambouris/Getty Images Entertainment/Getty Images
When it comes to figuring out what's worth splurging on and what's better off skipping in the beauty world, it's hard to gauge. But one iconic makeup artist just weighed in on what we're all throwing our money out on, and her answer might surprise you. Gigi Hadid's longtime makeup artist, Erin Parsons, says that splurging on high-end eyeshadow palettes is a waste of a person's bank account.
Parsons got her start working with Pat McGrath, but has since moved on from her assistant days and is now the go-to artist for Hadid, doing her makeup for campaigns like Reebok, Tommy Hilfiger and Maybelline. She's also a regular on the runway, doing shows for labels like Alice + Olivia and La Perla, and is regularly tapped into for Vogue covers and beauty shoots. So suffice it to say, the woman knows makeup.
And seeing how Hadid is now in the top five of the highest paid models in the industry, Parsons would only have the highest of standards when applying her makeup. So when Parsons did an interview with Yahoo! and was asked what makeup product she thought was "an absolute waste of money" she was quick to answer, "an extremely expensive eyeshadow palette."
While that's not to say that high-end palettes aren't worth buying, Parsons pointed out that there are plenty of drugstore brands that create high quality shadows at a fraction of the cost. Many people tend to think that drugstore brands don't match in quality with more expensive products, but in Parsons' experience, that's simply not true.
Both Hadid and Parsons work with Maybelline, so they have firsthand experience in the matter. Hadid is the face of Maybelline, where she not only appears in their TV commercials and magazine ads, but also wears their products as an endorsement and even collaborated with them to create a makeup collection of her own. One of the standouts in the collaboration was Hadid's Maybelline Jetsetter Palette, which included everything from eyeshadows, to bronzers, to lip balms.
Parsons is Maybelline's global makeup artist, where she takes care of all of Hadid's looks for the brand's campaigns and marketing materials. While the two are intimately linked with the drugstore brand, Parsons isn't merely telling people to use budget palettes to boost Maybelline's sales numbers. She constantly proves that they work just as well as their luxury counterparts.
For example, in Hadid's 2016 American Music Awards look, where the model was a co-host, Parsons used all Maybelline products to create her fresh-faced, glowy look. From her natural bushy brows, to her contoured cheekbones, to her smokey taupe eyeshadow topped with silver glitter, it was all created using drugstore products. And if that's good enough for a red carpet, then it's good enough for a Saturday night out with friends.
Then at the 2018 Met Gala red carpet, Hadid wore a not-yet-realeased eyeshadow palette that she helped to create, and which will hit stores in September 2018. Seeing how the Gala is seen as "fashion's biggest night," Hadid wouldn't cut corners when it came to her makeup, once again showing that drugstore formulas go the distance.
The mysterious palette is the Maybelline Soda Pop Eye Shadow Palette, and it will feature 12 different shades, including blues, oranges, and purples that will be perfect for autumn. The palette is shimmer-heavy (as you can see via Hadid's makeup,) and will be split into cool and warm tones, letting you play up different eyeshadow looks. All the shadows are named after sodas and will smell like them, too, featuring names like "Cherry Cola" and "Sugar High." And the best part? It will only cost $14.
As Parsons said, you don't have to drop a lot of money for a quality and unforgettable makeup look.