Gigi Hadid's Pink Ponytail Is Going To Give You Major Hair Inspo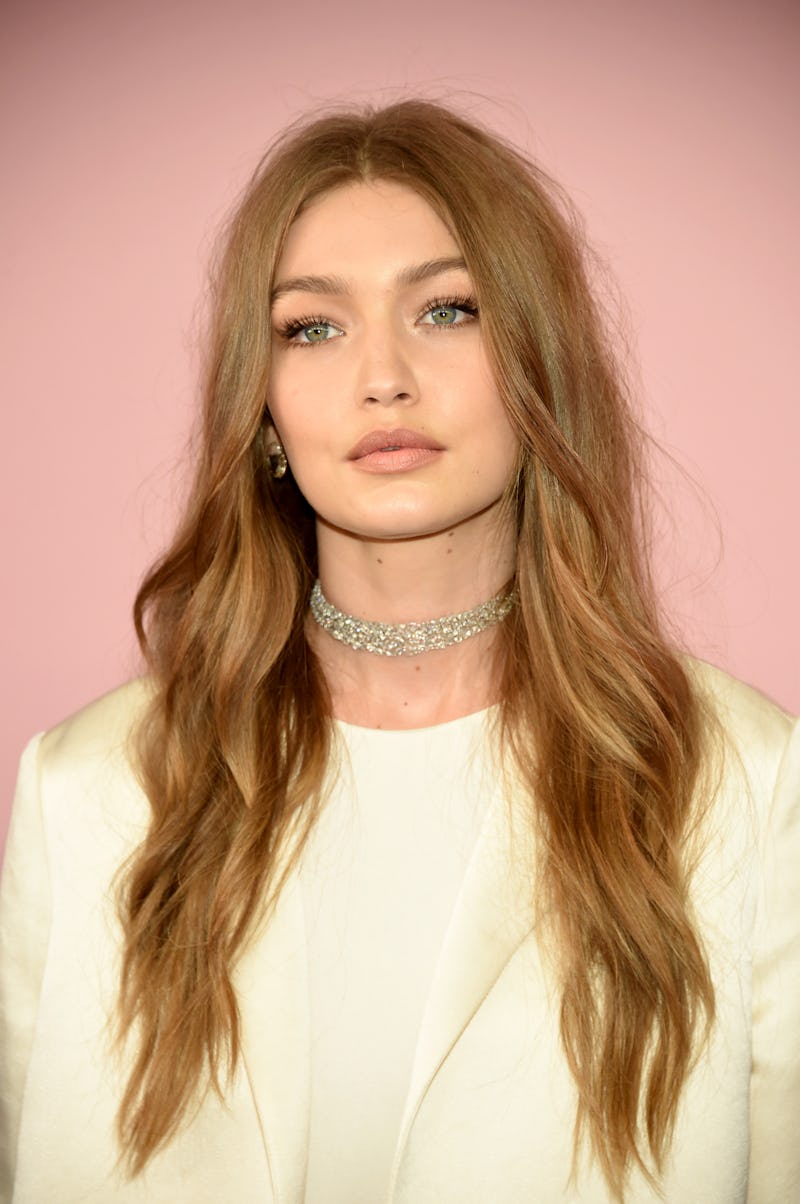 Dimitrios Kambouris/Getty Images Entertainment/Getty Images
While sun-streaked baby lights and caramel balayage are always going to be in style, sometimes a person wants to step outside of their comfort zone and do something unexpected with their hair for the weekend. That's why Gigi Hadid's pink ponytail is going to give you some major hair inspiration when it comes to stepping outside of the box. Whether you want to try out something edgy for cocktails with friends on a Friday night, or want to add some oomph to your brunch outfit Sunday morning, dying your ponytail an unexpected color will get you there.
Hadid debuted her look on Instagram, where she pulled her blonde locks into a high, slicked-back pony, with the actual tail sporting an ombre of different colors. You could see highlights of pink, purple, and lavender, giving the style some dimension. "It's basically like a sunset...or a photo filter...but it's in her hair," Allure observed. Knowing her penchant for sandy blonde hair, this is most likely not a permanent style. It might be a clip-on or temporary dye, which only reinforces the idea that anyone could sport a similarly drastic look for a day or two if they felt so inclined.
Granted, a model like Hadid probably got her locks professionally done rather than streaked in the confines of her apartment bathroom, but the playful outcome will be the same no matter if it's done by a glam squad or with the help of a friend. "She tagged her entire glam squad in the caption, including Maybelline, which makes us think this is a behind-the-scenes shot from an upcoming campaign, and perhaps not a permanent hair move," InStyle reported. While Hadid had hers expertly applied, you can just as easily pick up Lime Crime or Jerome Russell hair dye and do it yourself.
But if you're concerned about how long the color will last in your strands, you should be warned that everyone's hair reacts differently to these temporary products. Sometimes they become permanent and will take professional help to strip them out. If you can't walk into work with hot pink hair on Monday, approach this DIY with caution. If you rather not risk it, here are some great clip-on extensions to get the same results with zero the repercussions:
1. 24-Inch Highlights
OneDor Hair Extensions, $10, Walmart
Coming in a bevvy of different color options (including mint and deep indigo,) these 23 inch extensions will be perfect to mimic Hadid's look.
2. 22-Inch Highlights
22 Inches Party Highlights, $5, Etsy
From pastel purple to neon green, these 11-piece Etsy clip-on highlights will be a fun addition to any weekend hairstyle.
3. 12-Inch Highlights
Long Multi Color Clip-in Extensions, $15, Etsy
While these only come in a set of four extensions, they're made out of real human hair and already have different colored highlights woven in. Meaning you can achieve Hadid's ombre effect.
Never has copying a super model been so easy!