Gigi Hadid Wearing Zayn's Name Isn't Just A Fashion Trend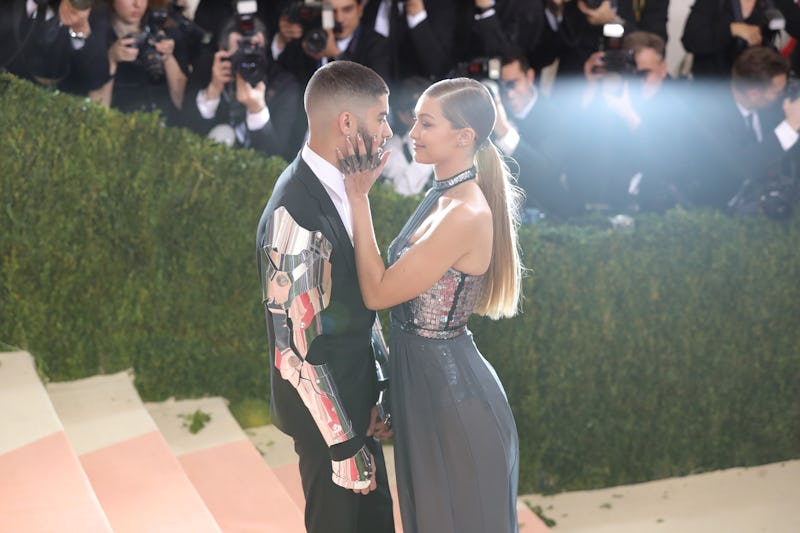 Neilson Barnard/Getty Images Entertainment/Getty Images
Fashion is a way to speak without saying anything, and Gigi Hadid just proved she knows that better than anyone. In another adorable ode to her boo, Gigi Hadid wore Zayn Malik's name on the back pocket of her jeans. Don't mistake this for a simple fashion trend though. The personalized jeans are no doubt a heartwarming tribute to their long-distance relationship, and Gigi isn't the only person that's tried the tactic.
Wearing your bae's name or some fashionable reminder of them is a tried-and-true way many lovers deal with distance. It's a way to keep your other half close when they aren't physically near. In Hadid's case, wearing embroidered lettering spelling "Zayn" on the pocket of her pants is probably a tribute to this long-time tradition.
It's more than a trendy statement. It's a way to let her boyfriend know she's thinking about him, no matter how far they may be.
This isn't her first time making a quirky fashion nod to her boyfriend when they are separated. In the past, Hadid has worn Zayn's name written in Arabic on the back of her bomber jacket and even sported an "lol ur not Zayn" shirt. Not only is it adorable, but it's a way to show she cares that's more creative than just a text message.
I see the symbolism because it's something that I used to do, too. I had a long-distance relationship with my now boyfriend all throughout college. He played football at the University of Cincinnati, which was two hours away from my university. On game day, I would sport his colors or post a photo wearing the ring that he got me, just to remind him that I was thinking about him and to keep him near.
Yes, I could've just texted him. But I knew that when he was scrolling through his feed and saw the photo, he'd know I was thinking of him. It was a small surprise, and a way to publicly show pride in our relationship.
Not exactly your model and international-singer combo, but the idea is still the same.
While I wasn't trendy enough to embroider my boyfriend's name on my butt, it's the small things that sometimes matter the most.
Hadid and I aren't the only one that love the trend, either. Bella Hadid wore The Weeknd's name around her neck when they were dating, and Selena Gomez loves to wear his tour merch now that they are a pair.
Heck, even Beyoncé has sung about wearing her boyfriend's chains. Maybe that's why Kim Kardashian also wears so much Yeezy merch, too.
Bottom line: wearing your heart on your sleeve is always a good option. After all, trends may come and go, but love is forever.