Gina Rodriguez Really Wants To Change The Way We Talk About Periods — And Here's How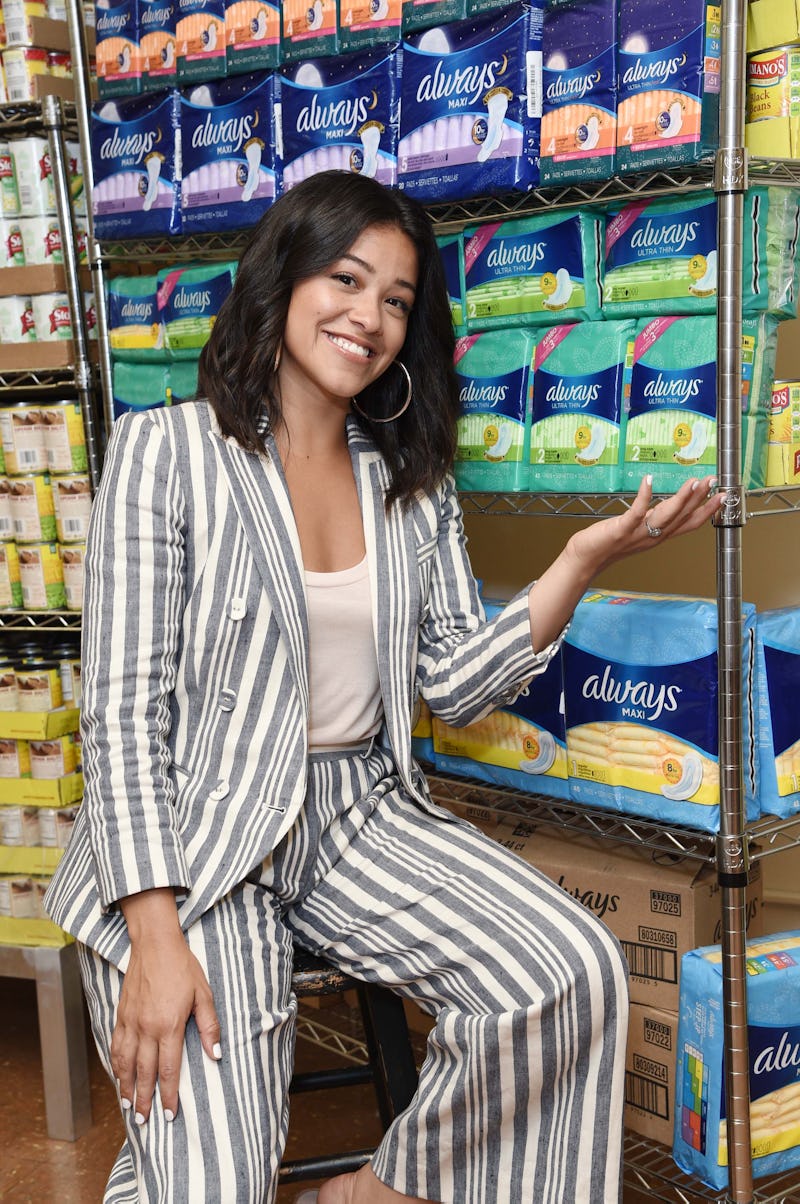 Always
When she's not starring on-screen as Jane Villanueva, Gina Rodriguez is fighting for equality off-camera. Whether being involved in the Time's Up movement, creating the #MovementMondays hashtag, or using her Emmy campaign money to provide a scholarship to a student in need, she consistently uses her platform to help others. Now, Rodriguez's work to end period poverty — through her partnership with Always and Feeding America — is her newest initiative to make a difference. And as she explains to Bustle in an interview on Tuesday, it's a major issue for students right here in the United States.
"I feel like, in our culture, we have not normalized the conversation around periods at all," Rodriguez says. And considering how prevalent "period poverty" is, that's a problem. When families aren't able to afford period products, girls might miss school when they're on their periods. This can impact girls' futures, all because they didn't have access to the proper supplies. As Rodriguez explains, as many as one in five school-age girls in the U.S. don't have access to period products, based on data from an Always survey.
When she found out this statistic, Rodriguez recalls, "I literally thought it was a lie. I thought that that number was way too high. And in our country? You know, to me, it literally blew my mind. I was like, 'That's not real, right? That can't seriously be happening.'"
The campaign Rodriguez is promoting, #EndPeriodPoverty, is a collaboration between Always and Feeding America. The company is providing period products to girls in need through Feeding America's school pantry program. If they have access to necessary supplies, this could allow them to attend school when they might not be able to otherwise.
"If a girl is missing out on a lecture, a test, an opportunity, a missed conversation, a missed mentorship, because of her period, that's unfair," Rodriguez tells Bustle. The actor also says that in order to end the inequality that comes with period poverty, the conversation needs to include more than just women and girls.
"We have to teach young boys what's happening to a girl's body, young girls what's happening to a girl's body, young girls what's happening to a boy's body," she says. "So we may all be there empathetically as human beings."
Rodriguez adds that both men and women should "normalize the conversation" surrounding periods, so that people of all genders understand what women's bodies are going through. "We talk about inequality. We talk about leveling out the playing field for men and women. Here's somewhere we can start," she says.
And if you want to get involved in the movement to end period poverty, you don't have to be a celebrity or even visit a Feeding America site. As Rodriguez noted on Instagram, sharing a photo of your school-age self with the hashtag #EndPeriodPoverty and a mention of @Always_Brand can help. According to her IG post, Always will donate another month's worth of pads for each Instagram photo that's shared with the hashtag.
It's easy to feel discouraged by all the social injustice in the world and even in the U.S. But as Rodriguez's work with this campaign shows, there are plenty of small ways to make a real difference. Period poverty is all too common, but it doesn't have to stay that way.