Here's Exactly How Gina Rodriguez Fights For Representation, Even When It Feels Too Hard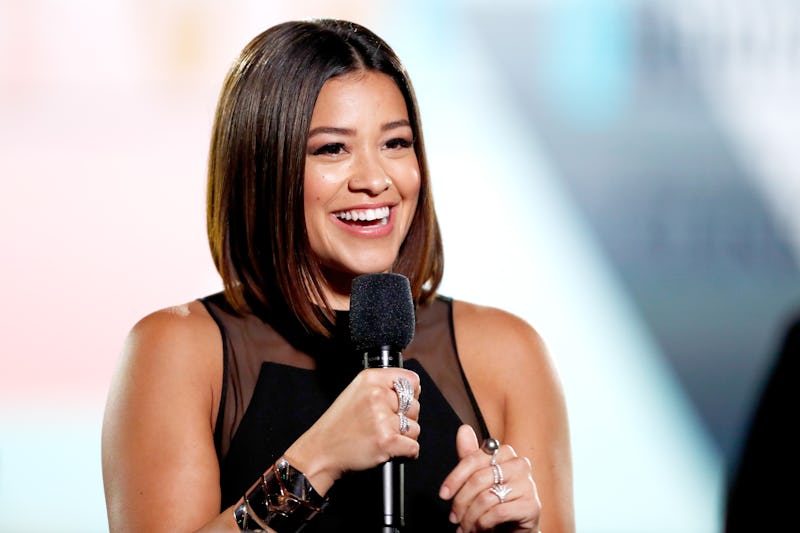 Rich Polk/Getty Images Entertainment/Getty Images
Just over two years ago, Hollywood hit a roadblock. The lack of Academy Award nominations for people of color spurred the #OscarsSoWhite hashtag, and in response, Gina Rodriguez created a hashtag of her own. "I remember that day. It was a Monday, I'll never forget it," the actor recalls over the phone recently while promoting her movie Annihilation. "There was a lack of inclusivity and I was kind of just bummed out about it, and I was like, how can I make this a positive? How can I get excited about this?"
Her lightbulb moment led to #MovementMondays, where the Jane the Virgin star spotlights a different changemaker in the film or TV industries on her Instagram account at the start of the week. "There's actually a lot of wonderful actors out there that we can lift up," Rodriguez explains. "There are a lot of heroes that exist, and we just need to celebrate our heroes."
The enthusiastic reaction she's received to this Insta initiative fueled her to keep going. "Movement Mondays has been, and continues to be, a very exciting space that a lot of people have responded well to," she says. "There's nothing better than getting encouragement for something that really excites you."
That thought process seems to set the tone for the actor's career overall, whose roles range from the titular character in The CW's telenovela-style Jane The Virgin, to Carmen Sandiego in Netflix's upcoming nostalgia-fueled reboot, to Anya Thorensen in the sci-fi thriller Annihilation. In the latter movie, now available on Digital and Blu-ray, Rodriguez appears alongside some of Hollywood's fiercest women — Tessa Thompson, Natalie Portman, Jennifer Jason Leigh, and Tuva Novotny. (Of whom she has nothing but high praise, saying, "They're my sisters. They taught me so much... It was one of those experiences that you walk away with so much more than you think you did.")
Rodriguez says she actively chooses roles that break boundaries and offer a variety of perspectives. "The one thing that I set out to be was a storyteller," the 33-year-old explains. "I feel like it's the only gift that I can give back not only to my supporters, but to myself. That's all I want to do. I just want to tell all kinds of different stories."
In Annihilation, her character Anya is a lesbian, who joins the team's expedition as a paramedic. Anya's sexuality is not a hot topic of conversation; it's occasionally referenced and simply understood — no fuss. That nonchalant acceptance was applauded online when the movie hit theaters in February. And when I ask Rodriguez about taking on LGBTQ roles (both in this film and as Rosa's love interest on Brooklyn Nine-Nine) and how representation is changing overall in Hollywood, the often outspoken actor switches gears, pausing and picking her words carefully.
"I know that the attempts are being made, but I don't know how successful we are in representation of so many minority groups. I think there's work to be done in so many spaces," Rodriguez says. And she's right — a recent GLAAD study suggests the film industry has a ways to go, as far as LGBTQ representation that's inclusive and more than just a punchline. In 2017, only 12.8 percent of the 109 movies released by major studios included LGBTQ characters, and none of those included transgender characters or those from Asian/Pacific Islander backgrounds.
Still, Rodriguez does applaud the progress that is happening, explaining, "I very much enjoy the opportunity to play queer. Sexuality is on a spectrum, and it's wonderful there are more nuanced characters appearing in stories now."
Tying into the overwhelming need for change on-screen, she points out, "It's a lot to carry when you take it in the bigger picture. So you have to personalize it, right? So, how much work can I be contributing?" And that's exactly what Rodriguez does with #MovementMondays, as well as her own production company I Can & I Will Productions, and roles that continue to push society forward.
But Rodriguez's efforts for better representation extend well beyond just the parts she takes on. "As a Latina, as a woman, as someone that has a production company that's trying to create stories that we haven't seen, I just try to concentrate on how I can contribute," she says. "For me personally, not only as an actor, but as a producer, we are trying to create more of these opportunities for all underrepresented communities."
That's a thread that's woven into Annihilation as well. Rodriguez compliments director Alex Garland, calling it "beautiful" and "lovely" that he put two Latinas, her and Tessa Thompson, in lead roles. "To put women of color in those spaces before people were yelling that, 'It's about damn time,'" she says. "Alex was progressive in that... Let's just hope more people are open to being progressive and unafraid and taking risks to create more of those roles for LGBT community, as well as all the other underrepresented communities."
Initially, Annihilation faced some backlash over whitewashing claims that Garland later addressed, admitting the oversight was unintentional (Natalie Portman's character in the book series that the movie was based on is a woman of color), but that he didn't take it lightly. Regardless, the situation served as proof there's still a long way to go for representation on-screen, which Rodriguez knows well. As an actor, she can only do so much, whether it's in regards the filmmaker's choices or the money a movie makes (Annihilation received stellar reviews from critics yet the opening weekend numbers were lower than many people expected).
"Really the only art we own is from the start and finish of the film." Rodriguez says. "I don't have control over the rest. And in all the circumstances, really. You have to just give it over to God, or whatever you believe in, or to nothing. And you just say I had that experience, it was remarkable, I prepared, I gave all of me, and that's all I can do as an artist. That's literally all I can do."
Even if that's "all" the actor can do, it's clearly having an impact. And it's contributions like hers that truly pave the way for creating concrete change — in Hollywood and beyond.