Gina Rodriguez's New Netflix Movie Centers Women Both On & Off The Screen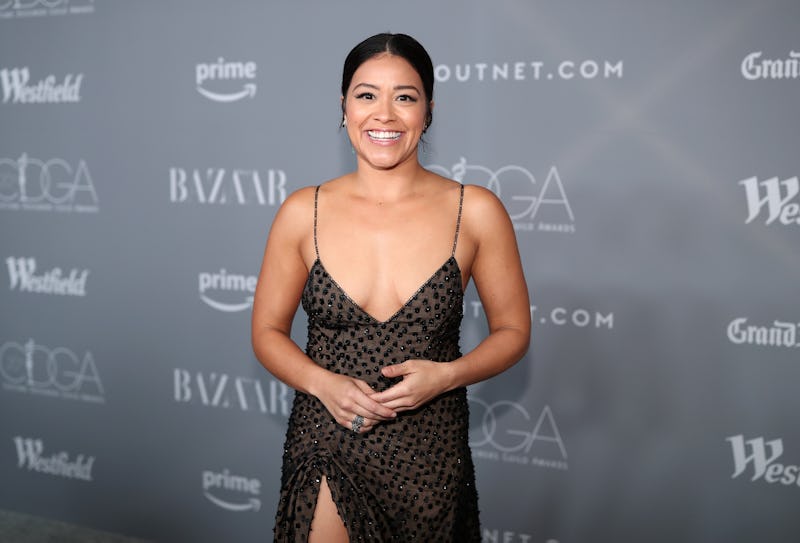 Christopher Polk/Getty Images Entertainment/Getty Images
Gina Rodriguez continues to be an unstoppable Hollywood force — and only getting more so every day. On Monday, The Hollywood Reporter revealed that the Jane the Virgin star will produce and star in an upcoming Netflix film. Rodriguez's new movie will focus on female friendship, and, even better, it will have women working behind the scenes to bring it to life as well.
Someone Great (director: Jennifer Kaytin Robinson) is described by THR as a romantic comedy, but, based on the details we have so far, it sounds like the movie will be a lot more than that. The plot starts out in a fairly standard way — a woman makes a big life change after a painful breakup — but it sounds like the movie's focus is more about friendship than romantic relationships. THR writes:
"Written by Robinson, the story tells of a woman who, after a heart-wrenching break-up, decides to seek adventure in New York City with her two best friends before she moves across the country for her dream job. Someone Great is described as being about loss, growing up and above all the everlasting bond of female friendships."
Rom-coms are great, but romantic relationships aren't the only ones that deserve movies. It's exciting that we'll soon have a new film that's about the power of friendship, as well as sufficiency and self-worth. And if Robinson's tweet about the news is any indication, it sounds like the movie's title might refer to the lead character herself, rather than a romantic interest.
"I always wanted to watch a romantic comedy where a woman could be her own white knight. A movie that's central love story revolves around female friendship," Robinson, who wrote the script and will direct the movie, tweeted on Monday. "And now I get to make one. To be on this journey with @paulfeig, @HereIsGina and @netflix is a dream come true." According to THR, the movie could start production as early as April, so we hopefully won't have to wait too long for it to hit Netflix. And Robinson's photo of the New York City skyline — along with the image she shared of Rodriguez — is already generating tons of excitement from fans.
Rodriguez has quickly become a force to be reckoned with in Hollywood, so it's great to see her taking on more movie roles. In addition to starring in Jane the Virgin, Rodriguez is also in the just-released Annihilation alongside Natalie Portman. She recently made her directorial debut on an episode of Jane the Virgin, claiming her power behind the camera in addition to in front of it. Someone Great isn't Rodriguez's only upcoming Netflix project, either; the actress will star as the voice of Carmen Sandiego in the streaming service's upcoming revival of the classic cartoon series.
And while we don't know yet who else will star in Someone Great, it looks like it will be primarily woman-led behind the scenes, too. In addition to Robinson and Rodriguez, Stefanie Azpiazu will be an executive producer on the movie, and Emily Gipson will be a co-producer. Gipson is also working with Rodriguez on two upcoming TV shows about immigration for CBS and the CW through Rodriguez's I Can and I Will Productions.
Traditional rom-coms have their place in the world of movies, but friendship and independence are two things that are worth celebrating, too. Someone Great sounds like a movie that people of all genders and relationship statuses will enjoy watching. Hopefully, it will be one of many new films about friendship, because you can never have too many feel-good movies to watch during a girls' night in.