Ariana Grande's 'Scream Queens' Co-Star Basically Just Confirmed A Wedding *Is* Happening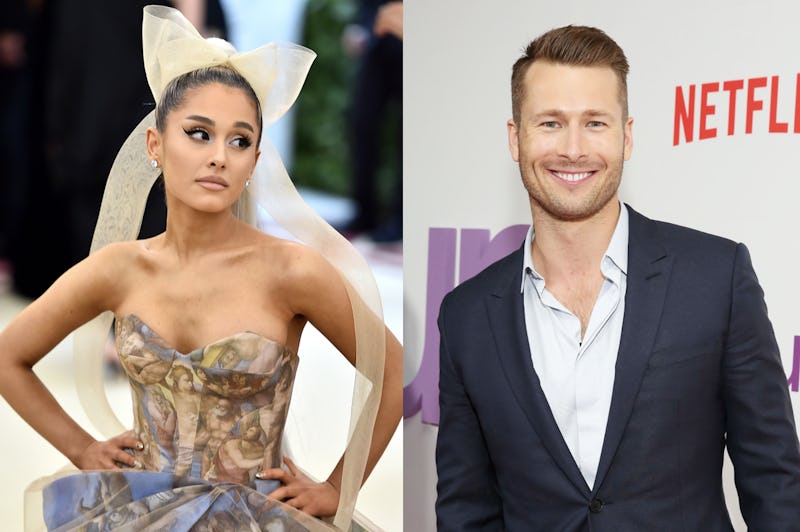 Theo Wargo/Getty Images Entertainment/Getty Images; Monica Schipper/Getty Images Entertainment/Getty Images
Hold onto your hats (or rather, your bunny ear-shaped face masks), because now it's seriously starting to seem like this whole thing is for real. On a recent episode of the Chicks in the Office radio show (as reported by Entertainment Tonight), actor Glen Powell discussed Ariana Grande and Pete Davidson's rumored engagement, and he definitely didn't not confirm that it's true, you guys.
Powell, as fans may remember, co-starred with Grande on Ryan Murphy's Scream Queens a few years back. He also got to know Davidson while working on Netflix's new rom-com, Set It Up (which comes out on June 15), so he's more than familiar with the loved-up couple.
"I just FaceTimed with [Davidson] and Ari a second ago," Powell told the co-hosts of Chicks in the Office during a recent appearance. "It's been a wild ride for all of us." Um, yeah, same.
Fans were pretty shocked when news of the seemingly surprising couple first bubbled up, but Powell said they're actually a really good match. He explained,
"They're two sides of the same coin. I'll say they're both wonderfully bizarre in their own ways. I actually think, look, I've only hung out with them a couple times together. I know Ari from Scream Queens. Pete and I met on this movie, but we talk all the time and he's become a really close buddy of mine."
After some speculation, Grande and Davidson confirmed their new romance with an Instagram photo on May 30. They continued to post cute pics of each other over the course of the weeks that followed, but then they reportedly went from 0 to 100 real quick — or in other words, they went from the "honeymoon phase" to maybe planning an actual honeymoon, according to Us Weekly. (Bustle has reached out to Grande and Davidson's reps about the engagement rumors, but did not receive an immediate response.)
When asked by the Chicks in the Office co-hosts whether or not he thought Grande and Davidson's whirlwind romance would last, Powell acknowledged that the whole thing kind of makes his head spin, too. "You never know, timing's a little aggressive, but at the same time you see them together and it seems to work," he said of the couple's rumored engagement.
Powell then told the co-hosts that, if Grande and Davidson end up following through with their reportedly pending nuptials, he'd definitely be at the wedding. To reiterate, he said he would definitely be at the wedding. The. Wedding. There. Is. Going. To Be. A Wedding. OK, Powell didn't say the word "wedding" specifically, but he didn't deny that a wedding was in the works, either.
On June 13, another one of Grande's former co-stars, Jennette McCurdy from Sam & Cat, also opened up to Entertainment Tonight about her friend's rumored engagement. "I'm super proud of her and excited for her," McCurdy said. "I hope that she's super happy."
She then went on to add that "[Grande and Davidson] seem like they're a great fit," and, "[from] what I know of her, he seems like exactly a good person for her." Glowing recommendations all-around, apparently. And what, according to McCurdy, makes the SNL star a good fit for Grande? "Tattoos!" she said. "She always likes the tattoos. And humor, of course." Yep, checks out. Davidson definitely fits that bill.
So, there you have it. Powell's comments totally seemed to imply that Grande and Davidson are, in fact, engaged. Of course, neither one of them has actually confirmed the news yet themselves, but now it's starting to seem like it's only a matter of time.